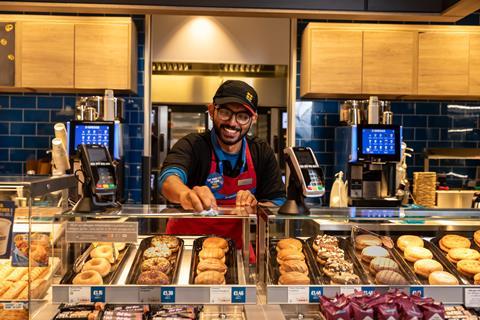 Top story
Sales are continuing to boom at food-to-go stalwart Greggs as new openings and increased customer visits boosted third quarter revenues.
The group's total sales were up 20.8% in the third quarter of its financial year, with like-for-like sales in company-managed shops rising by 14.2% when compared with the same period in 2022.
This strong organic performance was driven by increased customer visits, reflecting the ongoing development of evening trading and of its digital channels and loyalty programme through the Greggs App.
Evening trade (sales post-4pm) represented 8.8% of company-managed shop sales for the 13 weeks to 30 September 2023 up from 8.3% in the first half of the year, while Greggs App participation continues to grew to 13.1% of shop transactions from 10.6%.
In the year to date the group has also opened a further 144 new shops and closed 62 shops, giving a total of 2,410 shops trading at 30 September 2023 (comprising 1,928 company-managed shops and 482 franchised units).
It expects 2023 to be a record year for the absolute number of new shops opened as the group expands into new locations and relocate shops to better premises within existing catchments.
It nows expect between 135 and 145 net shop openings and see a strong pipeline ahead for 2024.
It has also continued to invest in its supply chain, with a fourth production line will be being commissioned at Balliol Park in Newcastle upon Tyne in the coming weeks, adding further manufacturing capacity for its savoury rolls and bakes. Additionally work is continuing to expand the the logistics capacity of our Birmingham and Amesbury distribution centres, both of which are due to come on stream in 2024.
It expects expenditure in 2023 to be around £200m.
Meanwhile, it has begun an accelerated roll out on the Uber Eats platform and expect to have around 500 shops live by the end of October 2023, with further expansion to come in 2024.
Greggs said that the rate of cost inflation has eased the significant commodity-led increases experienced in 2022 annualise.
Whilst acknowledging the uncertainty in the economy as a whole and the very strong comparative performance of the business in the fourth quarter of 2022, the Greggs board expects the full year outcome to be in line with its previous expectations.
Morning update
Shop prices are continuing to fall as the economy laps the strong inflation of 2022, according to BRC-NielsenIQ Shop Price Index.
Shop price annual inflation decelerated further to 6.2% in September, down from 6.9% in August, the monthly report found.
This is below the 3-month average rate of 6.8% and is now at its lowest since September 2022.
Non-Food inflation eased to 4.4% in September, down from 4.7% in August.
Meanwhile, food inflation decelerated to 9.9% in September, down from 11.5% in August. This is below the 3-month average rate of 11.4% and is the fifth consecutive deceleration in the food category.
Food inflation is now at its lowest since August 2022.
Fresh Food inflation slowed further in September, to 9.6%, down from 11.6% in August, while ambient Food inflation decelerated to 10.4% in September, down from 11.3% in August.
Helen Dickinson, chief executive of the British Retail Consortium, said: "Food prices dropped on the previous month for the first time in over two years because of fierce competition between retailers. This brought year-on-year food inflation down to single digits and contributed to the fifth consecutive monthly fall in the headline rate, helped by easing cost pressures. Customers who bought dairy, margarine, fish and vegetables – all typically own-brand lines – will have found lower prices compared to last month. Households also benefitted from price cuts for school uniforms and other back-to-school essentials.
"We expect Shop Price Inflation to continue to fall over the rest of the year, however there are still many risks to this trend – high interest rates, climbing oil prices, global shortages of sugar, as well as the supply chain disruption from the war in Ukraine. Retailers will continue to do all they can to support their customers and bring prices down, especially as households face being squeezed by higher energy and mortgage bills."
Mike Watkins, head of retailer and business Insight, NielsenIQ, added: "With further price cuts by supermarkets in recent weeks, food inflation continues to slow which is good news. However there continues to be pressure on budgets with over half of households still feeling that they are significantly impacted by the continued increases in cost of living. (NIQ Mid-Year Consumer Outlook). So, it will be important for retail sales to keep momentum which means we can expect more price cuts and increased promotional activity across all retail channels."
Yesterday in the City
The FTSE 100 opened the week on the back foot, slumping 1.2% to 7,510.7pts amid disappointing figures on global manufacturing.
Fallers included FeverTree Drinks, down 5.9% to 1,129p, Just Eat Takeaway.com, down 3.8% to 989.5p, Hilton Foot Group, down 2.5% to 699p, Coca-Cola HBC, down 2.4% to 2,195p, Ocado, down 2.3% to 2,195p, Ocado, down 2.3% to 586.8p and Premier Foods, down 2.2% to 117.4p.
The few risers included Hotel Chocolat, up 3.1% to 132.5p, Naked Wines, up 1.8% to 57p, Greggs, up 1.2% to 2,478p, AG Barr, up 1% to 496p and Deliveroo, up 0.2% to 119.8p.