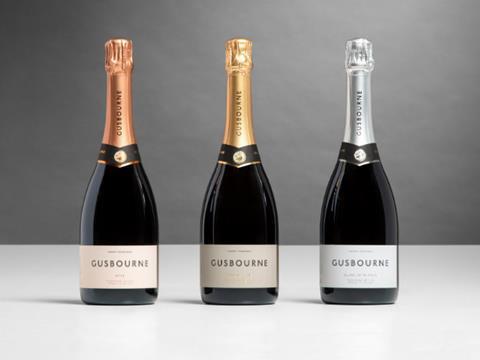 Top story
AIM-listed English wine producer Gusbourne (GUS) has posted double-digit growth in the first half of 2018, but losses grew due to investment in capacity.
Headline revenues at the group were up by 13% in the period to £429k, with gross profits up 25% to £268k.
However its EBITDA loss rose from £329k to £427k "reflecting planned investment in line with management's expectations at this stage of the company's production and sales maturity".
Excluding depreciation, administrative expenses amounted to £721k in the period – up from £526k in the previous half year, with the increase reflecting additional staff and other costs required to support the ongoing development and growth of the business.
Charlie Holland, CEO and chief winemaker commented: "Our results for the half year continue to show steady progress towards our goals for Gusbourne, in line with our strategy to further grow and develop the business in a manner which remains consistent with our long term aspirations for the Gusbourne brand.
"We intend to continue to produce and sell a range of vintage wines of exceptional quality from grapes grown in our own vineyards."
Gusbourne noted that achieving its long-term goals is expected to mean it will need to raise further equity or debt funds.
"The production of premium quality wine from new vineyards is, by its very nature, a long-term project," the group stated. "It takes four years to bring a vineyard into full production and a further four years to transform these grapes into Gusbourne's premium sparkling wine.
"Additional funding will be sought by the company over the coming few years to fund ongoing growth in the company's operations and asset base, in line with its development strategy."
The Company's secured loan of £2m with Barclays Bank was due for repayment on 25 September 2018 – it is currently negotiating an extended loan facility with the bank and a further announcement will be made in due course.
Morning update
It's a quieter morning on the markets today after a flurry of announcements yesterday morning.
On the markets, the FTSE 100 has opened down 0.1% this morning at 7,501.6p.
Gusbourne shares are up 4.4% to 83p so far this morning.
Other risers include Mitchells & Butlers (MAB), up 2.7% to 263.8p, Greencore (GNC), up 1.5% to 188.2p and Stock Spirits Group (STCK), up 1.2% to 194.2p.
Fallers include AG Barr (BAG), down 1.9% to 711p, Morrisons (MRW), down 1.2% to 258p and PZ Cussons (PZC), falling back 0.9% from yesterday's rises to 232.8p.
Yesterday in the City
The FTSE 100 ended the day up just 0.1% to 7,511.4pts yesterday to solidify its recovery from its early September mini-slump.
PZ Cussons was one the fmcg sector's most notable risers, ending the day up 2.4% to 235p after reporting that its first quarter is "in line with expectations" despite challenging conditions in its key market of Nigeria.
SSP Group (SSPG) eased back 0.1% to 715.3p after updating the market with a pre-close trading statement, predicting 2%-3% like for like growth despite weak train travel numbers. The shares had fallen as low as 689.6p in early trading.
Troubled butchery group Crawshaw (CRAW) rose 6.9% back to 3.5p after depite a "disappointing" first half as losses expanded and its like for like sales slump continued – however its shares nudged higher on the results of its strategic review, which outlined plans to scale back high street stores and focus on factories and a new online proposition.
Elsewhere, other risers included Tate & Lyle (TATE), up 2.2% to 666.6p, Imperial Brands (IMB), up 1.6% to 2,674p, Greencore (GNC), up 1.3% to 185.5p and Tesco (TSCO), up 1% to 243.9p.
Also on the up were Kerry Group (KYGA), up 2.4% to €94.40, Science in Sport (SIS), up 1.8% to 73.8p, Majestic Wine (WINE), up 1.3% to 405p and Just Eat (JE), up 1.1% to 691.8p.
Fallers yesterday included Stock Spirits Group (STCK), down 4% to 192p, Hotel Chocolat (HOTC), down 2.9% to 333.5p, McColl's (MCLS), down 2.7% to 147p, Ocado (OCDO), down 1.2% to 895.6p and B&M European Value Retail (BME), down 1.1% to 387.9p.