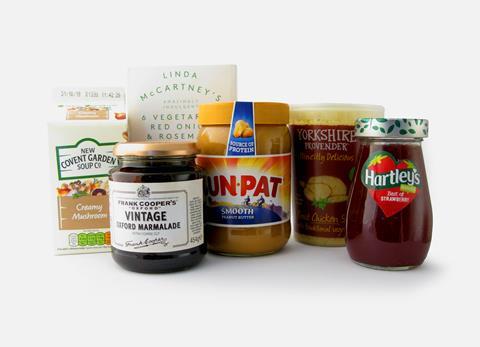 Top story
Ella's Kitchen owner Hain Celestial grew fourth quarter sales and reversed last year's operating loss as it continues to simplify its portfolio.
The owner of Hartley's, New Covent Garden Soup Co, Orchard House and Yorkshire Provender posted a net sales increase of 1% in the fourth quarter to US$511.7m, which was up 3% on a constant currency basis year on year.
When adjusted for foreign exchange, divestitures, discontinued brands and SKU rationalization, net sales increased 7% compared to the prior year period.
Gross margin of 25.4% represented a 658 basis point increase from the prior year period.
Operating income of $25.3m rebounded from an operating loss of $2.6m in the prior year period, with adjusted operating income rising to $47.9m compared to $34.4m.
President and CEO Mark Schiller commented: "We are pleased to report profitability at the high-end of our expectations for the fiscal year. Our results were strong because of our team's execution of our transformational strategic plan, which resulted in strong margin improvement and operating cash flow generation.
"In this dynamic operating environment, we believe we will maintain our positive momentum and remain committed to sustainable long-term growth as we deliver on our four key pillars for growth - portfolio simplification, capability building, cost control and sales acceleration."
North America net sales in the fourth quarter were $298.6m, an increase of 5% compared to the prior year period, with adjusted EBITDA up 46% to $43.8m.
However, international net sales in the fourth quarter were down 3% to $213.1m, with the segment's adjusted EBITDA down 3% to $29.9m.
Full year net sales decreased 2% to $2.05bn, while net sales decreased 1% on a constant currency basis compared to the prior year.
Operating income of $56m compared to operating loss of $32.5 million in the prior year, while adjusted operating income of $140m was up on the $109.9m recorded in 2019.
Hain declined to provide specific guidance for its 2021 financial year given the unprecedented volatility and uncertainty of COVIDs impact on consumers, customers and the economy.
However, it said it expects continued gross profit dollar and margin expansion and strong double-digit growth in adjusted EBITDA.
Schiller said: "Given the current at home eating trends and the impact it's having on our top line, we are expecting the first half of fiscal '21 to be stronger on both the top line and bottom line than the second half as we are assuming that the current eating at home trends moderate throughout the year.
"While we're expecting a slowing of growth in the second half of fiscal '21 in reality, the outlook for the second half of the year is less clear given the macro factors discussed and the need to lap the growth associated with the pandemic."
Hain shares fell 8.1% back to US$31.65 on the sober outlook.
Morning update
On the markets this morning, the FTSE 100 is down 0.3% to 6,019.4pts.
Risers include WH Smith, up 4.7% to 1,092p, Cranswick, up 2.4% to 3,890p and Hotel Chocolat, up 2.3% to 330p.
Early fallers include PZ Cussons, down 3.7% to 196.4p, FeverTree, down 1.5% t 2,106p and Finsbury Food Group, down 1.4% to 58.4p.
Yesterday in the City
The FTSE 100 lost its early gains yesterday to close down 1% at 6,037pts as hopes of an early coronavirus vaccine faded.
The day's fallers included McColl's, down 4.9% to 28.4p, Wynnstay, dwn 3.6% to 335p, SSP Group, down 2.8% to 229.6p and C&C Group, down 2.6% to 209p.
FTSE 100 fallers included British American Tobacco, down 1.9% to 2,570p, Coca-Cola HBC, down 1.7% to 1997.5p and Imperial Brands, down 1.6% to 1,278.5p.
The day's risers included Hotel Chocolat, which rose 5.7% to 322.5p, Glanbia, up 4% to €9.55, Naked Wines, up 3.5% to 458p, Science in Sport, up 3.5% to 30p and AG Barr, up 3.4% to 430.5p.
Also on the up were retailers WH Smith, up 2.6% to 1,043p and Ocado, up 2.2% to 2,500p.