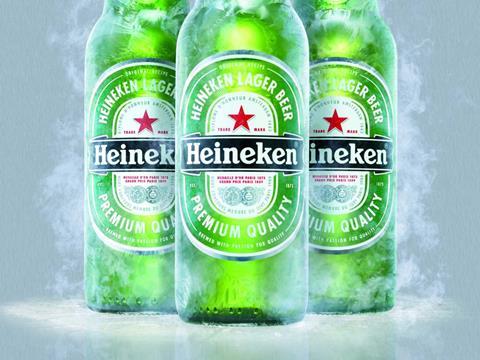 Top story
Heineken has announced its CEO is to step down as it posted a year of solid revenue growth as sales volumes and prices both rose.
Following 15 years in charge, Jean-François van Boxmeer will hand over his responsibilities as Chairman of the Executive Board and CEO of Heineken to Dolf van den Brink on 1 June 2020.
Dolf van den Brink has spent 22 years at the group and "successfully built high performing teams in both developed and developing markets". He is currently a member of the executive team and successfully leads the Asia Pacific region as President.
Meanwhile, after missing out on the top job, Stefan Orlowski, currently President Europe, has decided to leave the brewer "to pursue his private entrepreneurial interests outside the company" after 22 years at the group, including a stint leading the business in the UK.
Jean-Marc Huët, chairman of the supervisory board, commented: "Under Jean-François van Boxmeer's stewardship, the company more than doubled in size due to both strong organic growth and transformational deals that turned Heinekeninto the most global brewer, with iconic brands enjoyed by consumers on all continents.
"Not only did he deliver superior top-line growth and an excellent business performance, he also developed and nurtured a diverse and great talent pool across the world. He will leave behind a company excellently positioned to grow further. For all this, we owe Jean-François a heartfelt and huge thank you."
This morning the group announced organic revenues grew 5.6% last year to €23.9bn.
Sales growth was driven by a 3.1% increase in consolidated beer volumes, while net revenue per hectolitre was up 3.3%.
Heineken said its fourth quarter volumes closed the year strongly with 4.1% growth, benefiting from double-digit growth in Brazil, Vietnam and Cambodia. Premium volumes increased high-single digit with strong growth across all regions and continued positive momentum of Heineken.
Heineken brand volume growth accelerated in the fourth quarter to 12.0% to close the year with 8.3% growth, the best in a decade. The brand grew across all regions with double digit growth in over 40 markets including Brazil, Mexico, South Africa, Nigeria, the UK, Romania and Germany. Brazil is now the largest market for Heineken globally and with the addition of the UK and Nigeria, now 12 markets sell more than one million hectolitres of the brand.
The international brand portfolio grew high-single digit, driven by the double digit growth of Tiger and Amstel.
Craft volume grew mid-single digit to 5.6 million hectolitres with a double-digit expansion in Europe compensating for lower volume in the Americas.
Cider volume was stable at 5.6 million hectolitres as volume increased double digit outside the UK, with South Africa and Russia in the lead though fell back in the UK by high-single digits.
Low & No-Alcohol volume increased high-single digit, delivering 14.1 million hectolitres as the portfolio grew double digit, driven by Heineken 0.0.
Net operating profits grew organically by 3.9% to €2,5bn, though margin slipped back 12 basis points to 16.8%.
CEO Jean-François van Boxmeer commented: "In 2019, we delivered another year of superior top-line growth, with continued strong performance in the second half.
"Our strategy continues to be growth oriented with an ever-increasing emphasis on the sustainability of this growth, both socially and environmentally. Over the past decade, we have lowered our water usage by almost a third to 3.4 hectolitres of water per hectolitre produced, ahead of our 2020 target. We increased the proportion of renewable energy in production to 19%. In more than 60 markets, we spent over 10% of Heineken media budgets on responsible consumption awareness campaigns.
"We closed the year with an operating profit organic growth of 3.9%. In a context of increased input costs, we have continued to work on the efficiency of our operations whilst steadily investing behind our brands, our sustainability agenda and our digital transformation."
Looking ahead to 2020, Heineken expects its operating profit to grow by mid-single digit on an organic basis "barring major negative macro economic and political developments".
It noted that, in particular, it is at this stage not possible to assess the extent and duration of the impact of Coronavirus on the economy and on its business.
Heineken shares are up 5.4% so far this morning to €103.05.
Morning update
Dutch-listed US grocery retail giant Ahold Delhaize has reported "strong" earnings growth in the fourth quarter driven by increased sales.
Net sales were €17.4bn, up 3.1% in Q4 and up 2.3% in full 2019 year at constant exchange rates.
In the U.S., comparable sales growth excluding gasoline accelerated to 2.3% during the quarter, and was 2.6% excluding the net impact from a weather benefit last year.
In the Netherlands, it saw comparable sales growth of 4.3% during the quarter.
Net consumer online sales grew 30.1% in Q4 and 28.6% in 2019 at constant exchange rates.
It posted underlying earnings per share growth of 17.1% in the fourth quarter and 8.4% in the full year.
CEO Frans Muller said: "We ended the year on a high note, with strong group performance in the fourth quarter. We exceeded our full-year 2019 guidance outlook for underlying earnings per share and met our free cash flow guidance.
"In the US, we were encouraged to see the two-year stacked comparable sales growth, adjusted for weather, also accelerated to 5% in the fourth quarter versus 4.5% in the third quarter of 2019. Our online sales growth in the U.S. accelerated to 42.7% at constant exchange rates in the fourth quarter, and we met our 2019 guidance outlook of over 20% growth, building upon our position as the leading omnichannel operator on the East Coast.
Performance at Food Lion and Hannaford was particularly strong. While Stop & Shop's comparable sales excluding gasoline improved over the last quarter, they remained slightly negative due to a challenging sales environment..
"In the Netherlands, market share at Albert Heijn was up significantly year over year in the fourth quarter, an improving trend over previous quarters.
"We continue to make progress on the execution of our Leading Together strategy. We exceeded our guidance for our Save for Our Customers program in 2019, generating €709 million in savings compared to our guidance of €600 million
"Although we will make significant investments in 2020 to drive long-term growth, we expect group underlying operating margin in 2020 to be broadly in line with 2019. We expect mid-single-digit growth in underlying EPS in 2020."
Ahold Delhaize shares are down 0.4% so far this morning to €22.20.
The FTSE 100 is up another 0.3% to 7,525.1pts today.
Early risers include Greencore (GNC), up 3.7% to 248.1p, Naked Wines (WINE), up 2.6% to 216.5p, PayPoint, up 2.5% to 978p and Cranswick (CWK), up 1.9% to 3,788p.
Fallers include Ocado (OCDO), up 1.8% to 1,231.5p, Marks & Spencer (MKS), up 1.1% to 176.1p and PZ Cussons (PZC), down 1% to 190p.
Yesterday in the City
The FTSE 100 surged 0.7% to 7,499.4pts yesterday as global concerns about the coronavirus fears eased.
Ocado (OCDO) was up 3.1% to 1,254.5p yesterday despite posting a £214.5m pre-tax loss as international expansion and the impact of a fire at its Andover CFC last year hit its bottom line.
Other risers yesterday included DS Smith (SMDS), up 2.3% to 374.5p, Nichols (NICL), up 2.2% to 1,400p, Cranswick (CWK), up 2% to 3,718p, Imperial Brands (IMB), up 1.7% to 1,878.8p and Pets at Home, up 1.2% to 314.6p.
The day's fallers included McColl's (MCLS), down 8.4% to 43.5p, Marks & Spencer (MKS), down 2.4% to 178p, PayPoint, down 1.8% to 954p, Cake Box (CAKE), down 1.4% to 173p, Tesco (TSCO), down 1.2% to 253.8p, Compass Group (CPG), down 1.2% to 1,967p and Hotel Chocolat (HOTC), down 1.1% to 460p.