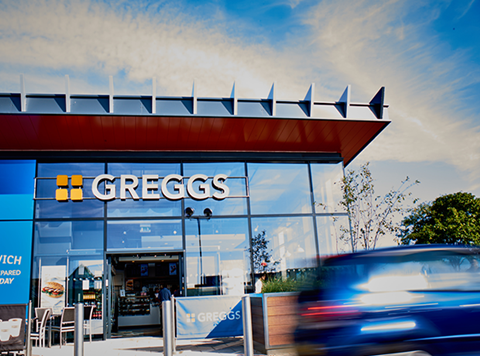 Top story
Food to go bakery chain Greggs (GRG) has reported a slowdown in first half like-for-like sales and a drop in profitability as hot UK weather and falling footfall hit performance.
Greggs said its first half performance demonstrated its "resilience" by delivering sales growth in a "tough operating environment" in the first half of the year.
Total sales for the 26 weeks to 30 June 2018 grew by 5.2 per cent to £476 million, with like-for-like sales in company-managed shops up by 1.5% per cent in a period that is said was "significantly affected by extremes of weather and increased consumer caution".
Greggs said it continued to grow and relocate its shop estate in the period alongside investing in capacity in its internal supply chain.
Operating profit excluding property gains and exceptional charges fell to £25.7m in the first half from £27.6m in the corresponding period last year.
Underlying margin of 5.4% was down from 6.1% last year.
Greggs said the impact of extreme weather conditions on customer footfall was the most significant factor affecting the first-half performance. Food input cost inflation continues to moderate, however the current hot weather is affecting agricultural yields and higher energy prices have provided an additional cost headwind. .
Capital expenditure during the first half was £33.1m, down from £36.4m as we progressed the investment in manufacturing and logistics capacity alongside new shop growth and estate refurbishment.
In the first half of 2018 it opened 59 new shops (including 19 franchised units) and closed 25 shops, giving a total of 1,888 shops (of which 219 are franchise units) trading at 30 June 2018.
It said in 2013 only 20% of outlets served catchments outside of traditional shopping locations; today that figure is 35% and it is targeting more than 50% in the longer term and around 100 net openings in the full year period (60 of which will be franchise units).
Newer product categories including hot drinks, breakfast, healthier choices and hot food now account for 30% sales.
Chief executive Roger Whiteside commented: "Greggs has delivered a resilient performance despite challenging market conditions and we have continued to make good progress with our strategic investment programme to transform the business into the customers' favourite for food-on-the-go.
"While we remain cautious in respect of the outlook for sales in the balance of the year given the consumer backdrop, we are confident in the medium and long-term growth potential for the business, supported by customers' response to our initiatives, our strong cash generation and the ongoing strategic investments that we are making. Over the year as a whole we continue to believe that underlying profits (before exceptional costs) are likely to be at a similar level to 2017."
Greggs shares have leapt 7.2% to 1,031p so far this morning.
Morning update
Sandwich giant Greencore (GNC) has issued a trading update for the 13 weeks to 29 June, detailing a 0.5% rise in third quarter revenues, though this revenue increase represents 8.1% growth on a pro forma basis.
Year to date, the group has recorded revenue of £1.88bn, an increase of 14% on the prior year on a reported basis, and an 8% increase on a pro forma basis.
Its UK and Ireland convenience foods division reported revenue of £375.9m in Q3, an increase of 1.4% on a reported basis and a 7.8% increase on a pro forma basis.
Growth in the quarter was driven by food to go business, primarily through increased sales of third party products through its direct to store network, where reported revenue increased by 10.7% and pro forma revenue increased by 10.5%.
However, reported revenue in the other parts of the Convenience Foods UK & Ireland division decreased by 12.8% in Q3, reflecting the elimination of cakes and desserts revenue in June. On a pro forma basis, revenue increased by 2.5%.
As part of the strategy to transition part of its ready meals portfolio to fresher ready meal products, the group is proposing to phase out longer life ready meals manufacturing at Kiveton (where it will continue to manufacture quiche and soup) and transfer volume to other parts of its ready meal network.
In the US it reported third quarter sales of £263.7m, a decrease of 0.8%, but an increase of 8.6% on a pro forma basis driven by the former Peacock Foods business.
The old Peacock business delivered pro forma growth of 19.4%, with a broadly similar level of volume growth reflecting good underlying category growth and the impact of new business.
Greencore has strengthened its US leadership team with the appointment of Anton Vincent who joined the group from General Mills as the CEO of Greencore USA in July 2018.
In the UK Peter Haden, currently Group COO, has been appointed to the newly created role of CEO of Greencore UK, effective October 2018.
Overall, Greencore expects "good" pro forma revenue growth in the final quarter of the financial year and reiterated full year guidance of adjusted earnings per share in the range of 14.7p-15.7p.
Online takeaway group Just Eat (JE) grew revenues by a further 45% to £358.4m in the first half of its financial year, though investment in expansion and acquisitions saw its profits fall.
Orders were up 30% in the six months to 30 June to 104.4 million worth £2bn (up 33%), adding a net 11,400 restaurants and 5.6 million new customers.
Underlying EBITDA increased by 12% to £82.7m, though profit before tax fell 3% to £48.1m reflecting costs associated with the acquisition of Hungryhouse and increased investment in marketing, technology and product development.
Non-UK businesses now account for 49% of Group revenues (up from 43% last yeasr) and it continued to see strong growth in the majority of those markets, with the exception of Australia where the launch of delivery is "beginning to gain momentum".
International revenue was up 36%, or 35% at constant currency driven by strong order growth in Italy, Spain and Mexico. UK sales
UK revenues were up 30% in the period.
CEO Peter Plumb commented: "The Just Eat Group served 24 million customers with 104 million takeaways through the group's platforms around the world.
"Our increased investments in technology, brand and delivery are on track to make our service even easier to use, whilst expanding our customer's choice. I'm pleased with the strong start to the year and excited by our opportunity to help many more people enjoy more of their takeaway moments through our platforms."
Just Eat said it will raise investment for long term growth from £50m to £55m - £60 million. Therefore, revenue guidance is raised for 2018 to between £740m - £770m million, up from £660m - £700m, while underlying EBITDA guidance remains unchanged at between £165m - £185m.
On the markets this morning, the FTSE 100 has opened up 0.1% to 7,709.9pts.
Greencore has joined Greggs on the rise this morning, climbing 2.3% to 191.2p. Just Eat is down 1.9% to 830.6p.
Other early risers include PZ Cussons (PZC), up 2/4% to 235.2p and Hilton Food Group (HFG), up 1.7% to 984.4p.
Fallers so far today include McBride (MCB), down 3.4% to 136.2p, Pets at Home (PETS), down 1.3% to 117p and AG Barr (BAG), down 0.9% to 682p.
Yesterday in the City
The FTSE 100 ended the day flat to start the week at 7,700.9pts.
It was largely a tough day for the UK grocery retailers and suppliers, with convenience chain McColl's dropping 6.3% to 156p yesterday on top of a share price drop last week as it detailed the impact the collapse of Palmer & Harvey had on its first half trading.
Elsewhere, Stock Spirits (STKC) fell 4.5% to 214p, Devro (DVO) was down 2.7% to 198p, Nichols (NICL) lost 2.4% to 1,430p, Majestic Wine (WINE) fell 2.2% to 450p and Kerry Group (KYGA) was down 1.9% to €90.80.
Just Eat fell 1.7% to 846.4p ahead of its interim results this morning.
FTSE 100 fallers included Ocado (OCDO), down 1.7% to 1,114p, Diageo (DGE), down 1.5% to 2,794.5p.
Morrisons (MRW) defied any wider market gloom, rising 1.4% to 260.4p.
Other risers included Tour de France winning Team Sky supplier Science in Sport (SIS), up 1.4% to 71.5p, tobacco giant Imperial Brands (IMB), which rose 1% to 2,866.5p and PZ Cussons (PZC), up 1.1% to 229.8p.