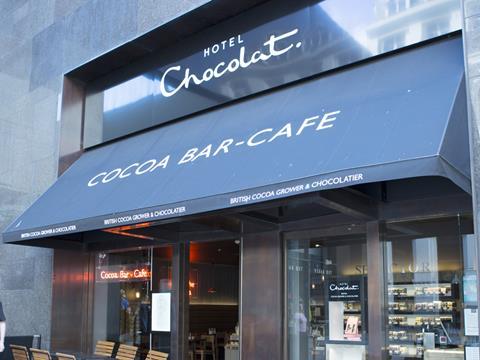 Top story
Hotel Chocolat (HOTC) has shrugged off "economic headwinds" on the UK high street to post a 14% full year sales surge and a 9% rise in underlying earnings.
Reported revenue for 52 weeks ending 30 June 2019 was up 14% to £132.5m, driven by growth in its core UK retail business.
The company said existing locations "performed very well over the year" in the UK, while it opened a further 14 new locations in the region.
It said it had also seen "encouraging results" from investment in upgrades and moving stores at Westfield London, Cardiff and Brighton to better locations to adding drinks and ices with seating.
"Whilst macro-economic trends have created headwinds, we remain confident that further new openings can deliver attractive financial returns and improve customers' ease of access to our brand, based on our multi-channel leisure and gift format," the company stated.
There was an acceleration in same-store sales growth in the second half of the year following the launches of its Velvetiser in-home hot chocolate system and VIP ME scheme.
Online sales through its own website were also up 22% year on year, while UK B2B sales were up 19%.
New locations in the US generated £0.5m sales in their first part-year, contributing 0.5% percentage points to group year on year sales growth. The brand also launched in Tokyo during the year.
Hotel Chocolat said in both markets the brand has been well received by customers "with our approach seen as refreshing and attractive and our prices perceived as fair value".
Underlying EBITDA increased by £1.8m on the prior year, and as a percent of sales reduced from 16.3% to 15.6%. Within this figure the US generated an EBITDA loss of £1m on sales of £0.5m. The rest of the group generated underlying EBITDA growth of 14% with EBITDA margin rising from 16.3% to 16.4%.
Profit before tax increased 11% from £12.7m to £14.1m. Excluding the reported losses of its new US business, profit from the rest of the group increased by 19%.
CEO Angus Thirlwell said: "I am pleased to report another year of significant progress for the group with profits growing slightly ahead of expectations. In the UK, our physical locations performed well, reflecting their allure and relevance. Growth was underpinned by the combination of leisure, gifts and experiences including Chocolate Lock-in tastings, as well as new ranges of drinks and chocolate-dipped ice lollies. The launch of the innovative Velvetiser, our in-home hot chocolate system, supported strong sales growth and received fantastic customer reviews. Our new VIP ME loyalty scheme attracted over 900,000 active members during the period and we continued to bring new and exciting products to market.
"Profit from existing group operations increased faster than sales growth, enabling us to invest in new markets. We are confident that our international expansion will continue to develop well. Our focus on USA and Japan, two of the three largest economies in the world, led to four locations opening, with a further five opening over the next six months.
Hotel Chocolat said it plans to increase sales growth and ernings by "continued innovation", "a relentless focus on customer happiness" and "a tight control of costs".
It said there remained significant headroom for growth in UK given the defensive attributes of the business and the strength and integrity of its brand.
"We have reviewed the potential impacts from a 'hard Brexit' and have contingency plans in place to mitigate potential short-term supply disruptions," it said.
Thirwell added: "The market and wider economy may not be without challenges; however, I remain confident that our plans for the coming year and well beyond will deliver sustainable growth and we have a strong brand and an exciting pipeline of future opportunities. Our aim of eventually becoming the global leader in direct-to-consumer chocolate is firmly in our sights."
Hotel Chocolat shares are up 1.4% this morning to 375p.
Morning update
Irn Bru maker AG Barr (BAG) has posed a "disappointing" first half of the year, as the poor early summer weather hit sales across the soft drinks category.
The drinks group admitted it had "underestimated" the volume benefit it received from an unprecedented 2018 for the soft drinks industry from one-off events and the long, hot summer.
"This, combined with some specific brand challenges, saw a deterioration in financial performance as per the revised market guidance issued in the pre-close trading update on 16 July 2019," the group said.
The six months ended 27 July 2019 saw group sales drop to £122.5m from £136.9m, while statutory profit before tax dropped to £13.5m from £18.2m (including £0.4m of exceptional costs related to restructuring).
Operating margin before exceptional items dropped to 11.6% from 13.4% in the corresponding period last year.
Across the 26 week reporting period the total UK soft drinks market value was down 0.6% while volume declined 4.1% year on year. However taking the last 13 weeks of the reporting period, covering May, June and July, market performance was notably weaker, with value down 6.3% and volume down 8.7%.
The group said: "This notable market swing was particularly felt by AG Barr as our prior year performance was substantially ahead of the market as we successfully navigated the unique factors across the summer of 2018."
Its shift of emphasis back towards value from volume, by improving price position and reducing promotional intensity, had a short-term volume impact across the portfolio, exacerbated by specific brand challenges in Rockstar energy and Rubicon juice drinks.
However, it said: "We are now seeing positive indications of consumer acceptance of this new price and promotional positioning. Early indications are that increased average realised prices are compensating for the reduction in volumes experienced while shoppers readjust to new promotional price points."
It also said it is taking action to address the brand issues related to Rockstar and Rubicon, including the planned launch of three new Rockstar products in the autumn and recipe improvement activity for Rubicon juice drinks. However, the benefit of these actions will not be felt until later in the second half of the financial year.
CEO Roger White said: "Our focus remains on delivering long-term growth. We have plans in place to address our specific brand related challenges and are ensuring that the business is appropriately scaled to perform in the current market. Despite continuing economic uncertainty we expect to meet the revised profit expectations communicated in July."
"We are entering a period of less demanding trading comparisons and, as our new pricing establishes and our strong second half brand plans take effect, our focus is now on returning to long-term growth."
AG Barr shares are up 8.3% to 634.4p this morning despite the poor first half performance, given they had already collapsed from 869p on July on the profits warning.
On the markets this morning, the FTSE 100 is up 0.3% to 7,344.3p to start the day.
Early risers include PureCircle (PURE), up 3.8% to 180p, Reckitt Benckiser (RB), up 1.5% to 6,384p and Premier Foods (PFD), up 1.1% to 32.6p.
Early fallers include Bakkavor, down 1.4% to 113.4p, B&M European Value Retail (BME), down 0.9% to 376p and Sainsbury's (SBRY), down 0.7% to 215p.
Yesterday in the City
The FTSE 100 opened the week down 0.3% to 7,326.1pts.
Amongst the fallers were Marks & Spencer (MKS), which fell 3.2% to 189.5p after losing its CFO over the weekend.
Other fallers included Hilton Food Group (HFG), down 3.3% to 994p, PayPoint, down 2.6% to 935p, Imperial Brands (IMB), down 2.1% to 2,094p, SSP Group (SSPG), down 2.1% to 664p, FeverTree (FEVR), down 1.9% to 2,362p and Just Eat (JE), down 1.7% to 655p.
AG Barr dropped 1.5% to 576p ahead of its interim results this morning.
Shares on the up included Stock Spirits Group (STCK), up 4.4% to 228p, Premier Foods (PFD), up 2.9% to 32.3p, Bakkavor, up 2.5% to 115p, McBride (MCB), up 1.8% to 49.6p and Glanbia (GLB), up 1.5% to €11.18.
FTSE 100 risers included Unilever (ULVR), up 1.5% to 4,867p and Compass Group (CPG), up 1.3% to 2,030p.
PureCircle (PURE), was up 2% to 173.4p despite the postponement of its annual results.