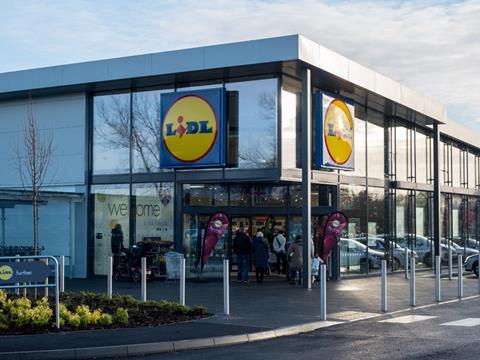 Top story
Food price inflation has hit its highest level for 13 years, with Lidl and Aldi stealing more market share from rivals as almost a quarter of households describing themselves as 'struggling' to make ends meet, according to the latest supermarket data from Kantar.
Like-for-like grocery prices rose 7% in the past four weeks - compared with the same period a year ago - to levels not seen since May 2009.
Sales at supermarkets also fell 4.4% over the 12 weeks to 15 May, Kantar's latest take-home grocery figures showed. However, the rate of decline slowed to just 1.7% over the past month, which counts as the market's best performance since Christmas as the nation prepared to celebrate the Queen's Platinum Jubilee.
Lidl was the fastest-growing retailer over the past 12 weeks, with sales at the discounter up 6%, marginally ahead of Aldi, which increased sales by 5.8%.
Lidl also hit a new market share high of 6.9%, a 0.7 percentage point increase on this time a year ago, while Aldi also broke records, climbing to a 9% share of the market for the first time, an increase of 0.9 percentage points versus 2021.
"People are really feeling the squeeze at the supermarket tills and they're having to stretch their budgets further to accommodate rising prices," said Fraser McKevitt, head of retail and consumer insight at Kantar.
In a Kantar Pressure Groups survey, 43% of households described themselves as 'managing', while 22% said they were 'struggling'. Within the growing group of shoppers struggling to make ends meet, the rising price of groceries is of concern to more than nine in ten people, making it the second most important issue behind the spiralling cost of energy bills.
However, despite rising inflation levels, there were signs the British public are looking ahead to the Platinum Jubilee at the beginning of June, McKevitt added.
"With a four-day bank holiday weekend on the horizon, we're expecting people to celebrate with friends and family. Looking back at the Diamond Jubilee in 2012, we saw a 10% boost in supermarket sales during the week leading up to the festivities. We should never underestimate the appetite for a party, especially a royal one."
Tesco performed ahead of the wider market, increasing its share by 0.4 percentage points to 27.4%. This is the 17th month in a row that Britain's largest supermarket gained share, its longest streak since 2007.
Sainsbury's, the second largest grocer, sits at 14.8%, while Asda accounts for 13.8%.
Iceland's share remained steady at 2.3%, with the 5.2 million over 60s that shop with the grocer every year soon to be eligible for the retailer's new age-specific Tuesday discount.
Morrisons holds 9.5% of the market, with Co-op on 6.1% and Waitrose on 4.9%.
Online specialist Ocado's grocery sales are 6.1% higher than two years ago and it holds 1.7% of the market.
Morning update
Revenues at Cranswick have surpassed £2bn for the first time despite the meat processor battling "unprecedented" industry wide labour and supply chain challenges.
The group said ongoing cost inflation was being "proactively" managed and recovered and "excellent" customer service levels were being maintained.
A significant uplift in poultry sales, as it ramped up capacity at its Suffolk facility, helped Cranswick expand its top line 5.8% to just more than £2bn in the year ended 26 March, with further investment in its cooked bacon factory and breaded poultry facility and bolt-on acquisitions in convenience and pet food set to further drive sales.
Pre-tax profits for the year also climbed 13.2% to £129.9m and Cranswick also hiked its full-year dividend by 8% to 75.6p, continuing a 32-year streak of unbroken dividend growth.
CEO Adam Couch said: "In a year which has been unprecedented in terms of the scale and breadth of challenges we have faced, we have delivered our strategy at pace and our long-term growth plan remains firmly on track."
He added that trading in the new financial year had been in line with board expectations.
"Notwithstanding the challenging operating conditions we continue to experience, our outlook for the group for the current year is unchanged. We have a solid platform from which to continue Cranswick's successful long-term development."
Sandwich maker Greencore has reported a significant improvement in profitability as the food-to-go sector continued its recovery from the pandemic and sales returned to back above pre-Covid levels.
Group revenues increased 33.6% to £770.8m in the 26 weeks ended 25 March, as sales in food-to-go categories jumped 48% year on year to 8% higher than pre-Covid levels.
Greencore also moved back into the black, with pre-tax profits of £1m, compared with a £1.8m loss in the same half a year ago.
The group, which recently appointed former Morrisons boss Dalton Philips as its new CEO, said it had now substantially recovered the significant input cost inflation incurred during the first half through "explicit price recovery mechanisms, constructive dialogue with customers and operational efficiencies".
Executive chairman Gary Kennedy said the group was "very pleased" to generate revenues above pre-Covid levels.
"[It] is a great achievement against a backdrop of mobility restrictions, supply challenges and emerging inflation," he added.
"There has been encouraging momentum in revenue and profit conversion in the first seven weeks of H2, and we are confident in our ability to navigate our way through the current well-publicised macro challenges as we enter our peak seasonal trading period."
SSP Group has continued to claw back sales in an ongoing recovery from the pandemic, but revenues still remained at just more than 60% of 2019 levels in its first half.
Revenues soared 213% to £803.2m in the six months to 31 March as its Upper Crust, Ritazza and other brands welcomed back customers in increasing numbers at airports, train stations and motorway service stations around the world.
The group also returned to profitability in the half, with underlying EBITDA of £14.7m, compared with a loss of £110.3m a year ago, and operating profits of £26m, compared with a loss of £220m.
However, it still made a loss at the pre-tax level of £2.3m, down from £300m last year.
Revenues at the group were back at 83% of 2019 leveles in the first six weeks of the second half as commuter levels continued to climb as workers returned to offices.
New CEO Patrick Coveney said the business was recovering well from "a hugely challenging period".
"It has been immediately clear to me that I have joined a fantastic organisation that has done all of the right things during Covid-19 to protect the business, but, very importantly, is now taking the opportunity to strengthen the foundations of the business for the recovery," he added.
"We anticipate a full recovery in leisure travel, which drives the majority of our business, and are confident that we are well positioned for the months and years ahead."
Meat processor Hilton Food Group has reported an increase in sales thanks to higher prices but warned of a potential hit to volumes as inflation hammers shoppers around the world.
The group said in an update ahead of today's AGM that trading had been in line with expectations in the period from 3 January to date, with sales ahead of a year ago as a result of increased prices and other growth initiatives.
Hilton added that higher prices had had some effect on volumes, but this had been partly mitigated by strong growth in Central European markets and the slow-cooked products business in the UK.
"Whilst the outlook for the year remains challenging, with the impact of higher input prices potentially reducing volume, we expect to make further progress during the year ahead," the group said.
The FTSE 100's gains from yesterday have been erased this morning as the index fell 0.8% to 7,452.82pts in the early going.
Shares in Cranswick jumped 3.4% to 3,266p on the back of its record annual sales, while Greencore also saw a 4.5% increase to 112.2p and SSP soared 8.1% to 255p as both continued to recover from Covid.
Hilton Food Group opened down 0.8% to 1,208.4p.
The latest Kantar data had a negative effect on food retail shares first things, with Tesco down 0.3% to 261.1p, Sainsbury's behind 0.8% to 231.5p, Ocado down by 1.7% to 770.6p and M&S 1% down to 135.2p.
Yesterday in the City
The FTSE 100 shook off investor gloom on Monday to finish 1.7% higher at 7,513.44pts.
There wasn't much in terms of grocery news to drive share movement, but Moonpig leapt 10.4% higher to 259.5p after it announced the £124m acquisition of the gifting experience group behind Buyagift and Red Letter Days.
Ocado shares climbed 3.8% to 783.6p after it acquired US robotics startup Myrmex to accelerate the rollout of 'automated frame loading' across its CFCs globally.
Britvic increased 3.6% to 843p after the start of its £75m share buyback programme, while Cranswick was up 2.3% to 3,158p ahead of this morning's results.
THG fell back 4.1% to 139.1p as markets came round to the possibility that no takeover will take place.
Other fallers included Deliveroo, Just Eat Takeaway and McBride, down 5% to 88.3p, 3.9% to 1,627.2p and 2% to 34.3p respectively.