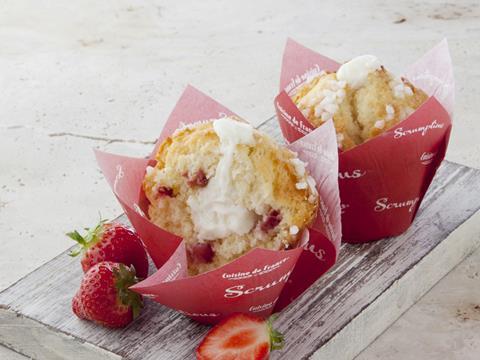 Top story
Swiss bakery goods supplier Aryzta is accelerating wholesale changes to its management team after its first half earnings slumped by more than 30%.
The troubled company had already announced last month that CEO Owen Killian, CFO Patrick McEniff and head of its Americas division, John Yamin, would depart by 31 July, but this morning the company brought forward their departure dates to 31 March.
It has announced this morning the appointment of an interim CFO at it tries to turn around falling sales and profits, with David Wilkinson, senior partner at KPMG in Dublin, joining on secondment from the accountancy firm. He will report directly to the chairman of the board until a new CEO is appointed.
Overall sales at the Cuisine de France owner fell 2.8% to €1.9bn in the six months to 31 January, whist represented a 1.6% decline on an underlying basis.
Europe sales were down 2.3% to €861.8m (1% underlying growth), North America slumped by 5.8% to €915.2m (5.2% down underlying) and Rest of World was up 20.3% to €129m (9.5% up underlying).
EBITA plunged by 31.3% to €158.5m in the first half of the year, with margin contracting by 350 basis points to 8.3%.
Underlying net profit decreased 22.4% to €109.4m
Aryzta said a strategic review of joint ventures investment strategy is underway, and that "in these circumstances, the board is not in a position to provide guidance".
Aryzta shares have slumped 9.2% so far this morning to €30.02. The shares are now down by almost 40% over the past year.
Morning update
It's a quiet start to the week, with no market releases of note this morning.
On the markets this morning, the FTSE 100 has edged up 0.1% to 7,350.7pts to continue the market recovery from Friday after a tough week.
The supermarkets have started the week on the back foot, with Morrisons (MRW) down 1% so far this morning to 231.9p, Tesco (TSCO) down 0.6% to 187.7p and Sainsbury's (SBRY) down 0.4% to 265.3p.
Other fallers include Hilton Food Group (HFG), down 1.8% to 636.3p and Premier Foods (PFD), down 1.8% to 41.8p.
Risers so far this morning include PureCircle (PURE), up 2.2% to 322p, Conviviality (CVR), up 1.4% to 268.4p, Devro (DVO), up 1.4% to 201.2p and Worldpay (WPG), up 1% to 291.3p.
This week in the City
It looks like a relatively quiet week ahead in the City for the grocery sector, but it will be punctuated with two notable trading updates.
Ocado (OCDO) will issue its first quarter sales numbers on Tuesday and then on Thursday it's the turn of Sainsbury's to release its fourth quarter and full-year sales figures.
Commentary around conditions in the grocery retail sector will be particularly keenly observed, given the slump in grocery share prices towards the end of the week as the market becomes increasingly worried about their ability to cope with rising prices and maintain their efforts to close the price gap with the discounters.
Elsewhere this week, tomorrow brings the first annual results from petrol forecourt operator Applegreen (APGN) as a UK listed company. SSP Group (SSPG) has its annual shareholders meeting today.
In economic news, the Bank of England's latest decision on interest rates will be taken on Thursday, with almost all observers expecting the BofE to stick with the current 0.25% even in the face of mounting inflation.