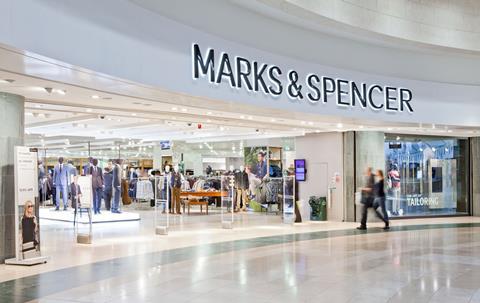 Top story
Marks & Spencer has fallen to a pre-tax loss of £87.6m in the first half, the group's first loss in its near century as a public company, as a COVID-driven sales plunge in general merchandise negated 'strong' performance in its food division.
Total group sales for the six months to 26 September dropped 15.8% back to £4.1bn as clothing and general merchandise sales plunged by more than 40% due the coronavirus outbreak and lockdowns.
However, its food business has performed strongly despite "substantial Covid headwinds" during the six-month period achieving 2.7% like for like growth or 6.6% when excluding hospitality, which was largely closed during lockdown.
M&S said it adapted rapidly to the change in shape of demand to deliver improving LFL growth across the period. This was despite headwinds which included the exposure to travel and office locations, high dependence on food-to-go and a presence in full line stores in impacted shopping centre locations.
In the second quarter, Simply Food was up 19%, Retail parks 13% and M&S.com up 119% to mitigate a 75% drop in travel, 29% fall in city centres and 14% down on the high street.
Food operating profit before adjusting items increased 19% driven by the strong underlying performance with product mix effects due to the reduced sales in food-on-the-move and hospitality more than offset by lower costs.
After launching its JV with Ocado in the UK, Ocado Retail sales were up 47.9% and grew in profitability over the period despite capacity contraints.
Conversely, total general merchandise revenues fell 40.8%, comprising a decline of 61.5% in quarter one and 21.3% in quarter two as stores reopened.
Despite its stores reopening in the second quarter following the Spring lockdown, the business still had substantial headwinds to deal with in the form of a store estate generating two thirds of sales in high streets, shopping centres and town centres and a product mix in which formal, outerwear and event related categories accounted for around one quarter of sales last year.
Clothing and home recorded a huge operating loss before adjusting items of £107.5m reflecting the lower sales and the successful clearance of surplus seasonal ranges, partly offset by a reduction in operating costs.
CEO Steve Rowe commented: "In a year when it has become impossible to forecast with any degree of accuracy, our performance has been much more robust than at first seemed possible. This reflects the resilience of our business and the incredible efforts of my M&S colleagues who have been quite simply outstanding.
"But out of adversity comes opportunity and, through our Never the Same Again programme, we have brought forward three years change in one to become a leaner, faster and more digital business. From launching M&S Food online with Ocado to establishing an integrated online business division 'MS2' to step-change growth, we are taking the right actions to come through the crisis stronger and set up to win in the new world."
Looking forward, M&S said there remains significant uncertainty regarding the near-term outlook in relation to both Covid and Brexit. It said trading in the first four weeks of the second half has continued at similar rates to the end of Q2, with food revenue up 3%, clothing and home sales down 21.5% and international revenue up 7.4%.
It stated: "Throughout this uncertain period and as we start to emerge from the crisis, our financial priority is to fund the transformation while focusing on generating cash and strengthening the balance sheet. Our objective is to ensure the business emerges from these uncertainties in a stronger, leaner and more focused position and with balance sheet metrics consistent with investment grade in the medium term."
Morning update
PepsiCo yesterday announced its former Tesco CEO Dave Lewis will join its board as an independent member of the Board.
Lewis will join the Board effective 13 November and will be a member of the Audit Committee.
He most recently served as Group Chief Executive Officer of Tesco and before that worked at Unilever for almost three decades, including in a variety of leadership roles in Europe, Asia and the Americas.
PepsiCo Chairman and CEO Ramon Laguarta commented: "We look forward to working with Dave on the PepsiCo Board and to his unique, global perspective on consumer centricity, retail strategy, operations, and supply chain management for consumer-facing brands.
"He is a purpose-driven leader focused on outcomes and we will benefit from his innovative thinking."
Lewis commented: "I am thrilled to join the Board of PepsiCo at such a dynamic time for the consumer-packaged goods industry. PepsiCo is known not only for its terrific portfolio of brands, but also for its efforts to support communities and build a more sustainable food system. I look forward to working with the entire Board and management team to support and advance the company's strategy to become a Faster, Stronger, Better organization."
Elsewhere, Coca-Cola European Partners has announced it has entered into binding agreements to acquire Coca-Cola Amatil Limited (CCL).
After announcing the deal last week, CCEP today announces that it has completed its confirmatory due diligence and entered into a binding agreement with CCL to buy 69.2% of its shares.
It had previously announced an agreement with the Coca-Cola Company to buy the remaining shares in CCL that Coke owned.
The deal remains subject to regulatory and shareholder approval.
On the markets this morning, global shares have reacted cautiously as the result of the US Presidential Election remains unclear and is set to drag on in key States for a number of days.
With Donald Trump and Joe Biden still locked in a close tussle, the FTSE 100 has edged up 0.1% to 5,791.1pts.
Yesterday in the City
The FTSE 100 ended the day up 2.3% to 5,786.8pts ahead of yesterday's US Presidential Election.
Amongst the numerous risers were Bakkavor, up 4.4% to 63.7p, Premier Foods, up 3.9% to 98.3p, FeverTree, up 3.9% to 2,077p, WH Smith, up 2.4% to 1,031p, Hotel Chocolat, up 2.3% to 327.5p and Greggs, up 2.3% to 1,315p.
Associated British Foods ended the day up 0.4% to 1,728p after posting double digit drops in first half sales and profits after the enforced closure of its Primark stores.
The day's fallers included C&C Group, down 4.5% to 145p, Nichols, down 1.8% to 1,070p, Just Eat Takeaway.com, down 1.4% to 8,636p, Ocado, down 1.2% to 2,430p and Coca-Cola European Partners, down 1.1% to €30.90.