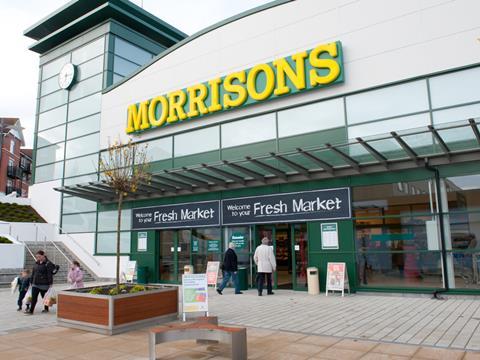 Top story
Morrisons (MRW) has reported its sales grew 1.6% on a like-for-like basis (ex fuel) in the 13 weeks to October, which represents its fourth consecutive quarter of like-for-like sales growth.
Excluding fuel, sales were down 1.2%, reflecting the impact of supermarket closures and the sale of its M Local business.
Including fuel sales were up 3.4% on a like-for-like basis as the price of petrol increased and by 1.1% on a total basis.
Morrisons said its like-for-like transaction numbers were up 4.1% in the quarter and its investment of price saw deflation of 1% in the period.
Chief executive David Potts said: ""Our like-for-like sales have now been positive for a year, which is thanks to the hard work and dedication of the whole Morrisons team.
"There is a lot more we plan to do. We will keep investing in becoming more competitive and improving the shopping trip, and I am confident we will serve our customers even better during the important trading period ahead."
Morrisons also said it is "becoming more relevant around key seasons and events", with its seasonal Halloween sales up around 20% year-on-year.
Morrisons shares were up 1.6% to 224.8p this morning on the news.
Morning update
Tate & Lyle (TATE) has released its first half results, which show a big boost to revenues and profits by currency movements.
Sales from continuing operations increased by 13% to £1.32bn during the six months to 30 September, though this represented only 1% growth at constant currency rates.
Adjusted operating profit was 34% higher (18% higher in constant currency) at £133m with adjusted profit before tax up 37% (22% higher in constant currency) at £140m.
A £15m increase in Sucralose sales was supported by one-off inventory sell-down, while a £6m decrease in its food systems division was driven by lower volume in Europe.
Chief executive Javed Ahmed said: "We have made a strong start to the year delivering good profit growth in both divisions supported by good US bulk sweetener demand in the key summer beverage season, and the benefit of the one-off sell-down of excess inventory in Sucralose. We continued to strengthen execution across the business, leading to further improvement in customer service and supply chain performance.
"We expect adjusted profit before tax in constant currency for the full year to be higher than we anticipated coming into the year driven by the strong first half performance, with performance in the second half remaining in line with our expectations."
Meat packing firm Hilton Food Group (HFG has issued a trading update for the period 18th July 2016 to date. It said it is continuing to trade in line the expectations, with local turnover growth in most markets and it is benefitting from the strength of various currencies in these markets in relation to sterling.
It said it continues to deliver "good" growth in Western Europe, particularly in the UK which has benefitted from the earlier capacity expansion programme and from the absence of start-up costs as compared with last year. Trading conditions in Denmark remain challenging, but its joint venture in Australia is making "excellent progress".
"The Group's financial position remains strong with the Group continuing to generate cash leaving Hilton well-placed to continue to explore opportunities to grow the business in both domestic and overseas markets," it stated.
European Coke bottler Coca-Cola HBC (CCH) has announced a 1% decline in third quarter volumes "against very tough comparatives".
It said this fall in volumes was in line with expectations, given the prior year performance where and exceptionally hot summer in some of our countries boosted demand, mainly for water.
The 1% decline in volumes compares to 5.4% in the prior year quarter. Its focus revenue growth management and better category and package mix, combined with price increases taken in emerging markets, delivered a 3.8% improvement in revenue per case on an currency neutral basis.
FX-neutral net sales revenue growth in the quarter was 2.8% in the quarter. Including the 4.5% adverse impact from currency movements, net sales revenue declined by 1.9% compared to the prior-year quarter.
CEO Dimitris Lois said: "Performance in the third quarter was as expected, with lower volume reflecting the exceptional growth we saw in the third quarter of 2015. We are pleased with our commercial initiatives, which delivered an improvement in currency-neutral net sales revenue per case. The business is trading well and we remain confident in meeting our expectations for the full year."
On the markets the FTSE has edged up 0.2% to 6,856pts but is some way off recovering its falls over recent days.
Tate & Lyle has leapt 6% to 825.5p on its guidance for better-than-expected full-year profits growth. Hilton Food Group is up 1.9% to 605p and Coca-Cola HBC is up 0.4% to 1,776p.
Elsewhere, Sainsbury's (SBRY) is up 1.3% to 256.1p this morning and British American Tobacco (BATS) is up 1% to 4,634p.
Fallers include Real Good Food (RGD), down 2.4% to 40p, C&C Group (CCR), down 1.9% to €3.41 and Crawshaw Group (CRAW) down 1.2% to 33.1p.
Yesterday in the City
The tightening of the US presidential race continues to send jitters through the city as the prospect of President Trump helped send the FTSE 100 another 1% lower to 6,845.4pts yesterday. The index is now 2.2% since Monday morning as the race in the US intensifies.
There were some notable risers yesterday amidst the gloom, with Cranswick (CWK) up 3.4% during the day to 2,203p, McBride (MCB) rising 2.3% to 189p, Associated British Foods (ABF) rise 2% to 2,525p and Britvic (BVIC) rise 1.6% to 568.5p.
Two Irish domiciled companies shrugged off worries over the impact of Brexit on their export to the key UK market by rising after reporting solid trading updates yesterday. Glanbia (GLB) was up almost 5% to €14.85, while Kerry Group (KYGFA) was up 3.6% to €68.38.
However, most grocery and fmcg shares trended down yesterday. Notably fallers including Tesco (TSCO) down 1.9% to 209.3p, Booker Group (BOK), down 1.3% to 179.4p, Diageo (DGE) 1.3% down to 2,132.5p, WH Smith (SMWH) down 1.1% to 1,480p and ahead of its third quarter trading update this morning Morrisons shares were down 1.1% to 221.3p.