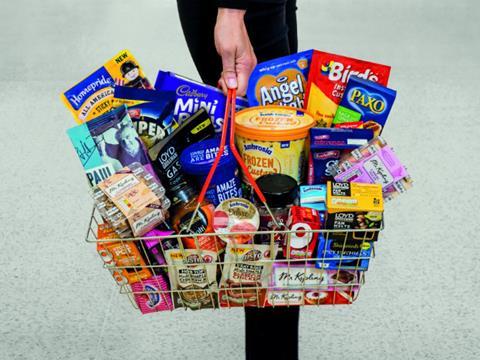 Premier Foods (PFD) is shifting its strategy away from focussing on revenue growth to a more "balanced approach" after full year underlying sales slipped 1.4% in the year to 1 April 2017.
Premier posted an underlying sales fall of 1.4%, but its sales trend improved in the fourth quarter to a 1% fall.
Branded sales were 3.5% lower in the year while non-branded underlying sales increased by 11.1% to £130.9m.
Its grocery business unit reported a full year underlying sales drop of 2.6% to £563.1m. Premier said the year started strongly, but "a particularly warm end to the second quarter in the UK resulted in a sharp slowdown in some of the key grocery categories such as gravy, stocks and soups, which resulted in lower sales."
Six of its eight branded categories gained market share, with Batchelors performing strongly in the fourth quarter, but gravy and stocks and soup volumes declined in the second quarter by 13% and 16.3% respectively due to the warm weather.
On a statutory basis, revenue grew from £771.7m in the year to £790.4m, an increase of 2.4%, reflecting the inclusion of results from Knighton Foods in its 2016/17 accounts.
Following its January profits warning, underlying trading profit fell 9.3% to £117m and adjusted profit before tax slipped 11.8% to £74.2m.
The company said profits were impacted by a time lag in recovering input cost inflation; the impact of changing retailer promotional strategies and category declines in the grocery business following a warmer than usual second quarter. Partly offsetting these impacts were SG&A savings, manufacturing cost efficiencies and slightly lower marketing investment in the year.
Premier had previously guided towards medium term underlying sales growth of 2-4%, but has abandoned that target to take a more "balanced" approach focussing on revenues, cost efficiencies and cash generation.
Premier said: "Recent developments in the external environment have adversely affected the group's performance. As a result, the board has reviewed its strategy and decided to adjust the balance of priorities between existing strategic objectives.
"Previously this balance was weighted towards delivering category (and hence sales) growth. Going forward the board will pursue a strategy which is more evenly balanced between the three objectives of delivering sales growth, achieving cost and efficiency savings and reducing net debt."
Premier expects to deliver aggregate cost efficiency savings of £20m over the next two years and plans to maintain a tight focus on capital expenditure in the range of £20-£25m over the medium term.
CEO Gavin Darby said: "This financial year has been a challenging one for the industry, with the return of food inflation and changing retailer promotional strategies.
"With the industry changing rapidly, we have updated our strategy to give an equal focus to revenue growth, cost efficiencies and cash generation. In the UK, growing ahead of our categories continues to be a core objective for us and our plans for International are for further strong growth.
"This year has started on a solid footing; we are very pleased to announce an extension of our bank facilities and the proposed issue of a new bond. We plan to deliver progress in FY17/18, while noting this progress is expected to be weighted more to the second half of the year."
Net debt reduced to £523.2m from £534.2m.
Morning update
Moy Park owner JBS has released its first quarter results, revealing that the Northern Irish poultry manufacturer saw revenues rise 6.6% to £370.4m in the quarter.
This increase was mainly from a 24.9% jump in fresh poultry domestic volumes, but was partially offset by lower sales prices in the same segment.
EBITDA for the quarter was £30.2 million, slightly down on the £30.6m EBITDA in the corresponding period last year. The £0.4 million reduction was mainly related to non-recurring SOX compliance costs. Excluding this effect, performance in relation to last year would have been positive, thanks to strong operational performance and volume growth.
JBS said Moy Park management remains focused on cost control, strong customer relationships and on its culture of constant innovation providing a secure platform for future performance.
On the markets this morning the FTSE 100 is up another 0.3% to 7,476.8pts.
Premier Foods has dropped another 2.3% to 42p after reaching 46.25p on Friday.
The FTSE 100 fmcg firms are on the up this morning. Reckitt Benckiser (RB) us up 1.3% to 7,462p, British American Tobacco (BATS), up 1.2% to 5,456p, Unilever (ULVR), up 1.1% to 4,162.5p.
Other risers include PureCircle (PURE), up 3.8% to 326.9p, Applegreen (APGN), up 1.6% to 406p and McBride (MCB), up 1.4% to 205p.
Fallers include Hilton Food Group (HFG), down 2.9% to 747.5p, Crawshaw Group (CRAW), down 1.7% to 29p and Real Good Food (RGD), down 1.4% to 36p.
Yesterday in the City
The FTSE 100 was up 0.3% to 7,454.4p to start the week on the front foot.
Premier Foods had gained ground last week after the resigning of its agreements to produce Cadbury-branded cakes, but slumped yesterday ahead of its annual results dropping 4.4% back down to 43p.
FeverTree Drinks also slipped 2.6% back to 1,660p yesterday despite announcing a bumper start to the year's sales.
Also down were Hotel Chocolat (HOTC), down 2.7% to 350p, PureCircle (PURE), down 1.6% to 315p and C&C Group (CCR), down 1.6% to €3.50.
Other fallers inclided Imperial Brands (IMB), down 1.5% to 3,662.5p, Cranswick (CWK), down 1% to 2,740p and Diageo (DGE), down 1% to 2,282p.
There were fewer notable risers, led by Nichols Beverages (NICL), up 2.3% to 1,758p, Hilton Food Group (HFG), up 1.3% to 770p and Conviviality (CVR), up 1% to 319.5p.
Sainsbury's (SBRY) was also up 0.7% to 266.7p, while PZ Cussons (PZC) rose 0.6% to 343p.