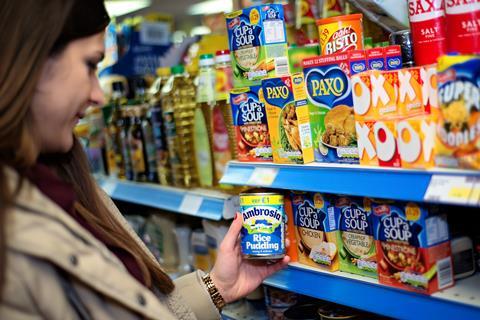 Top story
Premier Foods has warned of further price hikes for its portfolio of household brands to combat soaring costs while announcing better-than-expected full-year results.
The Bisto and Paxo owner outperformed forecasts for trading profits in the year ended 2 April 2022 as it continued to gain market share and grow its brands faster than rivals across categories.
Trading profits of £148.3m beat expectations, which were already raised at the time of a third quarter trading update, for the bottom line. The figure was flat year on year and 12% ahead of two years ago.
Revenues at the group declined 3.6% to £900.5m as it started to lap its performance when customers were stockpiling household essentials during successive lockdowns, but sales remained 6.3% higher than two years earlier.
Premier said strong branded growth drove volume and value market share gains for its grocery and sweet treats divisions, with Mr Kipling having its best-ever year thanks to a series of new product launches and investment in marketing.
Branded revenues increased almost 10% when compared with two years ago, while international sales jumped 25%.
Premier added it was confident of another year of "good progress" despite the difficulties facing households as energy bills and petrol costs spiral higher.
However, the group warned it would manage further cost inflation by raising its prices further, as well as relying on cost efficiency programmes.
CEO Alex Whitehouse said: "We anticipate seeing further input cost inflation which we will continue to address using a combination of measures, as we have successfully done before, and including cost efficiency programmes and increased pricing.
"Our initial trading so far this year has been encouraging, in line with our plans, and we are seeing strong market share gains as consumers increasingly look for good value meal solutions. With this positive momentum, and the resilience of our brands, categories and supply chain, we are confident of delivering another year of good progress."
Premier also halved its interest costs over the past two years as it continued to make progress on reducing its debt, which decreased 14.3% year on year to £285m, and halved the pension scheme deficit to £193.9m.
The group increased its dividend by 20% to 1.2p per share as a result.
Shares in the group jumped 3.8% to 110.6p in the early tradings on the back of the positive results statement.
Morning update
Inflation has reached a fresh 40-year high as higher energy bills and record petrol prices hit households across the UK.
The consumer price index jumped to 9% in the 12 months to April, up from 7% a month earlier, the Office for National Statistics (ONS) announced this morning.
It is the highest figure recorded since the index started being calculated in 1997, with the ONS estimating it hasn't been higher since 1982.
Although energy bills and petrol had the biggest effect on prices last month - with fuel 31.4% more expensive than a year ago - food and non-alcoholic drinks inflation also had an impact with prices 6.7% higher, up from 5.9% in March, while tobacco and alcoholic beverages were up from 4.4% to 4.8%.
ONS chief economist Grant Fitzner said: "Inflation rose steeply in April, driven by the sharp climb in electricity and gas prices as the higher price cap came into effect.
"Around three-quarters of the increase in the annual rate this month came from utility bills.
"We have also published new modelled historical estimates today which show that CPI annual inflation was last higher 40 years ago.
"Steep annual rises in the cost of metals, chemicals and crude oil also continued, along with higher prices for goods leaving factory gates.
"This was driven by increases for food products, transport equipment and metals, machinery and equipment."
The ONS reported that factories across the UK hiked prices last month as they passed on soaring costs to customers, with output prices 14% higher than a year ago and input prices up 18.6%.
Online wine retailer Virgin Wines has signed new strategic partnerships with train operator Great Western Railway and consumer electronics retailer Currys.
The group will act as sole supplier of wine across GWR's railway network and offer Currys' customers introductory offers and subscription schemes.
Virgin said the partnerships were expected to deliver a significant number of new customers to its service over the next year, potentially introducing millions of consumers to its products.
CEO Jay Wright added: "Despite the uncertain market conditions and the escalating cost of living for consumers we remain extremely positive about the prospects for our business.
"Engaging in partnerships with leading brands is central to our customer acquisition strategy. We work extremely hard to provide an exciting and targeted range of products to suit the needs and desires of the customers of our valued partners, and look forward to seeing these partnerships thrive into the future."
Pub operator Marston's has revealed a return to more normal trading patterns despite Christmas covid disruption.
Like-for-like sales in the first half to 2 April were at 97% of 2019 levels, with the Omicron variant hitting trading over the festive season.
Marston's generated revenues of £369.7m in the half, compared with just £55.1m a year ago.
The group also returned to a pub operating profit of £40m in the period, compared to an almost £60m loss previously. Pre-tax losses also reduced from £122.4m to £7.5m.
CEO Andrew Andrea said: "Whilst mindful of the challenges which every hospitality business currently faces, trading remains stable and we look forward to an uninterrupted summer.
"We are navigating our way through cost increases, mitigating these as much as we can through cost efficiencies and pricing strategies, whilst welcoming customers back without compromise to the best Marston's guest experience."
The FTSE 100 slipped back 0.1% to 7,513.14pts this morning on the back of inflation worries.
Early fallers included Greencore Group, down 4.3% to 105.7p, Nichols, down 1.7% to 1,401p, and Deliveroo, down 1.7% to 94.7p.
Martson's also fell by 1.3% to 61.7p despite a return to profitability.
Risers so far included Hotel Chocolat Group, up 3.2% to 343p, McBride, up 3.1% to 36.5p, WH Smith, up 2.8% to 1,546p, and Reckitt Benckiser Group, up 1.4% to 6,378p.
Yesterday in the City
The FTSE 100 rose 0.7% to 7,518.35pts yesterday ahead of the latest UK inflation data as ONS figures on UK unemployment dropped to a almost 50-year low.
Shares in drinks group Britvic stumbled despite a double-digit rise in both sales and profits at the Robinsons owner, which benefitted from a recovery in the out-of-home channel. The stock fell 1.3% to 842.8p as inflation continued to weigh on investors' minds.
In contrast, cider maker C&C Group jumped 5.5% to 216.2p after a strong rebound in sales led to a return to profitability as the on-trade reopened.
Tobacco giant Imperial Brands also had a good day, with shares up 6.3% to 1,820.7p as growth in e-cigs left investors in a positive mood despite a slump in earnings.
Other risers yesterday included Just Eat Takeaway and Finsbury Food Group, up 5.4% to 1,764p and 3.7% to 69.5p respectively.
Fallers included Tesco, down 2.6% to 279.2p, Ocado, down 1.5% to 800p, and M&S, down 1.7% to 141.9