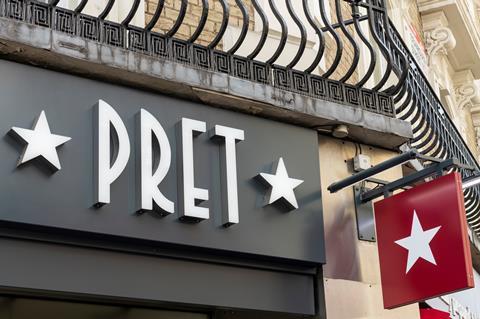 Top story
Pret a Manger has returned to profitability thanks to a strong recovery in revenues as the food-to-go sector continued its revival following the end of Covid restrictions.
Sales in the first half of 2022 increased by 130% year-on-year to £357.8m, an improvement of 60% on figures recorded in 2020 when the pandemic first hit.
The sandwich group returned to profitability in March and has been operationally cashflow positive since May.
Pret also said its revenues in May across the UK surpassed 2019 levels for the first time, with a particularly strong performance in regional and suburban areas.
The growth outside of London, where city centre stores were hit hardest by a lack of office workers, reflected the sustained expansion of Pret's regional shop estate, as well as the impact of new openings in Brentwood, Harrogate, Leeds and York, the group added.
Today, 66% of Pret's UK shop portfolio is outside of the Square Mile, with 36% of UK shops located in regional cities and towns.
The half-year results come as Pret filed full-year accounts for 2021 at Companies House.
Revenues for 2021 increased 17% year-on-year to £461.5m, while operating losses reduced from £343m to £225.9m.
The business has also benefitted from a shift towards digital channels, with digital transactions accounting for 37% of the total during 2021.
Its UK coffee subscription service was used more than 667,000 times per week last year and has now risen to a million redemptions a week. Following the success of the coffee subscription in the UK, the service has been launched in France and the US.
CEO Pano Christou said: "Two years ago, we said we wanted to bring Pret to more people. During the first half of this year, we not only delivered on that pledge, but we also grew fastest in some of the places where we only had a handful of Pret shops before.
"That's a fantastic result and shows how big the appetite is for freshly prepared food and organic coffee in towns and cities across the UK."
In September last year, Pret announced a medium-term growth target to double the size of its business within five years, as well as expanding into five new markets by the end of 2023.
The company has already announced agreements with franchise partners to enter Canada, Ireland, Spain, Portugal and India, hitting its international expansion commitment one year ahead of schedule.
"The second half of this year will be about taking that [international expansion] a step further, while continuing to run our business with the fast, friendly, joyful service which has made Pret what it is today," Christou added.
Later this week, Pret is set to unveil a new affordable menu range in the UK, while also expanding its range of bakery products.
Morning update
Supermarket Income REIT has invested £83m in the purchase of a Tesco superstore, M&S Foodhall and an Iceland in Basingstoke and an Asda supermarket in Doncaster.
The 18.7 acre Chineham site has been acquired from Tellon Capital and comprises a 60,938 sq ft net sales area Tesco superstore with a large omnichannel operation, a 16-pump petrol filling station and 878 parking spaces. The store is an online hub for Tesco, operating 13 home delivery vans and a dedicated click & collect facility in the car park. The property also includes an M&S Foodhall, Iceland and further complementary non-food tenants.
The Asda store in Carcroft comprises a 45,813 sq ft net sales area omnichannel supermarket which sits on a 5.2 acre site and includes 340 parking spaces. Asda has operated from the site since the 1970s with the store being fully refurbished in 2019. The store supports Asda's online fulfilment in the area through click & collect. The property was acquired via a direct sale and leaseback transaction with Asda under a new 100-year lease.
Ben Green, director of Atrato Capital, the investment advisor to Supermarket Income REIT, said: "These acquisitions further strengthen and complement the group's portfolio. Chineham Park was a rare opportunity to acquire a Tesco, an M&S Foodhall and an Iceland in a single transaction. The Asda acquisition represents the longest duration asset in the portfolio with a very long 100 year lease.
The company also arranged a £412.1m unsecured credit facility with a bank syndicate comprising Barclays, Royal Bank of Canada, Wells Fargo and Royal Bank of Scotland International. It is the first time the company has accessed unsecured debt financing.
The FTSE 100 started the week in a positive mood, rising 1.1% to 7,244.02pts first thing.
Early risers included McBride, up 5.1% to 16.8p, Marston's, up 4.7% to 52.8p, and DS Smith, up 1.8% to 278.7p.
Pets at Home is down 5.3% to 293.6p, while Just Eat Takeaway, Naked Wines and Bakkavor are also part of the early fallers, down 2.9% to 1,250p, 2.7% to 160.9p and 2.4% to 91.3p respectively.
This week in the City
It is looking very quiet in terms of scheduled news on the markets.
The big news this week is the Q1 update from Sainsbury's tomorrow.
There are also AGMs from M&S (Tuesday), Sainsbury's (Wednesday) and Pets at Home (Wednesday).