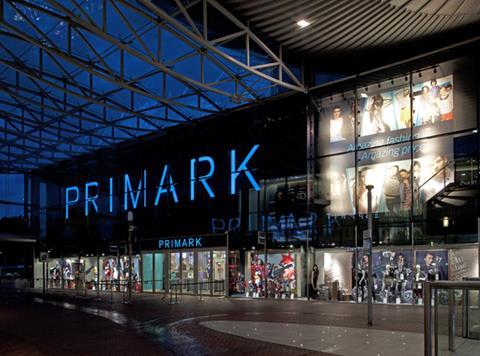 Top story
Associated British Foods has warned a new national lockdown in England, along with renewed restrictions across Europe, would lead to a loss of almost £400m in sales at closed Primark stores. The CEO of the British Retail Consortium called the Prime Minister's plans "the nightmare before Christmas" for retailers.
In an unscheduled update released to the market because of increasing restrictions, ABF said, as of today, all Primark stores in the Republic of Ireland, France, Belgium, Wales, Catalonia in Spain and Slovenia are temporarily closed. It represents 19% of the retailer's total selling space.
If Parliament passes the government's proposals for a second full national lockdown in England later this week, 57% of Primark's retail selling space will be closed from 5 November.
ABF estimated the total loss of sales for the temporary closure of these stores would be £375m.
Trading hours are also restricted in a number of other markets and the group said uncertainty about further temporary store closures in the short-term remained.
"We are implementing the operational plans developed to manage the consequences of these closures and appropriate action will be taken to reduce operating costs," ABF added.
"All orders placed with our suppliers will be honoured."
ABF is scheduled to publish its full-year results for the 12 months to 12 September tomorrow morning.
Shares in the group slumped 3.7% to 1,634p as markets in London resumed today.
BRC chief executive Helen Dickinson said the government's plans to shut down all non-essential shops was a "nightmare before Christmas" for retail.
"It will cause untold damage to the high street in the run up to Christmas, cost countless jobs, and permanently set back the recovery of the wider economy, with only a minimal effect on the transmission of the virus," she added.
"A recent Sage paper reported that closing 'non-essential' retail would have minimal impact on the transmission of Covid. This is thanks to the hundreds of millions of pounds retailers have spent making their stores Covid-secure and safe for customers and colleagues.
"The announced closure will have a significant economic impact on the viability of thousands of shops and hundreds of thousands of jobs across the country. The previous lockdown cost 'non-essential' shops £1.6bn a week in lost sales; now that we are entering the all-important Christmas shopping period, these losses are certain to be much bigger."
Dickinson said government must provide support to businesses forced to close, otherwise the consequences for local retail would be "dire".
Ian Wright, chief executive of the Food & Drink Federation, echoed her message calling for government support for industry.
He said: "Confirmation that the furlough scheme will be extended is extremely welcome news for food and drink businesses who continue to feed the nation. However, we need further clarity that the food supply chain will be supported sufficiently.
"Without further reassurance thousands of jobs will be under threat as businesses consider closing their doors for good. The economic impacts of this decision threaten calamity unless we see further details of a rescue package in the next 72 hours."
The FTSE 100 looks set to slide further today as businesses and investors contemplate what a second national lockdown will mean for the economy.
London's blue-chip index is down 0.1% to 5,571.91pts first things.
A number of shares across the retail and food and drink industry also sank this morning, with pub groups, drinks producers, which rely on out-of-home consumption, and high street food outlets all hit hard.
Marston's slumped 12% to 42.5p, Vimto maker Nichols was down 5.2% to 1,147.5p, Greggs dropped 4.7% to 1,227p and Upper Crust owner SSP Group was 3.4% in the red to 180.4p.
M&S took a further tumble - down 2% to 87.4p - thanks to its clothing business, but the supermarkets all increased as investors expected them to reap the rewards of another lockdown, with Tesco up 1.8% to 209.2p, Sainsbury's up 1.1% to 203.9p, and Morrisons up 0.8% to 164.3p.
Other shares doing well this morning include Just Eat, up 2.3% to 8,790p, Premier Foods, up 2% to 94.2p, discounter B&M, up 1.4% to 491.4p, and household cleaning product manufacturer McBride, up 3% to 63.3p.
Morning update
Shares in Ocado have also shot up 6.9% to 2,432.3p as investors ran to the relative safety of the online retailer.
In a trading update this morning, Ocado said its joint venture with M&S had remained "strong" through the fourth quarter of its financial year ended 30 November.
The retailer added demand continued to remain high for its services as shopper flocked to online grocery in record numbers.
Ocado Group upgraded its full-year EBITDA forecast as a result, with group profits now expected to be more than £60m, compared with previous guidance for more than £40m.
In a separate announcement, Ocado also revealed proposals to buy two US robotic manufacturers for almost $300m (£233m).
The online retailer said it would buy Kindred Systems Inc, an advanced piece-picking robotics company, for $262m and Haddington Dynamics Inc, a robotic-arm designer and manufacturer, for $25m.
CEO Tim Steiner added: "We consider the opportunities for robotic manipulation solutions to be significant, both for Ocado Smart Platform clients and across the fast-growing online retail and logistics sectors.
"Ocado has made meaningful progress in developing the machine learning, computer vision and engineering systems required for the robotic picking solutions that are currently in production at our CFC in Erith. Given the market opportunity we want to accelerate the development of our systems, including improving their speed, accuracy, product range and economics.
"I am delighted to be welcoming Kindred Systems and Haddington Dynamics to the Ocado group, as we believe they have the capabilities to allow us to accelerate delivery, innovate more, and grow faster. I am also excited by the opportunity to enter new markets for robotic solutions outside of grocery that is demonstrated by Kindred Systems' robust growth, with existing customers such as Gap and American Eagle across the general merchandise and logistics sectors."
Kindred Systems is a robotic solutions company based in San Francisco and Toronto that designs, supplies and services piece-picking robots for e-commerce and order fulfilment.
Founded in 2014, Kindred Systems has around 90 employees, approximately half of whom are engineers who will join Ocado's existing technology team. Kindred Systems is expected to have approximately 180 robots installed and operating by the end of 2020 across its growing client base and is expected to generate revenues of over $35m in the calendar year 2021.
Haddington Dynamics is an advanced research and development company based in Las Vegas that specialises in the design and manufacture of low-cost, lightweight, highly dexterous, robotic arms.
Elsewhere, NWF Group, the specialist distributor of fuel, food and feed across the UK, announced it had experienced an unauthorised access to the IT systems in two of its divisions (feeds and fuels) and at group level.
There had been no unauthorised access at the group's food division, the group added.
NWF has engaged external specialists and has taken precautionary measures with its IT infrastructure, including taking systems offline whilst it continues to investigate the nature and extent of the incident, the recoverability of any compromised data and any effects on the operability of its systems.
The group's businesses remain operational; the customer service teams in feeds and fuels are using alternative systems and procedures to fulfil and deliver orders.
"In light of the complex and evolving nature of this situation, the board has requested that trading in the company's ordinary shares be suspended until it is in a position to provide more definitive information," the business said.
This week in the City
It's a big week for grocery retail, with both M&S and Sainsbury's set to report results.
M&S is likely to have benefitted from higher demand in its first half, but a bloodbath on the high street is expected to have lead to historic losses for the bellwether retailer. The group will reveal the extent of the damage on Wednesday.
Sainsbury's should have better news to report when it reveals its interims on Thursday morning.
And tomorrow brings the Associated British Foods full-year results and a trading update from packaging firm DS Smith.
Elsewhere, there is the little matter of the US Presidential elections tomorrow.
Later today, in the US, Cadbury owner Mondelez and Beyond Meat both report their later quarterly figures. In Europe, there is also the quarterly results of Hello Fresh tomorrow.