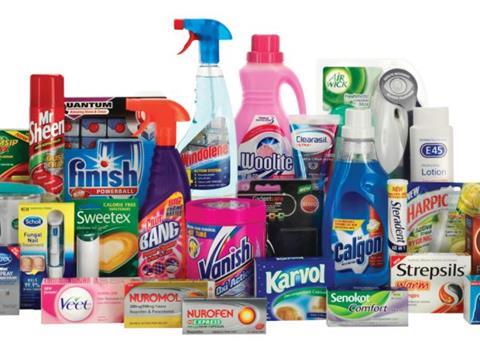 Top story
FTSE 100 consumer goods giant Reckitt Benckiser (RB) has posted 2% like-for-like sales growht in the first three months of the year, despite weak sales of its Scholl and Dettol brands.
The group reported pro-forma growth of 3% in the period, which was in-line with expectations.
Total reported sales were up 23% to £3.1bn as headline revenues were boosted by the integration of Mead Johnson.
Its consumer health division was up 3% pro-forma and 1% like-for-like as the strong performance of Gaviscon, Mucinex, Strepsils mitigated "significant underperformance" of Scholl and Middle East issues impacting Dettol.
Its Mead Johnson baby milk acquisition "continues to progress well" with proforma growth 6% for the quarter, driven by strong market growth in China.
Its Hygiene Home division also had a "strong" start to the year, with like-for-like sales up 4% driven by improved in-market execution, seasonal benefit to Lysol in the US and sell in of new innovations in Finish and Air Wick.
On a geographic basis, Reckitt saw a strong performance from North America, which grew by 6% (LFL).
China and India continue to perform well, but macro issues continue to constrain sales in the Middle East and Russia.
Reckitt did not mention margins in its Q1 update.
CEO Rakesh Kapoor said: "A solid start overall in Q1, operating under our new organisational structure. RB 2.0 is embedding well and we expect to see the benefits continue to materialise.
"Our priority remains organic growth under our new focussed organisation structure… I firmly believe RB 2.0 is the right platform for long-term growth and outperformance and we remain well on track to achieve our full year net revenue targets."
Reckitt confirmed it remains on track for its full-year net revenue target to 13-14% and like-for-like growth of 2-3%.
Morning update
In this week's edition of The Grocer is the story that delivered food wholesaler Brakes has posted its first financial accounts under the ownership of US food distribution giant Sysco, with the results for the 18 months to 1 July showing a healthy rise in sales. Profits, however, fell 30% pro rata as the business came under pressure from rising costs and multiple changes in its leadership team.
Also, the private equity owner of Young's Seafood has confirmed months of speculation by placing the business up for sale (click here for full story), Cranberry cider and liqueur startup Cranes is seeking £150k from the crowd as it looks to increase supermarket listings and Bristol grocery delivery service Good Sixty targeting independent retailers has raised £197k from the crowd to fund its launch into London and beyond this year.
Click on thegrocer.co.uk/finance for full details later this morning.
Elsewhere, Distil (DIS), owner of premium drinks brands RedLeg Spiced rum, Blackwoods Gin and vodka, Blavod Black Vodka, Jago's Cream Liqueur and Diva Vodka, has announced another leading pub chain with national coverage has listed its RedLeg Spiced Rum, increasing the brand's presence and availability throughout the UK.
It also reported continued strong growth in sales volumes and revenues during the fourth quarter. Unaudited year-on-year fourth quarter revenues rose 28% and volumes grew 37%.
Growth in volumes ahead of revenues reflected the continued growth in licensed sales for Blavod Black Vodka, mainly through Europe and duty free, it said.
The company said it anticipated full-year performance for year ended 31 March 2018 would be in line with market expectations
Premium gin continued to remain buoyant and Blackwoods gin was enjoying strong growth especially in the UK with a "very positive" response from the trade and consumers to its 2017 Vintage.
RedLeg Spiced Rum volumes and revenues continued to grow ahead of the market and showed "excellent progress" across both on-trade and retail markets.
Blavod Black Vodka sales volumes showed further good growth during the quarter, mainly through duty free and Eastern Europe.
Don Goulding, executive chairman of Distil, said: "Our key brands enjoyed very good growth year on year during Q4. We continue to focus on brand building activities supported by distribution gains and are pleased with the excellent progress made to date.
We are delighted with the response to our new premium packaging and 2017 Vintage for Blackwoods Gin.
"We expect premium spirits to continue to outperform the overall spirits market and are confident that our brands remain well positioned within their respective category."
Magnit PJSC (MGNT), one of Russia's leading retailers, increased revenue in the first quarter by 8.08% from 266.98bn RUR (£3.1bn) in the comparable period last year to 288.56bn RUR.
Gross profit increased from 69.82bn RUR to 71.90bn RUR Gross margin in in the first quarter was 24.92%.
EBITDA in Q1 2018 was 20.50bn RUR. EBITDA margin in Q1 was 7.10%.
Mitsubishi Corporation (TYO: 8058) has proposed, subject to approval at a shareholders meeting on 22 June, the appointment of executive vice-presidents Kanji Nishiura and Mitsumasa Icho to its main board.
On the markets this morning the FTSE 100 continued it run or increases, climbing 0.5% in early trading to 7,364pts.
Among the early risers are British American Tobacco (BATS), up 1.3% at 3,697.5p, Imperial Brands (IMB), up 1.32% at 2,386p and McColl's Retail Group (MCLS), up 1.7% at 240p.
Fallers so far include Reckitt Benckiser Group (RB), down 4.8% at 5,508p, Hilton Food Group (HFG), off 3.5% at 840p, AG Barr (BAG), off 2.5% at 674p and Glanbia, down 1.7% at 571p.
Yesterday in the City
The FTSE 100 continued its upward tangent, closing up 0.2% at 7,328.9pts.
Volumes of food bought declined 0.6% in March compared with the previous month because of falls seen in supermarkets. Specialist food stores saw strong growth – possibly because of the easier access to these stores during snow, the Office for National Statistics (ONS) reported.
Online sales accounted for 17.4% of all retailing, seasonally adjusted in March 2018, compared with 15.9% in March 2017.
In the three months to March 2018, volumes bought in retail sales fell by 0.5% when compared with Q4 (Oct to Dec) 2017, with declines in all sectors except for department stores and non-store retailing.
Rhian Murphy, ONS senior statistician said: "Retail sales fell in the first quarter due to a large decline in March with petrol sales seeing a significant slump as a result of the poor weather keeping many shoppers indoors. However, the snow actually helped boost online spending with department stores in particular seeing growth in their web sales.
Stocks that fell included British American Tobacco (BAT) which slumped 5.4% to 3,650p in above-average trading. Greggs (GRG) dipped 2.9% to 1.226p, Imperial Brands (IMB), 2.9% to 2.355p, McColl's Retail Group (MCL) slipped 2.9% to 236p and Real Good Food (RGD) fell 3.6% to 14p.
Also on the wane were Unilever (ULVR) following its first-quarter results, off 2.2% at 3,861p and Reckitt Benckiser Group (RB), down 1.2% at 5,786p.
Stocks on the up included Stock Spirits Group (STCK), up 3.8% at 261.5p, Hilton Food Group (HFG), up 2.4% at 870p, Compass Group, (CCR), up 1.3% at 1,490p, C&C Group (CCR), up 2% at €3.3, Ocado Group (OCDO), up 1.7% 531p and PURE Circle (PURE) closed 2.5% higher at 370p.