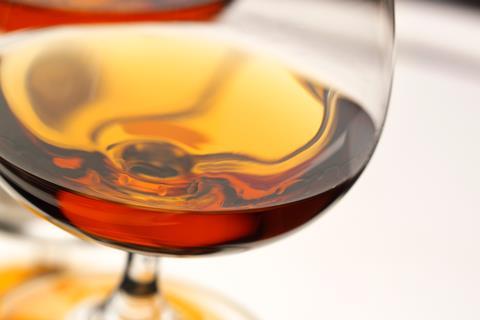 Top story
Rémy Cointreau has reported a double-digit jump in sale and profits last year, but warned sales growth will be wiped out in the current financial year by a sharp slowdown of consumption in the US.
The French spirits group reported consolidated sales growth of 10.1% on an organic basis to €1.55bn in the year to 31 March, which is up some 43.6% compared with pre-pandemic 2019-20.
This growth reflects steep gains from in price-mix, which was up 10.1%, driven by the group's value-based strategy, and steady volumes.
Sales at the Cognac division grew 7.6% on an organic basis, despite a 9.3% decline in volumes, due to a substantial 16.9% gain from an improved price mix. The performance reflects robust growth in the APAC and EMEA regions that offset the slight retreat observed in the Americas, where normalisation of consumption and a high basis of comparison were in play.
Full-year sales at the Liqueurs & Spirits division were up 18.7% on an organic basis, including volume growth of 8.3% and a robust 10.5% increase from the price-mix effect, with strong momentum across all regions.
Full-year sales of Partner Brands were down 5.3% on an organic basis, reflecting a high basis of comparison with the first half of the year, notably in the Benelux.
Consolidated Operating Profit (COP) came to €429.6m full year, up 28.5% as reported and 16.2% on an organic basis. This was a new record for the Group, and sets it firmly ahead of schedule in achieving its 2030 strategic roadmap.
Current operating profit came in at €429.6m, which represented a 16.2% organic rise and up 76.8% compared to 2019-20.
Current operating margin improved by 1.4 percentage points on an organic basis to stand at 27.7%.
This was a new record for the group, which it said it set it firmly ahead of schedule in achieving its 2030 strategic roadmap.
Profitability was supported by a very positive price-mix effect, tight control of overhead costs, increased investment in marketing and communication and very favourable currency effect.
However, in 2023-2024 the group pointed to a continued slowdown of consumption growth in the US, albeit at a level that will nonetheless remain significantly higher than in 2019-20.
At the same time, the group expects strong growth in the rest of the world, led by major gains in China, a very good showing in EMEA and the Rest of Asia, and business similar to levels observed in 2019-20 in travel retail.
Against this backdrop, the group expects sales to remain stable on an organic basis in 2023-24, with a strong sales decline in the first half, reflecting a very strong fall in the US and high bases for comparison, but recovery in the second half as the US rebounds as comparatives ease.
CEO Eric Vallat commented: "Rémy Cointreau had a record year, and we have increased our advance on achieving on the 2030 strategic roadmap. This strong showing confirms the relevance of our value-based strategy, which is underpinned by a 'Drink less but better' trend. It also reflects solid gains made in achieving our four strategic priorities and the rising desirability of our brands.
"With the normalisation of consumption in the United States amplified by high basis of comparison in the first half and our drive to reduce inventories we expect sales and profitability to hold steady in 2023-24 on an organic basis.
"We are heading into the new year with confidence and resolve, and we anticipate a steep second-half recovery in the United States combined with a new year of buoyant growth in the rest of the world, particularly in China."
The group's shares are up 1.2% to €145.45 so far this morning.
Morning update
On the markets this morning, the FTSE 100 has regained 0.5% to 7,482pts.
Risers include Bakkavor, up 4.4% to 94p, Virgin Wines, up 3.1% to 33p and B&M European Value Retail, up 2.1% to 520.6p.
Fallers include C&C Group, down 3.7% to 140p, Hilton Food Group, down 2.4% to 711p and Finsbury Food Group, down 0.7% to 91.4p.
Yesterday in the City
The FTSE 100 closed down 1% to 7,446.1pts yesterday.
B&M European Value Retail defied the wider market falls to jump 8% to 509.8p as it revealed a 6.6% sales jump to £5bn as cost-conscious shoppers turned to discounters to help manage the cost of living crisis.
WH Smith was up 2.8% to 1,570p after lifting its forecasts for the year as its travel business continued to boom ahead of the peak summer season.
Elsewhere, fallers included Just Eat Takeaway.com, down 6.4% to 1,209p, Ocado, down 5.8% to 369p, Fever-Tree, down 3.7% to 1,355p, Kerry Group, down 3.6% to €90.85, McBride, down 2.8% to 29.7p, Bakkavor, down 2.4% to 90p and PZ Cussons, down 2.1% to 184p.
The day's risers included Naked Wines, up 2.4% to 109.6p, SSP Group, up 1.8% to 269.2pp, C&C Group, up 1.7% to 145.4p, Greencore, up 1.7% to 145.4p and Virgin Wines, up 1% to 32p.