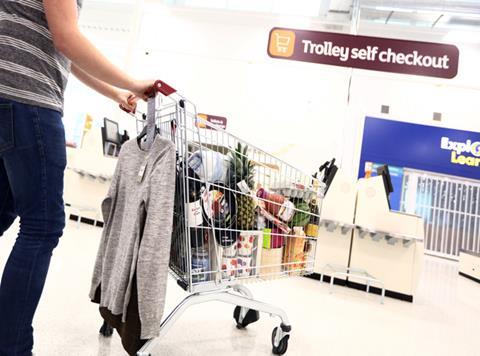 Top story
Sainsbury's (SBRY) underlying profit before tax fell by 1% in the year to 11 March amid a "competitive and uncertain trading environment".
Underlying profit before tax fell from £587m to £581m during the year, driven by its previously announced 0.6% fall in Sainsbury's like-for-like sales, investment in the customer offer and cost inflation.
However, these pressures were mitigated somewhat by cost savings of £130m and a £77m contribution from its acquisition of Argos.
Underlying operating margin declined 32 basis points to 2.42%.
Including items excluded from underlying – a £78m charge largely driven by costs related to the Argos deal and the Sainsbury's Bank transition – headline before tax dropped 8.2% to £503m.
Reported group sales were up 11.6% to £26.2bn as the inclusion of revenues from Argos boosted the top line.
Mike Coupe, group CEO said: "This has been a pivotal year and we have made significant progress delivering and accelerating our strategy. Sainsbury's Group offers customers market-leading product choice, value and convenience, whenever and wherever they shop with us.
"Food is the core of our business and we are committed to helping customers live well for less. Our food business remains resilient in a challenging market and we continue to innovate in quality and to invest in price.
"The quality and range of our products, combined with our market-leading service, availability and channels set us apart from our competitors. Our values support our growth and our vision to be the most trusted retailer where people love to work and shop. I would like to thank our 195,000 colleagues across the Group for the difference they make to our customers every day."
Sainsbury's said it is on track to deliver its three-year £500m cost saving plan by the end of 2017.18 and announced it will deliver a further £500m of cost savings over three years from 2018/19.
It also said it will deliver its £160m EBITDA synergy target from the Argos acquisition six months early and is accelerating plans to open 250 Argos Digital stores in Sainsbury's supermarkets.
Sainsbury's said the The UK economy has been stronger than anticipated since the European Union Referendum in June 2016.
However, it said "the picture is changing now" as the impact of the devaluation of sterling and a higher oil price filter through to food, general merchandise, clothing and fuel prices and the gap between inflation and wage growth narrows.
Looking forward Sainsbury's said the market "remains competitive and the impact of cost price pressures remains uncertain". However, it added: "We are well placed to navigate the external environment and we remain focused on delivering our strategy."
Sainsbury's shares are down 1.9% to 274.1p so far this morning on the slightly larger than expected profits drop.
Morning update
On a busy morning Kantar Worldpanel and Nielsen have released their grocery market share data for April.
Nielsen said the leading supermarkets had their best year-on-year sales figures this year, even after excluding the positive impact of the late Easter.
Overall, year-on-year takings at supermarket tills during the four weeks ending 22 April rose 8.6%, while the volume of goods sold rose +3.2%. However, because the timing of Easter distorted the annual comparison, meaning annual growth across the last 8-week period (so last year's Easter was included) saw sales rise 2.8%, which represents the highest growth this year.
Kantar Worldpanel found that during the 12 weeks ending 23 April 2017 the overall market grew by 3.7% – the fastest rate since September 2013 and worth almost £1bn in additional sales to the grocery sector.
All 10 major retailers are in growth for the first time in three-and-a-half years, when like-for-like grocery inflation was as high as it is now.
Kantar found Morrisons (MRW) was the fastest grower of the big four, with sales up 2.2% over the 12-week period. Tesco (TSCO) and Sainsbury's recorded growth of 1.9% and 1.7% respectively, while Asda increased year-on-year sales for the first time since October 2014 with 0.8% growth.
The discounters were again the stand-out performers, with Aldi up 18.3% and Lidl up 17.8%. The best of the rest was Ocado with growth of 10.8% and Iceland, up 9.3%.
Nielsen fouond that Tesco was the big four winner, up 2.1% over the 12 week period, followed by Morrisons at 1.9%, Sainsbury's 1.1% and Asda;s sales were flat.
Mike Watkins, Nielsen's UK head of retailer and business insight said this grocery data should counterbalance the recent "rather downbeat" stories about consumer spend in general. "Whilst consumers are more likely to be uncertain around spend, we don't expect a dramatic change in grocery shopping behaviour this year. As long as real incomes don't come under too much pressure and employment remains high, shoppers will begin to adapt to moderately rising grocery prices, albeit this could be by modifying how much they spend in other retail channels."
Kantar added that grocery inflation now stands at 2.6% for the 12 week period ending 23 April 2017.
Elsewhere this morning, Marks & Spencer (MKS) has announced that Jill McDonald, currently CEO at Halfords, has been appointed to the new role of MD for clothing, home & beauty.
McDonald will have overall profit and loss accountability for all aspects of the M&S non-Food business, from design and sourcing through to supply chain and logistics, and will report directly in to M&S's CEO, Steve Rowe.
She will join M&S in the autumn, on a date to be confirmed.
As a result of this appointment, Rowe will relinquish his clothing, home & beauty accountabilities to McDonald on her arrival, and CFO Helen Weir will hand over responsibility for the clothing, home & beauty supply chain & logistics.
Rowe said: "I am pleased with the progress we have made in Clothing & Home over the last year and the time is now right for this appointment.
"Jill is an excellent addition to the M&S senior leadership team and we are delighted that she is joining us. Jill's first-class customer knowledge and great experience in running dynamic, high achieving teams make her exactly the right person to lead this all-important part of our business from recovery in to growth."
McDonald added: "M&S has a unique, special relationship with its customers and I am very motivated by working closely with customers to drive and shape results. I have long been an M&S customer and professional fan, so working with the brand was a career opportunity that I just couldn't turn down. I am looking forward to joining Steve and the team later this year to build on the plans that are already underway."
Jo Jenkins will move to the new role of clothing & beauty director, reporting into Jill, and with expanded accountabilities for all clothing across womenswear, menswear and kidswear
First half adjusted operating profit dropped 7.6% at Imperial Brands (IMB) amid a 5.7% collapse in tobacco volumes.
The fall in tobacco volumes led to a 5.5% fall in tobacco net revenues to £3.7bn in the six months to 31 March and tobacco adjusted operating profit falling 8.1% to £1.67bn.
Despite the overall volume fall "growth brand" volumes were up 3.2% with a 60bp increase in market share, while growth and specialist brands grew 200bp to 60.4% of reported tobacco revenues.
Imperial was also boosted by the weaker pound, meaning overall revenues were 11.7% up to £14.3bn and basic earnings per share was up 132.6% from 30.4p to 70.7p.
Reported operating profit remained 10% down to £902m.
Imperial said it saw increased share in Italy, Japan and Saudi Arabia and improving trend in Russia. IT also gained share with its growth brands in the UK and Australia, while other priority markets are "stabilising".
It is also expected to deliver £130m of savings in in 2017 financial year, ahead of the £90m announced in November.
CEO Alison Cooper commented: "We're delivering encouraging improvements in share trends in many of our priority markets after significantly stepping up investment behind our strategy and quality growth.
"The volume and share gains we achieved with our Growth Brands in the period were particularly pleasing. Our performance is underpinned by the rollout of our Market Repeatable Model, which provides an effective and consistent approach for delivering sustainable quality growth in markets. We are deploying this model in e-vapour and believe it can also be successfully applied to drive growth in other consumer adjacencies.
"As expected, first half revenue and profit were impacted by the considerable increase in investment. In a challenging industry environment, we are delivering against our strategy and remain on track to meet full year earnings expectations at constant currency. Cash conversion remains strong and we are delivering another dividend increase of 10%."
Also this morning, the BRC/Nielsen Shop Price Index found that overall shop prices reported deflation of 0.5% in April from the 0.8% fall in March – the shallowest deflation rate since November 2013.
Non-food deflation decelerated to 1.4% from the 2.0% decline in March, while food inflation decelerated to 0.9% from the 1.0% rise in March.
Fresh food reported inflation of 1.0% in April from the 0.9% rise in the previously month, while ambient Food inflation decelerated to 0.8% in April from the 1.3% rise in March.
Finally, on the markets this morning the FTSE 100 has fallen back 0.2% to 7,237.6pts.
Imperial Brands is up 0.4% to 3,776p after its first half results this morning. Tesco and Morrisons are both up on the market share figures, rising 0.3% to 183.6p and 0.3% to 243.1p respectively.
Other risers include Total Produce (TOT), up 2.1% to 171.4p, Just Eat (JE), up 1.2% to 577.5p and Real Good Food (RGD), up 1% to 36.9p.
Marks & Spencer is down 0.9% to 367.5p after its management reshuffle this morning.
Other fallers include Hilton Food Group (HFG), down 2.3% to 750p, B&M European Value Retail (BME), down 1.5% to 337.3p and Nichols (NICL), down 1.4% to 1,760.3p.
Yesterday in the City
The FTSE 100 started the week on the front foot, rising 0.6% to 7,250pts.
Ocado (OCDO) jumped 5.8% to 265.5p as the market lent credence to the rumours that Ocado and Marks & Spencer (MKS) are exploring a tie-up to provide the latter with a UK home grocery delivery service.
Most large grocery firms were on the up yesterday, led by Greencore (GNC), up 2% to 232.5p, Dairy Crest (DCG), up 1.7% to 584p and Tate & Lyle (TATE), up 1.7% to 769.5p.
Sainsbury's was 1.5% up to 342.3p ahead of this mornings annual results despite the expected drop in annual profits.
Other risers included Hotel Chocolat (HOTC), up 5.5% to 355.8p and McBride (MCB), up 2.7% to 198.3p.
Takeaway group Just Eat (JE) fell 1.1% to 570.5p despite posting a stellar first quarter of growth.
Other fallers included PureCircle (PURE), down 6.6% to 308.3p, Science in Sport (SIS), down 4.8% to 79.5p, Nichols (NICL), down 3.5% to 1,785p and Crawshaw Group (CRAW), down 3.3% to 29.3p.