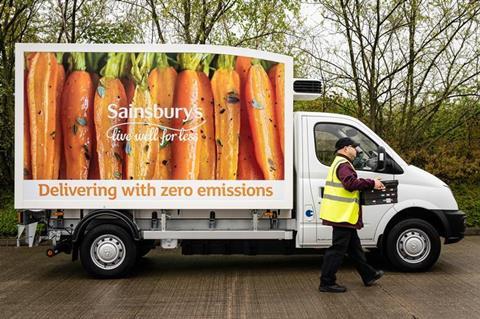 Top story
Sainsbury's has posted Christmas like-for-like sales growth of 9.3% after releasing its festive trading update early due to hiking its profits guidance.
The supermarket's third quarter like for like sales were up 8.6% (ex fuel), with total retail sales up 6.8%.
Grocery sales grew 7.4%, with groceries online up 128% to account for 18% of grocery sales.
The supermarket released the figures early as it has raised profit guidance to forecast underlying profit before tax of at least £330m compared to earlier guidance of £270m after forgoing business rates relief of £410m.
This figure remains substantially down from the £586m reported last year and Sainsbury's said "the impact of the pandemic on sales, colleagues and costs adds additional uncertainty to our financial outlook for the remainder of the year".
CEO Simon Roberts said: "As we enter our third phase of tighter restrictions and national lockdowns, my number one priority remains keeping our colleagues and customers safe. The last few months have been really tough for many people and we are all dealing with a lot of change and uncertainty again.
"We made a strong start to delivering our Food First plan and we are also clear on the opportunities to further improve our offer as we look ahead for 2021. At Christmas we focused on offering our customers great prices, great quality and great service and I feel really proud that Sainsbury's customer satisfaction scores were the highest ever in the key Christmas week. We have started the new year with a strong value offer, with Price Lock currently on over 2,500 everyday products."
"We remain focused on delivering the plan we outlined in November and look forward to providing a further update on early progress at our Preliminary Results in April."
He said more customers bought their food online than ever before and we delivered 1.1 million orders in the ten days to Christmas, double the number of last year.
Sainsbry's said basket sizes increased as it grew its food market share. It also continues to lower prices, with a particular focus on fresh foods, last week launching its biggest ever Price Lock, covering over 2,500 products.
Argos sales were up over eight per cent with Fast Track home delivery and Click & Collect beating expectations for Black Friday and Christmas.
General Merchandise sales grew by 6%, with Argos sales up 8.4%. Clothing sales grew by 0.4%.
Total digital sales grew by 81% to account for 44% of total sales.
Overall, Sainsbury's said grocery, general merchandise and clothing sales were all stronger than expectations throughout the quarter and particularly since the start of England's second national lockdown and subsequent increased restrictions throughout the UK.
General merchandise and clothing gross margins additionally benefited from better than anticipated full price sales, driven by customers shopping earlier for Christmas and successful changes to its Black Friday trading strategy.
Sainsbury's shares are up 3.4% this morning to 240.3p.
Morning update
B&M European Value Retail has posted a 22.5% jump in constant currency sales for the 13 week period to 26 December 2020 to £1.4bn.
B&M UK stores saw revenue growth of 26.6%, including like-for-like growth of 21.1% in the quarter.
In total, 18 gross new B&M UK stores3 opened in Q3, 16 net of closures, to create over 500 new jobs.
Heron Foods, the value convenience store chain, delivered another quarter of solid LFL sales growth with sales of £102.9m in the quarter.
Babou and B&M France revenues in Q3 decreased by 1.4%, reflecting the 4 week lockdown restrictions that ended on 28 November 2020. However, it said that outside of the lockdown period, sales performance was "strong".
B&M said that a further special dividend of 20p per share (equating to approximately £200m in total) will be paid on 29 January 2021.
Meanwhile, previous guidance for its adjusted EBITDA has narrowed to be within the range of £540m to £570m, stated after the voluntary payment of £80m of business rates.
CEO Simon Arora commented: "Our trading performance is testament to the hard work and commitment of all our colleagues, to whom I express my sincere thanks. The safety and wellbeing of our customers and colleagues has remained our priority during these unprecedented times, whilst we have worked hard to provide customers with the everyday essentials they need. We are awarding some 30,000 store and distribution colleagues an extra week's wages in recognition of their considerable efforts.
"Notwithstanding our status as an essential retailer, with lockdown restrictions in the UK having tightened there remain uncertainties ahead. With our combination of exceptional value and convenient Out of Town locations, we are confident that our business model will prove highly relevant to the needs of customers in 2021."
Elsewhere, pub group Mitchells & Butlers has announced a 67.1% plunge in first quarter revenues due to coronavirus closures and restrictions.
On a like-for-like basis (for sites when open, excluding periods of closure) trading has been 30.1% down on prior year across this period.
Over the period, progressively tighter restrictions were imposed through December both across the UK and in Germany resulting in an ever smaller number of sites open and significantly reduced sales activity being possible through the important festive trading season.
Since the UK government announcement reallocating regions in England between tiers, on 30th December 2020, the group has had no sites open.
The group currently has cash balances on hand of £125m, with all facilities drawn. With no sites trading, ongoing monthly cash burn is approximately £35m to £40m before payment of debt service (representing interest and amortisation) of £50m per quarter.
It stated: "We welcome recent positive news on vaccine approval and roll-out but the future facing the hospitality sector remains extremely uncertain. It is not possible to estimate with any confidence what restrictions on our ability to trade lie ahead of us and for how long.
"As a result, the directors believe it is prudent to explore an equity capital raise, to give the group increased financial and operational flexibility. No decision has yet been made with regards to the timing, size, or terms of any such equity capital raise."
CEO Phil Urban said: "We are now in a third national lockdown. I am consistently impressed by the resilience and energy of our teams as we repeatedly open and close businesses that we have invested in to make Covid secure and urge the government to better understand the huge impact these restrictions are having on the hospitality sector. The Job Retention Scheme is temporarily protecting some employment but there is a real and pressing need for support for businesses themselves if we are to return to being the vibrant sector and important employers that we were.
Mitchells & Butlers was a high performing business going into the pandemic and with the support of our main stakeholders I have every confidence that we can emerge in a strong competitive position once the current restrictions on us are lifted."
On the markets this morning, the FTSE 100 has edged back 0.1% to 6,836.2pts.
Early risers - along with Sainsbury's - include Nichols, up 4.5% to 1,335p, DS Smith, up 1.8% to 404.7p and Imperial Brands, up 1.7% to 1,622.5p.
The morning's early fallers include Marston's, down 2.7% to 72.1p, Naked Wines, down 1.4% to 661.5p and Associated British Foods, down 1.4% to 2,230p.
Yesterday in the City
The FTSE 100 continued its strong start to the year, rising a further 0.5% to 6,878.1pts yesterday.
Greggs was one of the markets major risers despite its admission that coronavirus restrictions will lead it to an annual loss, as its shares closed the day 7.9% up to 1,920p.
Marks & Spencer also bounced back 4.4% to 139.5p, while other risers included Glanbia, up 4.3% to €10.71, DS Smith, up 3.6% to 397.5p, SSP Group, up 3.4% to 336.2p, Morrisons, up 3.1% to 185.5p, Sainsbury's, up 3.1% to 232.5p and Tesco, up 2.9% to 245.2p.
The day's fallers included Nichols, down 4% to 1,277.5p, PayPoint, down 2.7% to 638p, Greencore, down 2.6% to 111.4p, Naked Wines, down 2.6% to 671p, AG Barr, down 2.1% to 513p and Bakkavor, down 2% to 81.8p.