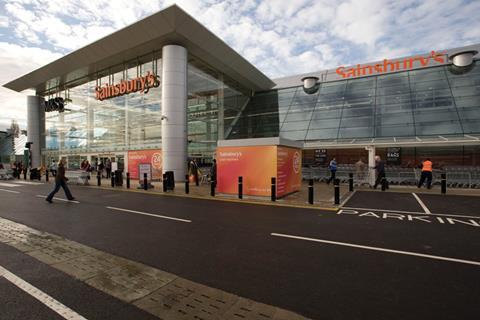 Top story
Sainsbury's sales fell back in its first quarter as both grocery and general merchandise sales fell as it warned of "intensifying pressure" on household budgets.
Overall retail like for like sales excluding fuel fell 4.5% in the 16 weeks to 25 June, with sales down 4% including fuel.
Grocery sales were down 2.4% on a like for like basis against last year's levels, which were boosted by Covid, and remain 8.7% up on pre-Covid levels.
In grocery the supermarket said it saw good volume market share performance against strong prior year comparative and ahead of the market versus pre pandemic.
"Structurally advantaged store estate and reputation for quality also ensuring customers are consistently choosing Sainsbury's to help them celebrate special occasions and trade up for everyday treats," it said.
It noted it has invested over £500m over the two years to March 2023 in keeping prices low, funded by cost savings and continues to inflate prices behind competitors.
General merchandise and clothing sales were both down double digits, with GM down 11.2% (including a 10.5% drop at Argos) and clothing down 10.1%.
Sainsbury's said this performance was in line with expectations and showed an improved sales trend following the first five-week period when non-essential retail was closed during lockdown last year.
Argos sales were down a more modest 7% in the last 11 weeks of the quarter after being down 19% in the first five weeks, while Sainsbury's GM sales down 5% in the last 11 weeks, having lost 30% in the first five weeks.
Sainsbury's outlook for the full year remained unchanged, with it continuing to expect underlying profit before tax of between £630m-£690m.
CEO Simon Roberts commened: "We really understand how hard it is for millions of households right now and that's why we are investing £500 million and doing everything we can to keep our prices low, especially on the products customers buy most often. We're working hard to reduce costs right across the business so that we can keep investing in these areas that customers care most about. The progress we are making on improving value, quality, innovation and service is reflected in our improved grocery volume market share.
"Our customers are watching every penny and every pound but they also look to Sainsbury's when they want to treat themselves, particularly at special occasions. We are really connected to our customers and through strong delivery of our plan, we have outperformed the market at key events such as the Jubilee1.
"I would like to thank my colleagues for their brilliant efforts this quarter. We are proud to be the first major supermarket to pay the Living Wage to all colleagues, regardless of where they live - and to have increased Sainsbury's colleague pay by 25% and Argos by 39% over the past five years. The pressure on household budgets will only intensify over the remainder of the year and I am very clear that doing the right thing for our customers and colleagues will remain at the very top of our agenda."
Sainsbury's shares are up 1.6% so far this morning to 211.8p.
Meanwhile, Sainsbury's has announced Chief Financial Officer Kevin O'Byrne has confirmed his intention to retire from Sainsbury's at the end of this financial year, in March 2023.
Following a "thorough external and internal search" to identify a successor, supermarket has appointed Bláthnaid Bergin, its current commercial and retail finance director, as his successor. Bergin will start as CFO and join the PLC board on 6th March 2023.
O'Byrne joined Sainsbury's in January 2017 and has "played an instrumental role in developing and implementing our strategy, in particular increasing free cash flow generation, strengthening the balance sheet and reducing leverage".
Bergin joined Sainsbury's in 2019 as group director of finance before moving to commercial and retail finance director in 2021. Prior to joining Sainsbury's, Bergin was chief finance operations officer at Aviva and group financial controller for RSA Insurance.
Martin Scicluna, chairman, said: "Kevin has made an impressive and sustained contribution both as CFO and as a Board Member to Sainsbury's performance. On behalf of the Board I would like to thank him for his continued contribution and, when the time comes, wish him well for the future.
"Bláthnaid' s appointment concludes an extensive CFO search process. I am delighted that our internal candidate was the strongest, with proven financial leadership.
Simon Roberts added: "Kevin and I have worked closely since I joined the business in 2017. He has been a great business partner, making a strong contribution. On behalf of all of Sainsbury's colleagues I would like to thank him for all he has done.
"Bláthnaid is well embedded in our business and is a highly respected leader. I am also looking forward to continuing to working alongside her to deliver our strategy."
Kevin O'Byrne said: "It has been a real privilege to work with all my colleagues in Sainsbury's. I am very pleased to be handing over to Bláthnaid who will bring great commercial drive to the role. I shall continue to focus, with my team, on delivering our plan and driving momentum while managing a smooth transition over the next nine months."
Morning update
English wine producer Chapel Down has reported a "successful" first half performance, with trading in line with expectations.
The first half of 2022 saw continued strong growth momentum in the sale of Chapel Down sparkling wines, with increased off and on trade distribution and the implementation of brand activations linked to the Platinum Jubilee and our key brand sponsorships of the England & Wales Cricket Board, The Boat Race and Ascot.
Overall first half revenues were in line with 2021 reflecting the impact of the lower availability of still wine following the 2021 harvest. Across our 750 acres of vineyards, favourable conditions so far this year point to a "promising" 2022 harvest.
The balance sheet remains strong with reported net assets, including freehold land and buildings, planted vineyards and stock, in excess of £31m, equivalent to 19.5p per share.
The group said that, notwithstanding the current macroeconomic uncertainty, the outlook for 2022 remains positive with forecast revenue growth resulting from the growth in demand for English sparkling wines and the strength of its Chapel Down brand along with margin enhancement resulting from the price increases and management of inflationary costs pressures.
"This momentum, and the continued growth of our brand, leave Chapel Down well-positioned to deliver on our ambition to double the size of the business over the next five years," it said.
B&M European Value Retail has announced that Mike Schmidt is to be appointed as an executive director and Chief Financial Officer of the group.
He will join the Group on a mutually agreed start date to be announced shortly and which is expected to be no later than 3 January 2023.
He is currently group CFO of DFS Furniture, having been in that role for the last three years. He initially joined the business in March 2014 as a senior member of the finance team, later becoming Chief Development Officer.
Prior to joining DFS, Schmidt spent 13 years in corporate finance roles at leading investment banks including Citi and UBS, where he gained experience advising a wide range of consumer focused companies.
Schmidt will succeed Alex Russo as Group CFO, who will be stepping up to Group Chief Executive Officer.
Chairman Peter Bamford said: "I am delighted that Mike has agreed to join B&M as Group CFO. His previous roles in both retail and investment banking will bring valuable experience and insight to the Board alongside the continuity provided by Alex Russo's appointment as future CEO. I look forward to working closely with Mike over the coming years."
Schmidt added: "I am excited by the opportunity to join B&M. It is a business that has experienced a period of rapid growth over recent years and has a clearly defined growth strategy for the future. I am very much looking forward to contributing to its ongoing success."
Listed consumer products group Supreme has posted another year of growth building on its 2021 IPO, but warned on its 2023 performance.
In the year ended 31 March 2022 it posted a 7% increase in revenues to £130.8m.
The group's Vaping category delivered another strong performance in the period, growing revenues by 10% to £43.6m as its 88vape brand continued to grow its market share with new and existing customers including Sainsbury's and Morrisons, and in convenience retail via Core Communications.
The Group's Sports Nutrition & Wellness category continued to gain market traction during the year, increasing revenues by 132% to £15.9m, representing 12% of group revenues. This excellent performance was underpinned by the acquisition of Sci-MX, a leading sports nutrition and supplements brand, and the launch of two vitamins brands, Millions & Millions, and Sealions.
Lighting revenues grew to £27m from £25.9m fuelled by increased sales traction, particularly in the second half when the country was largely locked down.
Batteries revenues edged up to £34.9m from £34.4m, driven by an increase in its UK distribution footprint alongside the positive impact of Vendek, one of Ireland's leading distributors of batteries and lighting products.
Sales growth helped adjusted EBITDA grow 9% to £21.1m from £19.3m.
Gross profit as a percentage of sales grew to 29.4% from 27% as it focused more closely on our manufactured categories that continue to generate increasing levels of returns.
However, in 2023 but revenue and EBITDA are both expected to be below 2022 levels and below previous market expectations, driven by a recent marked decline in the Lighting category following a slow-down in sales compounded by customer overstocking in 2022.
Despite the short-term trading challenges in lighting, the board "remains confident that the group has a long runway of growth ahead and is increasingly excited by the prospects for growth in the vaping division".
CEO Sandy Chadha commented: "We are delighted to have delivered another strong financial performance across FY22, driven by excellent customer traction, alongside completing two strategic acquisitions.
Batteries and Lighting have performed strongly and although customer inventory levels within Lighting will hold back our progress in the short term, I believe this minor setback should not detract from our operational progress to date. We are more excited than ever about the potential for Vaping.
"Whilst there remains considerable opportunity for Sports Nutrition & Wellness, short term commodity price increases are expected to affect demand and profitability, although we have taken steps to mitigate our exposure.
"M&A continues to be a key feature of our strategy as we seek to complement our organic growth initiatives and remain confident in the Group's trading prospects for the current financial year and beyond."
On the markets this morning, the FTSE 100 has slipped 0.3% to 7,212.3pts.
Early risers include Glanbia, up 5.3% to €10.22, Ocado, up 3.6% to 812.8p and Just Eat Takeaway.com, up 2.6% to 1,250p.
Fallers include Parsley Box, down 5.3% to 17p, Imperial Brands, down 1.3% to 1,816.5p and Premier Foods, down 0.7% to 111.2p.
Yesterday in the City
The FTSE 100 started the week rebounding by 0.9% to 7,232.7pts yesterday.
Risers included McBride, up 3.4% to 16.6p, Kerry Group, up 2.3% to 96.3p, Tate & Lyle, up 1.6% to 772p, DS Smith, up 1.4% to 277.6p, Coca-Cola European Partners, up 1.2% to €50.80, Marks & Spencer, up 1.2% to 139.8p, Tesco, up 1.1% to 257.5p and PZ Cussons, up 1% to 203p.
The day's fallers included Pets at Home, down 8.3% to 284.2p, Just Eat Takeaway.com, down 5.4% to 1,218.2p, THG, down 3.9% to 80.4p, Ocado, down 3.6% to 784.8p, Glanbia, down 3.4% to €9.71, Devro, down 3.4% to 177.2p, Bakkavor, down 2.5% to 91.2p and Deliveroo, down 2.1% to 90.2p.