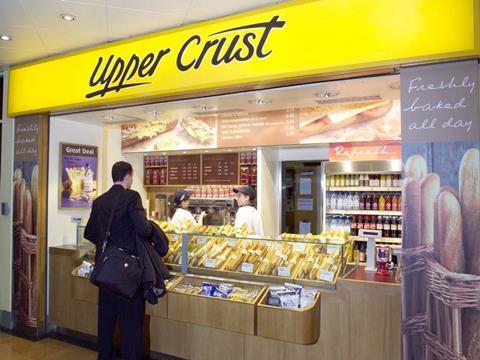 Top story
Travel food specialist SSP Group (SSPG) has posted a double-digit rise in underlying operating profits, despite warning of the impact of a number of "external challenges" that will continue into next year.
Like-for-like sales growth for the full year was 1.9%, driven by increasing passenger numbers across the air and rail sectors – with the former growing more strongly despite rail experiencing a lower level of disruption than the previous year.
Total revenue increased by 7.8% on a constant currency basis, comprising like-for-like sales growth of 1.9%, net contract gains of 5.6% and revenue from acquisitions of 0.3%.
SSP Group said it faced an "unusual number of external headwinds during the year", including disruption from the 'Gilets Jaunes' protests in France, slower passenger growth and the impact of a number of airport redevelopments in the Nordic countries and in Spain, the grounding of Boeing Max 737 aircraft in North America, and weaker Chinese passenger numbers and the cessation of operations of Jet Airways in the Asia Pacific region.
Net gains remained "very strong" at 5.6%, with good contributions from North America and Continental Europe. North America had another very strong year, with net gains of 13.0%, including new openings at LaGuardia, Seattle, LAX and Oakland Airports.
SSP Group has also announced today the proposed acquisition of Red Rock's food and beverage operations in Perth and Melbourne airports. These 14 units generated sales of approximately £15m in FY 2019.
Underlying operating profit increasing by 12.1% (on a constant currency basis) to £221.1m as underlying operating margin improved by 30 bps, driven by further progress on its strategic initiatives.
Gross margin increased by 80 bps year-on-year on a constant currency basis. This improvement reflected the ongoing roll-out of strategic initiatives to optimise gross margin, including ranging and mix management, food and drink procurement and waste and loss reduction.
SSP also announced today its intention to return up to £100m of cash to shareholders in the form of a share buyback which will be completed over the next 12 months.
The group said this reflects the "confidence we have in the future of the business and our commitment to maintaining balance sheet efficiency".
CEO Simon Smith commented: "SSP has delivered another strong performance in 2019. Operating profit was up 12% at constant currency, driven by solid like-for-like sales growth despite some external headwinds, significant new contract openings and further operational improvements. We continue to grow our business in North America, and have made good progress expanding in Continental Europe. In the Rest of the World, we have grown in India and the Philippines, and have entered Brazil, a new market for us, with further market entries planned in Bermuda, Bahrain and Malaysia.
"The new business pipeline is strong across all our geographies both this year and next, and we've announced a £100m share buyback which further demonstrates our confidence in the future of the business.
"The new financial year has started in line with our expectations and, whilst a degree of uncertainty always exists around passenger numbers in the short-term, we continue to be well placed to benefit from the structural growth opportunities in our markets and to create value for our shareholders."
SSP said many of these external challenges will continue in 2020, particularly in the first half year, and with the prospect of ongoing political uncertainty and the expectation of airline capacity cuts, it continues to plan cautiously, anticipating full year like-for-like sales growth at a similar level to 2019 of just below 2%.
It stated: "Whilst a degree of uncertainty always exists around passenger numbers in the short-term, we continue to be well placed to benefit from the significant structural growth opportunities in our markets and to create ongoing value for our shareholders."
Shares are down 3.1% to 635p on the news.
Morning update
Premium drinks mixer brand FeverTree (FEVR) has announced a trading update head of its year ending 31 December 2019, detailing progress in the US and continental Europe and a slowdown in the UK.
UK growth has slowed markedly, with the company guiding on growth of just 2% in its most mature market as it lapped "exceptional comparators" from summer 2018 and more recently seen a wider slowdown in consumer spending.
In the UK Off-Trade, performance has been behind expectations in the second half as we it lapped very tough comparators in July and August and more recently seen a slowdown in consumer spending, as reflected in the wider retail data.
Despite these "short-term headwinds", Fever-Tree said it remains in a very strong position in the UK Off-Trade, maintaining our leadership position with 38% value share with little impact from the increasing number of premium competitors who collectively remain at under 5% value share.
On-trade, which accounts for half of the group's UK revenue, has continued to perform well in the second half.
In the US, sales have accelerated in the second half reflecting both the significant distribution expansion across our key off-trade accounts seen in Q2 as well as further distribution gains in the on-trade channel where its partnership with Southern Glazers Wines & Spirits continues to perform well.
It said the premium mixer category continues to experience strong growth in the United States, with Fever-Tree "at the forefront of this dynamic category".
As expected, the Group has seen an acceleration of growth in the second half in Europe and expects to deliver growth for the full year of 19%. Fever-Tree has already established a market leadership position in Belgium and Denmark, with value share building in a number of other key markets.
In the Rest of World category, the premium mixed drinks trend continues to spread with Fever-Tree's global market leadership position growing alongside it. As a result, it expects to deliver growth of 35% for the full year in the region.
Fever-Tree said it remains on track to deliver growth across all its regions with the US performing ahead of expectations in the second half.
However, given the short-term headwinds at UK Off-Trade, the Board now expects the group to report revenue for the full year ending 31 December 2019 of between £266m-£268m, representing year-on-year growth of 12-13%, with margin expectations unchanged.
Tim Warrillow, CEO, commented: "We continue to see growth across all four regions. Indeed, sales accelerated in our key growth markets of the US and Europe. Fever-Tree's progress in the US is particularly encouraging and the signing of a US bottling partner is a further step in building our operations in this exciting market.
"Despite challenging comparators, our performance in the UK On-Trade underlines the strength of the brand and while the mixer category in the Off-Trade is moderating alongside the recent slowdown seen across the wider grocery channel, we continue to maintain our clear UK market leadership position."
Speciality baking group Finsbury Food Group (FIF) has issued a trading statement ahead of its AGM later today.
Chairman Peter Baker will tell shareholders: "As reported in the group's full year results in September, we significantly outperformed the market in the second half, growing sales and also increasing the final dividend. Notwithstanding the continued external pressures of consumer malaise, cost inflation and macro uncertainty, our unrelenting focus on innovation, efficiency and investment continues to deliver significant progress."
He will said that the momentum from the second half of the previous financial year has been maintained, and the group continues to achieve strong growth across the core business.
Sales for the first four months of the new financial year grew by 6.4% to £101.5m, as a result of a strong retail and foodservice performance in the UK, as well as new business wins and continued innovation across the Group.
"Whilst the wider macroeconomic and political environment remains challenging in the UK, the Group is in its strongest position in recent years, and the Board is confident in achieving market expectations in FY20."
Finally, pub and restaurant group Mitchells & Butlers (MAB) has posted a "strong year" of trading, with both sales and profits growth.
The company said work under its Ignite programme of initiatives is driving a strong trading performance and generating profit growth whilst we continue to invest in our estate and pay down debt.
Like-for-like sales grew by 3.5%, with strong performances across all brands contributing to continued, consistent outperformance of the market. Within this, its uninvested estate grew by 1.5% demonstrating breadth of performance across the group's portfolio. Total sales grew by 3.9% over the year.
Adjusted operating profit of £317m grew by £14m against last year. Ignite initiatives focusing on sales and efficiency enhancements have resulted in adjusted operating margin growth of 0.1ppts, despite the inflationary cost headwinds which continue to impact the wider sector. On a statutory basis, profit before tax of £177m grew by 36.2% against last year.
CEO Phil Urban commented: "These strong results reflect the work we have done over the last few years, first to build sustained sales growth and then to convert that into profit growth. It has been extremely encouraging to see an improvement in like-for-like sales growth across the portfolio during the year, fuelled by our Ignite programme of work.
"This puts us in a stronger position as we move forward into the next financial year, in what we expect to remain challenging market conditions."
On the markets this morning, the FTSE 100 has dropped 0.8% to 7,268.6pts as global trade theats weigh on international stock markets.
FeverTree has jumped 5.7% to 1,964.5p depsite warning over slowing UK growth, while Mitchells & Butlers is up 6.8% to 476.5p.
Fallers include Finsbury's Food Group (FIF), down 1.4% to 84p after this morning's trading statement, Ocado (OCDO), down 1.7% to 1,147p and Cake Box (CAKE), down 2.1% to 138.5p.
Yesterday in the City
The FTSE 100 ended the day up 0.2% to 7,323.8pts as strong morning gains ebbed away in the afternoon.
Premier Foods (PFD) continued its better share price fortunes since its stronger than expected half year results last week, with its shares rising 5.9% yesterday back to 38.5p.
Other risers included Domino's Pizza Group, up 3.5% to 305.8p, Marks & Spencer (MKS), up 2.5% to 186p, PayPoint, up 2.2% to 947p, Finsbury Food Group (FIF), rising 2% to 85.2p ahead of this morning's trading update, Sainsbury's (SBRY) up 1.3% to 212.3p and Imperial Brands (IMB) up 1.3% to 1,775p.
The day's fallers included McColl's (MCLS), down 3.7% to 43.8p, Bakkavor, down 3% to 125p and Nichols (NICL), down 2.5% to 1,525p.
FeverTree (FEVR) was down 2.5% to 1,858.5p ahead of this morning's full year trading update.
Other fallers included Kerry Group (KYGA), down 1.4% to 116.1p, Greencore (GNC), down 1.4% to 243.4p, Associated British Foods (ABF), down 1.9% to 2,436p and Coca-Cola HBC (CCH), down 1.1% to 2,438p.