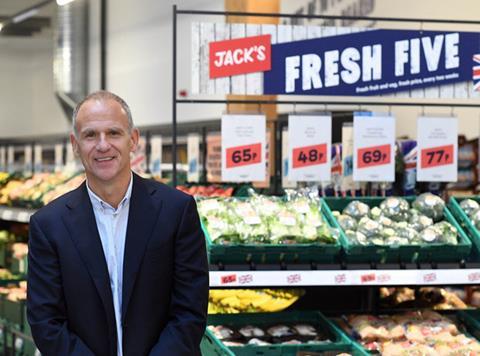 Top story
Tesco's (TSCO) chief executive Dave Lewis has decided to step down from his role next year after leading the supermarket's turnaround since joining in 2014.
Lewis will step down in the summer of 2020. He will be replaced by Ken Murphy, currently chief commercial officer at Boots' American parent company Walgreens Boots Alliance.
Lewis described his decision to leave the business as a "personal one".
"I believe that the tenure of the CEO should be a finite one and that now is the right time to pass the baton," he said.
"Our turnaround is complete, we have delivered all the metrics we set for ourselves. The leadership team is very strong, our strategy is clear and it is delivering. The Tesco brand is stronger and customer satisfaction is the highest it has been for many years.
"With these firm foundations and a competitive, sustainable growth strategy in place, I have no doubt that Tesco will kick on again under new leadership next year. When that time comes, I will watch progress from outside with interest, deep affection and pride. In the meantime, you can be sure that I will give the job everything I have until my very last day."
Chairman John Allan said he had accepted Lewis' resignation with "regret" as, in his role as CEO, Lewis "had done an outstanding job in rebuilding Tesco" and continues to have "unwavering support from the board".
Allan went on to describe Murphy as an "unquestionably, seasoned, growth-orientated business leader" with "deep commercial, marketing and brand experience within retail and wholesale businesses".
"Ken has values which align with our own, strong strategic and operating acumen, and is proven at the very top of a large and respected multinational retail group. I firmly believe we have the right person for the job," Allan added.
The news came alongside interim financial results that showed Tesco's central target set in 2016 — group operating margin of between 3.5% and 4% — had been achieved six months earlier than anticipated, with the retailer delivering 12-month margins at 3.73%.
For the six months to 24 August, Tesco revenues were broadly flat at £31.9bn, in line with analysts' expectations.
However, operating profits rose 13% to £1.13bn from £1bn in the comparative period a year ago, as the retailer cost savings initiatives - including a number of job cuts - started delivering results.
Pre-tax profits climbed 6.4% to £494m.
Lewis commented: "Despite challenging external conditions we have delivered a very good start to the year. I'm very pleased to say that we have now delivered every element of the turnaround plan and from this position of strength, the transformation of our business continues at pace."
With the turnaround complete, Tesco was ready to proceed with its growth plans, Lewis added, including stepping up its store opening programme and increasing its online capacity.
The supermarket plans to open 750 Express stores in Thailand over the next three years, increase the rate of Express stores expansion in the UK, with 150 new store openings over the next three years, and unveil four new superstores in the UK and Ireland.
Online, Tesco plans to double its UK capacity, with the support of three new Urban Fulfilment Centres to be opened by Summer 2020, as part of plan to open more than 25 over the next three years.
Furthermore, building on its Booker acquisition, Tesco announced it bought the assets and operations of Best Food Logistics for a nominal consideration, adding a further £1.1bn of additional foodservice sales. Best Food Logistics distributes food to customers including Pret a Manger, KFC and Burger King.
Under its innovation strategy, Tesco plans to open three further Jack's by February 2020, despite speculation that the grocer could axe the discount proposition after one of its stores was reconverted into a Tesco last week.
Furthermore, the supermarket said he will push ahead with its repurpose proposition in 153 Metro stores and complete new counters proposition in 692 stores in the UK and Ireland.
In Central Europe, Tesco will address the 2.7m square feet of unproductive space by moving to a two-format model in Poland, where since the year-end it agreed almost 73 property disposals, generating total proceeds of 210m.
Tesco shares opened 1.2% higher trading at 242.40p.
Morning update
UK shop prices slumped in September as low consumer demand and continued competition pushed them down.
Shop prices reduced 0.6% year on year, the highest rate of decline since May 2018, data from the BRC-Nielsen shop price index covering the period between 2 and 6 September showed.
In August, prices had fallen 0.4%.
"Shop prices fell by 0.6% on the previous year as low consumer demand and stiff competition continued to push down prices," BRC CEO Helen Dickinson said.
"While consumers may welcome lower prices, falling consumer demand is squeezing retailers' already tight margins. With business costs continuing to rise – including business rates, wage bills, and pension costs – the high street risks more big name closures."
She added that a reform of business rates remained "the most effective way" for the government to support the industry.
Food inflation eased to a 17-month low during the month with prices up 1.1% compared to 1.6% in August, reflecting lower domestic prices for vegetables and global prices for meat, Dickinson added.
The rate of fresh food inflation halved to 0.7% in September from 1.4% the prior month.
Ambient food inflation, however, slowed to 1.7% from 1.8% in August.
Nielsen's head of retailer and business insight Mike Watkins said: "With consumers feeling uncertain about spending, retailers continue to focus on limiting price increases coming through the supply chain. Prices have fallen in non foods helped by seasonal reductions and many food retailers have introduced price cuts to help regain momentum after a challenging summer.
"Competition for discretionary spend will intensify across all channels as we head towards the end of the year and we anticipate more promotional savings for shoppers and inspiring media campaigns that help to drive incremental sales."
Naked Wines (WINE) has announced the sale of its Lay & Wheeler business to Coterie Ltd for a total cash consideration of £11.3m.
The disposal follows the sale of the Majestic Retail and commercial businesses in August and represents "another significant milestone in the evolution of the Naked group", the company added.
"We look forward to our future as a much simplified and growth orientated company continuing to focus on the huge opportunity ahead of us," CEO Rowan Gormley said.
Naked Wines shares opened 0.6% lower at 252.50p.
On the markets this morning the FTSE 100 opened 1.1% lower at 7,277.85pts.
Early fallers include Associated British Foods (ABF), down 1.7% at 2,265.00p.
Among the risers, Greggs (GRG) was up 1.2% at 1,850.00p.
Yesterday in the City
The FTSE 100 ended Tuesday's session in the red, down 0.7% at 7,360.32pts.
Within the food & drink space, Greggs (GRG) slumped 12% trading at 1,843.00p despite reporting sales up 12.4% for its third quarter as investors reacted to the slowing rate of growth when compared to last year's strong comparatives.
Marks & Spencer (MKS) shares closed up 2% at 188.20p following an investor meeting held earlier in the day.
Imperial Brands (IB) meanwhile, closed 1.4% higher at 1,854.00p as it recovers from earlier slumps following the US crackdown on vaping.