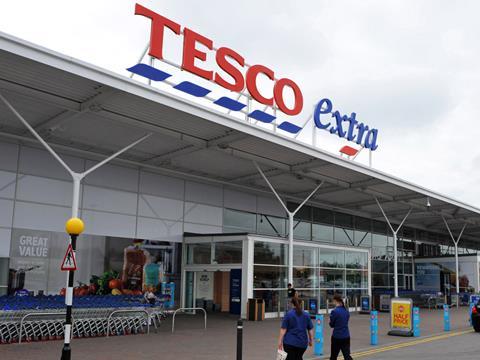 Top story
Tesco has hiked its profits expectations this year after strong UK sales and the sharp recovery of Booker boosted its first half performance.
Revenue increased by 6.3% at constant rates including growth of 49.3% in fuel sales due to a significant recovery in travel driven by the easing of Government restrictions early in the half, albeit still below pre-pandemic levels with two-year like-for-like sales down by (11.3)%.
Total like for like retail sales were up 2.3% on a one-year basis and 8.4% on a two-year comparable basis.
In the UK, sales grew ahead of Tesco's own expectations and the chain outperformed the market as customer satisfaction improved across all key areas. Two-year like-for-like sales grew by 8.9% (with one-year sales up 1.2%) driven by a strong customer proposition on top of the benefit of customers continuing to eat more meals at home than prior to the pandemic.
Tesco said that as industry supply chains came under increasing pressure, it was able to leverage its "strong supplier relationships and distribution capability" to maintain good levels of availability for customers.
Online two-year like-for-like sales were up 74.1% with over 700,000 more customers using its services compared to pre-pandemic levels. Online one-year like-for-like sales grew by 2.3% as it lapped the ramp up in capacity last year and customers returned to physical stores.
Booker recovered strongly during the period, with one year like for like sales up 11% driven by a sharp recovery in demand from catering customers during the period and taking Booker like for like sales up 9.1% on a two-year basis after 2.6% fall last year.
These benefits were partially offset by the year-on-year effect of £249m UK Government business rates relief included in the prior year.
As a result of its strong first half performance, Tesco has increased its adjusted retail operating profit expectations for this financial year to between £2.5bn and £2.6bn.
It stated: "Although we do not yet know how the external environment and consumer behaviour will evolve in the second half, we have assumed that some of the elevated sales fall away and that we will continue to invest in our customer offer."
Tesco also confirmed it is started a share buyback scheme, with the first tranche of £500m in shares to be repurchased by no later than October 2022. It also committed to paying a "progressive dividend" to shareholders, aiming to grow the dividend per share each year, broadly targeting a pay-out of around 50% of earnings.
The supermarket also laid out a wider strategic growth plan to drive growth and shareholder return over the coming years.
"Our progress against each of the measures is unlikely to be linear. For example, our near-term performance will likely reflect the annualisation of our exceptionally strong top-line performance through the COVID-19 period, which could result in a temporary reduction in sales," it stated.
CEO Ken Murphy commented: "We've had a strong six months; sales and profit have grown ahead of expectations, and we've outperformed the market. With various different challenges currently affecting the industry, the resilience of our supply chain and the depth of our supplier partnerships has once again been shown to be a key asset.
"Today, we are sharing the strategic priorities that will enable us to build on these advantages to stay competitive, accelerate growth and generate between £1.4bn and £1.8bn retail free cash flow per year. These priorities will ensure we do the basics brilliantly, operate as efficiently as possible and grow our business by building unbeatable digital, convenience and loyalty platforms.
"We are committed to creating value for all stakeholders in our business. Our commitments to the communities we serve and society more broadly are reflected in our new purpose: serving customers, communities and the planet a little better every day."
Tesco shares have jumped 4.3% to 263.6p this morning, their highest level since February.
Morning update
Imperial Brands has said it is on track to post full year results in line with expectations in a pre-close trading update this morning.
The tobacco company said group net revenue is expected to grow by around 1% on an organic, constant currency basis, driven by continued strong pricing in tobacco.
In its traditional combustibles business, it said greater focus on our five priority markets is beginning to stabilise the long-term aggregate market share performances in these markets with share expected to be slightly lower by around 2-3 basis points, compared with a 17 basis point decline in the prior year.
It is stepping up our investment behind its strategic initiatives in each of these priority markets to drive performance improvements.
Overall tobacco volumes are in line with expectations and total group cigarette market share is expected to grow by around 20 basis points.
Next Generation Products (NGP) revenue is expected to be at a similar level to the first half, reflecting the impact of market exits as it focusses on the categories and markets with the best potential for sustainable growth. The group has launched market trials for heated tobacco proposition in the Czech Republic and Greece, as well as a trial of an improved consumer marketing proposition for its vapour product, blu, in Charlotte, North Carolina.
Group adjusted organic operating profit growth is expected to be in line with previous guidance of low to mid-single digit constant currency growth, reflecting significantly reduced losses in NGP and increased distribution profit.
CEO Stefan Bomhard commented "We have made good progress in implementing our strategy through a sharper management focus, greater investment behind our priority combustible tobacco markets and new market trials in heated tobacco and vapour.
"We are building a high-performance culture with the introduction of new more consumer-focused ways of working, and have made a significant number of new hires to enhance our capabilities in key areas. I am pleased to report the business continues to perform well and we remain on track to deliver our full-year results in line with expectations."
The annual results for the 12 months ended 30 September 2021 will be announced on 16 November.
On the markets this morning, the FTSE 100 has slumped 1.4% back to 6,976.2pts on inflation worries.
Major fallers so far include SSP Group, down 4% to 263.1p, Compass Group, down 2.7% to 1,489p and Greggs, down 2.6% to 3,110p.
Along with Tesco, risers include Parsley Box, up 1.2% to 39.5p, Bakkavor, up 1.1% to 131.4p and McBride, up 0.8% to 74.6p.
Yesterday in the City
Hotel Chocolat was one of the market's big risers, climbing 11.1% to 450p after posting strong annual revenue and profit growth as digital sales mitigated the closure of its stores.
Greggs was also up 11.1% to 3,192p after posting a strong third quarter of sales growth despite disruption to staffing and supply chains.
Other risers included McColl's, up 2,9% to 20.3p, Deliveroo, up 2.6% to 272.5p, Just Eat Takeaway.com, up 1.9% to 5,627p, Sainsbury's, up 1.8% to 299.4p, B&M European Value Retail, up 1.4% to 579.4p and Pets at Home, up 1.3% to 480.4p.
The day's fallers were once again led by THG, which fell a further 4.9% to a new low of 418.4p.
Other fallers included Nichols, down 3.9% to 1,250p, SSP Group, down 2.9% to 274.2p, FeverTree, down 1.9% to 2,340p and Science in Sport, down 1.3% to 76p.