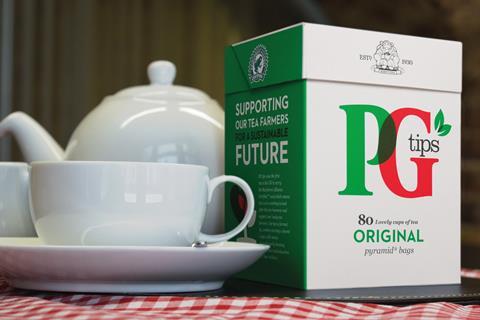 Top story
Unilever (ULVR) has confirmed it has initiated a strategic review of its global tea business, as it reported a 30%-plus slide in annual profits.
In 2019 it posted underlying sales growth of 2.9%, with volume growth of 1.2% and price increases contributing 1.6%.
Turnover increased 2% to €50bn with a positive impact from currency and a negative impact from the spreads disposal.
That €4.3bn sale of its spreads business in 2018 meant operating margins and net profits were down in 2019, falling 800bp to 16.8% and 38.4% to €6bn.
Headline pre-tax profits were down 33% to €8.3bn compared to €12.4bn in 2018.
Newly installed CEO for 2019 Alan Jope commented: ""In 2019 we delivered underlying sales growth of 2.9%, balanced between price and volume, a further year of good margin and earnings progression, and strong free cash flow. Overall growth was slightly below our guided range for the year due to the slowdown we saw in the fourth quarter.
"We are now stepping up execution against our fundamental drivers of growth. These are to: increase penetration by improving brand awareness and availability; implement a more impactful innovation programme; improve our performance in faster growing channels; drive purpose into all our brands; and fuel growth through cost savings."
He said the group is continuing to "evaluate our portfolio" and it has "initiated a strategic review of our global tea business".
Reports in November suggested Unilever was preparing to sell-off its tea business, which includes PG Tips and Lipton, though Unilever denied the reports and suggested it would push the brands into growth areas, such as herbal tea.
Its annual results today said its tea business saw price-led growth in the year, however volumes declined due to subdued consumer demand for black tea in developed markets.
Its Foods and Refreshment business saw underlying sales grew 1.5%, with volumes down 0.2% and pricing up 1.7%.
Ice cream grew, however volumes declined due to a strong comparator from a particularly good European summer in the prior year. In dressings, Hellmann's grew, with the US business returning to growth in the second half of the year. Price-led growth in savoury was supported by Knorr's portfolio in scratch cooking and the launch of snacking ranges which address the convenience trend.
Home Care underlying sales again grew strongly delivering 6.1%, with 2.9% from volume and 3.1% from price. Home and hygiene performed well, benefiting from our cleaner choices products such as Cif surface sprays with natural cleaning ingredients
Beauty & Personal Care posted underlying sales grew 2.6%, with 1.7% from volume and 0.9% from price. Deodorants delivered broad-based growth, but growth was weak in hair care with high competitive intensity in the growth hotspot of the US.
Overall sales growth was driven by a 5.3% increase in emerging markets grew 5.3%, despite a slow end to the year in West Africa, South Asia and the Middle East. Latin America returned to growth while Africa declined.
Developed markets declined with Europe lapping a very strong ice cream season from the previous year. In the fourth quarter, price growth decelerated, driven by price reductions in India, significantly lower inflation in Turkey and increased promotional spend in Europe.
Unilever warned its 2020 underlying sales growth is also expected to be in the lower half of the multi-year 3-5% range and will be second-half weighted.
Jope added: "While we expect an improvement from the fourth quarter of 2019 into the first half of 2020, first half underlying sales growth will be below 3%. The impact of the coronavirus outbreak is unknown at this time.
"As we near the completion of our three-year strategic plan, we expect continued improvement in underlying operating margin and another year of strong free cash flow, remaining on track for our 2020 goals."
Unilever shares are up 1.3% this morning at 4,497p
Morning update
Diageo (DGE) has posted a solid rise in first half sales, though its bottom line was hit by currencies, one-off items and M&A activity.
The spirits giant posted reported net sales of £7.2bn – an increase of 4.2% driven by organic growth.
All regions contributed to this broad based organic net sales growth of 4.2%, with the majority driven by price as organic volume rose just 0.2%.
Organic operating profit grew 4.6%, ahead of organic net sales, driven by productivity benefits from cost efficiencies and strong price/mix, partially offset by cost inflation and upweighted marketing investment.
However, reported operating profit of £2.4bn increased by a more modest 0.5%, hampered by unfavourable exchange, exceptional operating items and acquisitions and disposals.
CEO Ivan Menezes commented: "Diageo has delivered another good, consistent set of results in the first half, with broad based organic net sales growth across regions and categories. We have continued to increase investment behind marketing and growth initiatives, while expanding organic operating margins.
"These results reflect the changes we are making in the business to drive shifts in our culture. They are in line with our current mid-term guidance and have been delivered in the face of increased levels of volatility in India, Latin America and Caribbean and Travel Retail.
"There is ongoing uncertainty in the global trade environment and we would not be immune from further policy changes. We remain focused on building the long-term health of our brands, supported by data-led insights and a culture of everyday efficiency. With the consumer at the heart of the business and with greater agility and discipline in the execution of our strategy, we are growing Diageo in a consistent, sustainable way."
North America delivered net sales growth of 6%, with growth across all three key markets. In US Spirits, net sales increased 6%. Tequila net sales grew strongly at 35%
Europe and Turkey delivered organic net sales growth of 3%, reflecting consistent performance in Europe and double digit growth in Turkey. In Europe, growth was driven by Continental Europe and Great Britain.
In Great Britain, net sales grew 2%. Performance was mainly driven by Guinness, Baileys and Captain Morgan, partly offset by a decline in Gordon's due to lapping a strong prior year innovation, and the continued impact of commercial negotiations following prior year pricing decisions.
Africa delivered organic net sales growth of 5%, with growth across East Africa and Africa Regional Markets, Nigeria returning to growth and a decline in South Africa.
Latin America and Caribbean delivered 2% growth in net sales with strong performance in Colombia, Brazil.
Asia Pacific delivered 4% growth in net sales with strong growth in Greater China and Australia, partially offset by declines in North Asia, travel retail and Middle East and a slowdown in growth in India.
For the full year, Diageo guided that organic net sales growth to be towards the lower end of its 4%-6% mid-term guidance range, with organic operating profit expected to grow roughly one percentage point ahead of organic net sales.
Diageo shares are up 0.4% this morning at 3,121.5p.
Pubs and hotels business Fuller, Smith & Turner has posted a trading update for the 42 weeks to 18 January 2020.
The company "traded well" over the festive period with like for like sales in managed pubs and hotels rising 4.3% for the six weeks encompassing Christmas and New Year, and 2.5% for the 42 weeks to the period end.
All areas of the business - food, drink and accommodation - have been in like for like growth. Tenanted like for like profits are down 3% for the period.
CEO Simon Emeny commented: "It's been a year of change for Fuller's and this is a good first Christmas as a focused premium pubs and hotels business. We have exciting plans in place for the coming months including the opening of our new sites The Windjammer at Royal Dock, The White Horse at Wembley Park and The Parcel Office at Liverpool Street Station.
"This is a very busy time for Fuller's as we complete the integration of Cotswolds Inns & Hotels, undertake a number of major capex projects including the redevelopment of The Bear of Burton in Dorset and our new Bel & The Dragon site at Westerham in Kent, as well as continue to grow our existing business.
"In addition, we are approaching the conclusion of the transitional services agreement with Asahi, while maintaining a keen focus on reducing our central costs against a backdrop of rising wage inflation and business rates. There is a lot to do - but we relish the challenge."
On the markets this morning, the FTSE 100 is down 0.7% to 7,430.7pts so far this morning.
Risers this morning include Premier Foods (PFD), up 1.6% to 38p, Marston's (MARS), up 1.4% to 105.5p and Mitchells & Butlers (MAB), up 1.4% to 397p.
Fallers so far include Stock Spirits (STCK), down 1.9% to 204.5p, FeverTree (FEVR), down 1.6% to 1,421p and Bakkavor, down 1.3% to 134.8p.
Yesterday in the City
The FTSE 100 ended the day flat yesterday at 7,483.6pts.
There were a number of retail names on the slide yesterday – including Marks & Spencer (MKS), down 2.6% to 179.5p, WH Smith (SMWH), down 2.1% to 2,404p, Greggs (GRG), down 1.9% to 615p and Sainsbury's (SBRY), down 1.5% to 202.4p.
Other consumer fallers included Applegreen (APGN),, down 4.1% to 470p, Marston's (MARS), down 2.7% to 104p, AG Barr (BAG), down 1.9% to 615p, PZ Cussons (PZC), down 1.7% to 193.6p and Britvic (BVIC), down 1.7% to 890p.
Unilever and Diageo were both down ahead of their results this morning, falling 1.4% to 4,438p and 1.2% to 3,110p respectively.
The day's few risers included DS Smith (SMDS), up 2.4% to 357p, Domino's Pizza Group, up 1.9% to 302.6p, Bakkavor, up 1% to 136.6p and Cranwick (CWK), up 0.9% to 3,540p.