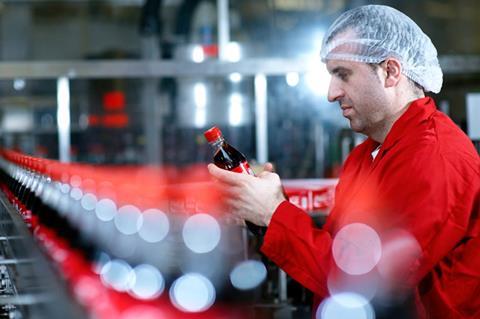 Top story
European Coke bottler Coca-Cola HBC (CCH) has reported a 5.9% jump in organic sales and a double-digit growth in profits as both volume and price growth boosted its full-year performance.
The group, which holds Coca-Cola's bottling lisceses in Greece, Russia, Ireland and much of Eastern Europe, reported a 5.9% increase in FX-neutral net sales, with reported sales up 4.9% in the year to 31 December 2017.
CCH returned to volumes growth of 2.2% in the year after posting a marginal increase of 0.1% in 2016.
It reported a "good performance" from both sparkling (including energy drinks) and stills, which grew 2.6% and 1.5% respectively.
Volume was up 1.1% in its established segment, up 2.8% in its developing segment and up 2.7% in its emerging segment.
All three segments delivered faster volume growth in the second half of 2017 compared to the first half, and better volume growth in 2017 compared to 2016.
FX-neutral revenue per case grew in all segments, up 3.6% overall, with positive contributions from its price, category and package mix.
This is the seventh consecutive year of growth and an acceleration compared to the 2.9% expansion in revenue per case in 2016.
Comparable earnings before interest and tax was up 20% to €621m, with comparable EBIT margin expanding by 120 basis points to 9.5%.
Comparable EBIT margin increased 20 basis points in the established segment to 10.3%, 300 basis points in its emerging segment to 9.6%, but decreased 100 basis points in the developing segment to 7.9%, largely related to a provision taken in the first half against trade receivables in Croatia.
On a reported basis, EBIT of €589.8m was a 16.5% improvement year-on-year.
Zoran Bogdanovic, the newly installed CEO after the October 2017 death of Dimitris Lois, commented: "I am fortunate to have taken over a business performing well and with a clear strategic direction. 2017 was an exceptional year for us, and we are delighted to have delivered strong growth in volume, revenue and margin, overall demonstrating significant progress towards our 2020 objectives.
"We are excited about the year ahead, which has a particularly strong pipeline of product innovation and commercial activity around our route to market and in-store execution. There is good momentum in the business and a determination to build on our success. We are confident that 2018 will be another successful year."
CCH shares have jumped 3.8% this morning to 2,321p and are up by more than 27% year-on-year.
Morning update
Danone (BN) has announced it is to sell part of its 21.3% stake in Japanese probiotic yoghurt producer Yakult.
The sale will be carried out through a market transaction launched today by Yakult and is expected to settle in March. Yakult has also announced today a JPY 36 billion share buyback program in which Danone will participate.
Danone targets a shareholding of approximately 7% of Yakult's total outstanding shares following the completion of the transaction, which will retain its position as the company's largest shareholder and its seat on the Yakult board.
It also announced a "new phase" in its partnership with Yakult to strengthening their longterm
strategic collaboration in probiotics.
Building on a formal collaboration existing since 2004, the companies confirmed their commitment to "a long-term strategic relationship and shared vision to promote probiotics as part of a balanced diet".
The pair will study the feasibility of new collaboration projects such as the distribution of Yakult's products by Danone in European markets where the brand is not currently engaged in substantial business, with Spain as an initial test market.
Agri-Services group Origin Enterprises has announced that its CFO Imelda Hurley, will step down from the board on 28 February 2018 and leave the group effective 30 April 2018 in order to pursue other interests.
As a result, Origin has initiated a search for a new CFO and an appointment will be made in due course.
Origin is has also announced the appointment of Peter Dunne, who joined the group in 2016, as group finance director, effective immediately.
On the markets this morning, the FTSE 100 has opened up 0.6% to 7,211.2pts.
In Paris, Danone is up 1.1% to €64.61 on this morning's news.
Risers in the UK, along with Coca-Cola HBC (as above), include FeverTree (FEVR), up 2.5% to 2,371.2p, Stock Spirits (STCK), up 2.2% to 281.5p, Britvic (BVIC), up 2.1% to 682p and British American Tobaccco (BATS), up 1.7% to 4,457p.
Early fallers include Science in Sport (SIS), down 2.5% to 69.2p, AG Barr (BAG), down 2.1% to 646p and Applegreen (APGN), down 1.8% to 494p.
Yesterday in the City
The strengthening pound once again hit the share prices of the FTSE's fmcg multinationals after the announcement of strong UK inflation in January reaffirmed expectations of 2018 interest rate rises.
The ONS announced that the CPI measure of inflation remained at 3% in January, defying expectations of a small dip.
Subsequently the pound rose 0.3% against the dollar to US$1.39.
That hit the shares of Greencore (GNC), down 2.9% to 187p, Imperial Brands (IMB), down 2.3% to 2,600.5p, British American Tobacco (BATS), down 1.9% to 4,381.5p, Associated British Foods (ABF), down 1.1% to 2,601p and Unilever (ULVR), down 1% to 3,791p.
The tobacco stocks were also hit by a downgrade of Imperial Brands from US investment bank Piper Jaffray, which cut its rating for the company to 'neutral' from 'overweight' and reduced the price target back to 2,800p from 3,500p
The FTSE 100 ended the day 0.1% down at 7,168pts.
Just Eat (JE) continued its share price surge, rising a further 3.8% to 852.3p, while other risers included Dairy Crest (DCG), up 1.7% to 575p, WH Smith (SMWH), up 1.3% to 2,022p and B&M European Value Retail (BME), up 1.2% to 409.2p.
Other fallers included Greene King (GNK), down 2% to 502.4p, McBride (MCB), down 1.8% to 166p, Nichols (NICL), down 1.7% to 1,555p and Hotel Chocolat (HOTC), down 1.5% to 322.5p.