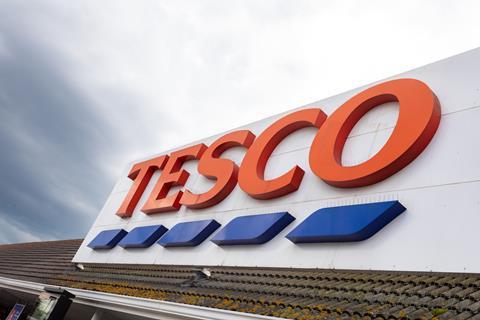 Tesco (TSCO) CEO Dave Lewis declared the retailer had a "strong" start to the year as it continued to grow ahead of the market during the first quarter, but weakening sales growth left some in the City wondering if its resurgence was beginning to slow.

On Thursday Tesco posted first quarter UK like-for-like growth of 0.4%, about half the rate of consensus expectations and well down on the 1.7% UK growth seen in the fourth quarter of its previous financial year, and its 2.3% growth in the same quarter in 2018. Tesco was keen to highlight its outperformance of the "subdued" UK grocery market, as it beat market growth in sales and volume terms by 0.2% and 1.3% respectively.


Bernstein analyst Bruno Monteyne said this volume performance relative to its competitors "implies either new price cuts by Tesco, or more likely a strong shift to the new discount brands. This will put pressure on the supermarket peers and be good for volume leverage in Tesco."
However, HSBC analyst Dave McCarthy cautioned: "Despite the great work done by management, Tesco, like the rest of the big four, continues to lose market share."
"Since Dave Lewis took over as CEO the operating margin has recovered well and is already at a level Tesco's biggest critics thougt would never be reached. However, market share is down over 200bps and this needs to be reversed for Tesco to have credibility as a long term growth story."
Shore Capital's Clive Black also pointed out that tough comparisons and awful June weather "may mean that the Q2 UK out-turn, at least, could be tougher".

Overall UK figures were boosted by the performance of Booker, up 12.4% at constant rates to £1.5bn representing like-for-like growth of 3.1%.
Total group revenues were up 0.4% at constant currency to £14bn and 0.2% on a like for like basis, mitigated slightly by a 7.9% slump in Central European sales.
Citigroup concluded: "Notwithstanding quarterly volatility and weather impacts, w We think Tesco is increasingly on the front foot as it continues to drive value into its core UK offer. Across multiple quarters this should drive incremental volume."

Tesco shares fell 3.3% in early trading on Thursday, but were up 0.5% to 228.7p by lunch.

Majestic Wine's (WINE) shares jumped 9.3% on Wednesday on rumours that PE firm Elliott Advisors had entered the hunt to buy its UK retail chain, but were back down 9.8% on Thursday to 287p on underwhelming annual results.

Majestic's loss before tax reached £8.5m in the year to 1 April compared with a profit of £8.3m in its previous financial year as investment in Naked, weaker retail trading and an £11.1m impairment charge hit trading.


Despite "advanced discussions" around the sale of its retail arm, investors were spooked by the scrapping of its annual dividend, replaced by special payment when the retail sale is completed, and the sudden departure of its chairman.
Peel Hunt poured some more cold water on investor excitement over a retail exit, noting: "If management can get £100m for the retail arm, then it is the sale of the century and the share price is about right."If management can get the deal done this summer and pay a nice dividend then the picture gets clearer, but can it persuade enough growth funds that the future is bright to pay a multiple of sales for Naked? We wouldn't be rushing out to invest."