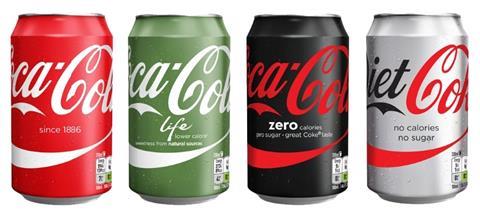 Sales at European Coke bottler Coca-Cola Enterprises (CCE) fell 7% to $1.5bn in the first quarter with volumes declining as consumers turn away from fizzy, sugary drinks.
The group is in the middle of merging with two of Coca-Cola's other European bottlers – Coca-Cola Iberian Partners and Coca-Cola Erfrischungsgetränke – which it expects to close in the second quarter.
Volumes slipped 4% in the first three months of the year in the difficult marketplace, with temporary supply chain disruptions in the UK – where volumes fell 5% – contributing to the fall.
Reported operating income for the period also fell 2% to $122m.
Still brands was the one positive area – which also proved to be the case with The Coca-Cola Company in the first quarter – with 1% volume growth recorded, driven by double-digit growth in water through increased availability of Glacéau smartwater in the UK.
Sparkling brands declined 5%, reflecting a 6.5% drop in Coca-Cola trademark brands and mid-single-digit growth in energy. Monster brands, however, grew more than 15% through organic growth and expanded distribution in Norway.
"Throughout our territories, we continue to face an overall soft consumer environment that has limited category growth," CEO John Brock said.
"However, the first quarter is our smallest, and we remain confident that our marketplace strategies, innovation initiatives, and customer-focused effectiveness will sustain our outlook for the full year."
CCE operates across Belgium, France, Great Britain, Luxembourg, Monaco, the Netherlands, Norway and Sweden.
The merger to create Cola European Partners was announced in August last year.
Chief operating officer Damian Gammell said: "We have solid marketing plans in place, including strong initiatives for the UEFA Euro 2016, and a renewed focus on immediate consumption, including a variety of new packaging initiatives. And, we will benefit from initiatives supporting the 'Taste the Feeling' campaign, which will better link our four core Coca-Cola trademark products."
Shares in CCE are up 4% so far in New York to $54.05.