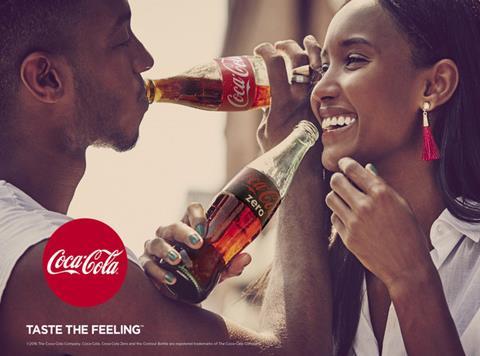 The soft drink levy, expected to stifle fizzy drink makers when launched in April, provided a much needed boost for Coca-Cola European Partners (CCE) as sales dived elsewhere in Western Europe.


CCEP's GB sales grew 6.5% in the quarter to 29 June driven by escalating prices after the levy. However, overall sales for the first half, and Q2, remained flat after unfavourable weather in Spain and Portugal caused a 6% slump in the quarter, while "disruption in customer negotiations" caused a 9.5% fall in French sales.
Combined with soft drinks taxes, this meant group-wide volumes fell by 3.5%. Nevertheless, CCEP's total revenues stayed flat at €5.4bn (£4.86bn) for the half-year to 29 June, as UK sales and sugar-free provided some growth. Coca-Cola Zero Sugar was singled out as one of the star performers, shooting up to 7% sales growth. Classic Coca-Cola was the sugar tax's big victim, suffering "high single-digit decline", mirrored by a 5.5% fall across Coca-Cola branded lines.

Still brands performed even worse, with sales down 9.5%, driven by an 8% fall in water sales and a 10.5% drop in juices. CEO Damian Gammell said: "Overall, we are encouraged by our first-half performance given business disruption in France owing to customer negotiations; unfavourable weather in Iberia; and new industry taxes, notably in Great Britain."

Nevertheless, CCEP shares jumped 4.3% to $42.65 (£33.13) in early trading as it affirmed its 2018 profit outlook after "solid progress" in the first half.

Meanwhile, fellow European Coke bottler Coca-Cola Hellenic (CCH) posted a 6.4% jump in sales as the World Cup, warm weather and new products boosted volumes in the second quarter. Net sales were €3.2bn (£2.8bn) in the first six months of the year, a 0.5% fall due to currencies. Volumes accelerated in the second quarter, resulting in 4.6% growth in the first half. Sparkling beverages volumes were also strong, rising by 4.6%, while FX-neutral revenue per case increased by 1.8%.

Established markets volume increased by 0.9%, with good performances in Greece and Ireland, but it saw strong er volume growth in developing markets up 8.9% led by Poland and Hungary, while emerging markets were up 5.1% as Nigeria and Russia returned to growth.


Input costs were marginally lower on an FX-neutral and per case basis, helping to drive a 60 basis point expansion in comparable operating margin to 9.6%. despite a 30 basis point increase in marketing investment in launches and the FIFA World Cup. Comparable EBIT was €310.5m, up 6.7% compared to the prior-year period.

Analysts at SocGen noted CCH had escaped some of the pressures affecting European soft drinks rivals as it is unaffected by recent sugar tax introductions in the UK, France and parts of Spain, or by the recent CO2 shortage. The broker described the results as a "small beat versus consensus", adding: "The continued expansion in EBIT margin, which has been the basis of the share price growth for 3 years, remains intact." CCH shares had edged up 0.2% to 2,754p by Thursday lunchtime and are already up by around 24% over the past six months.