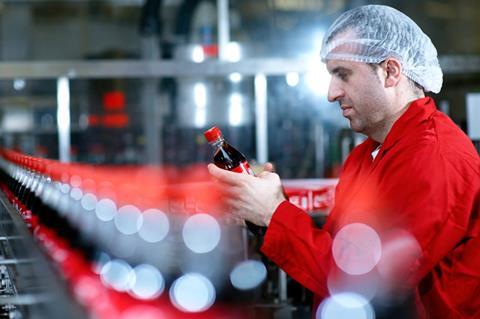 Coke bottler Coca-Cola HBC (CCH) helped drive the FTSE 100 higher this morning after posted an unexpected rise in first-quarter sales.
Shares in the company, the second-largest Coca-Cola bottler in the world, rose more than 3% on opening to 1,469.6p to lead the blue-chip index.
Net revenues climbed 1.7% to £1.35bn in the first three months of its financial year, compared to £1.33bn a year ago and ahead of analyst expectations of £1.31bn, as volumes soared 7.2% to 439 million unit cases.
The increase in volumes came from all three segments of the business and was supported by four additional selling days, an early Easter and good performances in Nigeria, Poland, Romania, Hungary and the Czech Republic.
Despite a deflationary pricing environment, 5.1% growth was registered in established markets and another 11.4% in developing markets as "robust" volumes in sparkling beverages and in the organised trade drove revenues.
However, currency headwinds dented a good volume performance (up 7.4%) in emerging markets leading to a 4.6% fall in sales in the segment.
CEO Dimitris Lois said trading was in line with expectations and called it a "solid" quarter.
"The plans we put in place to stabilise volumes in Europe, and the pricing initiatives we implemented to mitigate the adverse impact of currencies in certain emerging markets have been effective.
"The initiatives we can deploy to mitigate the potential headwinds have been successful and we are encouraged by the results the business has delivered in the quarter."
He was more cautious for the future as there was still "uncertainty" ahead. "While there are some positive country-specific dynamics, continued volatility in currency and oil markets, political concerns in certain countries and the downward revision of global GDP growth by the IMF continue to provide an uncertain background," Lois added.
The group no longer provides profit figures in its trading updates.