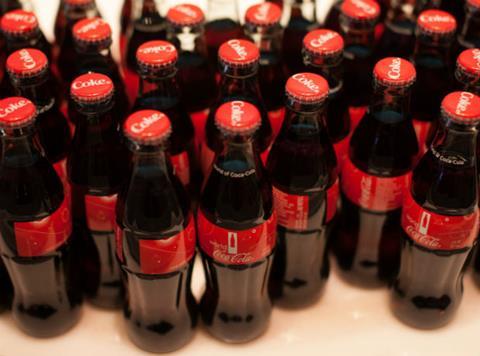 Coca-Cola has posted a double-digit drop in annual sales as the coronavirus savaged out of home beverage consumption, but its performance improved in the fourth quarter and the drinks giant has guided to a better 2021.
For the full year Coca-Cola's reported net revenues fell 11% to $33bn, with volumes down 7%, a 2% drop in price/mix and a 2% negative impact from currencies.
However, its sales drop in the fourth quarter was less steep than for the full-year period, with net revenues down 5% to $8.6bn and organic revenues falling 3%. This fourth-quarter performance was driven by a 3% decline in price/mix while concentrate sales were even.
Coca-Cola said it continued to "see improvement in trends compared to prior quarters". Although it noted that it experienced incremental pressure in December and into the early part of this year due to a resurgence of the coronavirus in many parts of the world.
Through early February 2021, Coke said it has experienced a volume decline of mid-single digits globally, with continued elevated levels of sales in at-home channels being more than offset by pressure in away-from-home channels.
However, it said it has made progress on its strategic transformation through the pandemic, including rewiring to become a more networked organization.
"The company is confident in its ability to gain share and consumers, maintain strong system economics, strengthen its reputation with key stakeholders and position the organisation to win. The organisation is on a path to emerge stronger and is positioned for long-term success," it stated.
As a result of improving sales trends and confidence in the actions it has taken to mitigate the crisis, the company has reinstated guidance and is providing its 2021 outlook.
It now expects to deliver organic revenue percentage growth of high single digits in 2021, with 2% to 3% growth in comparable net revenues.
Given the above considerations, the company expects to deliver comparable earnings per share percentage growth of high single digits to low double digits versus $1.95 in 2020 – a decline of 8%.
For the fourth quarter, operating margin was 27.2% versus 23.9% in the prior year. For the full year, operating margin, which included items impacting comparability, was 27.3% versus 27.1% in the prior year, primarily driven by effective cost management, partially offset by top-line pressure and currency headwinds.
"In 2020, employees from across The Coca-Cola Company and its bottling system worked tirelessly to learn and adapt amidst a global crisis," said James Quincey, chairman and CEO of The Coca-Cola Company.
"The progress we made in 2020, including the actions taken to accelerate the transformation of our company, gives us confidence in returning to growth in the year ahead. While near-term uncertainty remains, we are well-positioned to emerge stronger from the crisis, driven by our purpose and our beverages for life ambition."
Coca-Cola shares were up 0.5% to $49.96 in early trading.