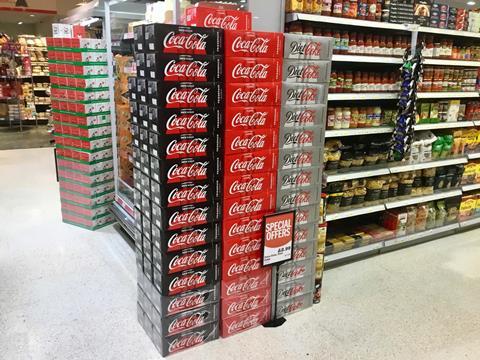 The Coca-Cola Company (KO) has posted net revenue growth of 5% in the first three months of the year, representing an "encouraging" first quarter performance.
Net revenues grew 5% to $8bn in the period with organic revenues up 6%.
Some 2 percentage points of this growth was attributable to timing – notably bottler inventory stockpiling related to Brexit related uncertainty.
Reported revenue also benefited from the closing of the Costa acquisition during the quarter. Coca-Cola said the company has completed a "smooth transition" of Costa and is working quickly to leverage the total coffee platform.
Its concentrates products delivered sales growth of 1% amid price/mix improvement of 5% driven by "consumer-centric innovation" and "revenue growth management initiatives".
Unit case volume grew 2%, driven by strong growth across key markets within Asia and Europe, partially offset by a decline in Argentina, the Middle East region and North America.
Sparkling soft drinks grew 1%, driven by strong global performance in brand Coca-Cola through double-digit growth of Coca-Cola Zero Sugar.
Juice, dairy and plant-based beverages volume was even as strong performance in the Del Valle brand in Mexico and the Maaza brand in India was offset by a decline in Rani.
Water, enhanced water and sports drinks grew 6%.
Operating margin for the quarter was 29.1% versus 23.7% in the prior year, although comparable operating margin was 30.5% versus 30.7% in the prior year due to currency headwinds and net acquisitions.
Comparable earnings per share from continuing operations grew 2% to $0.48, despite an 11-point currency headwind.
CEO James Quincey commented: "We're encouraged by our first quarter results as our disciplined growth strategies continue to deliver strong underlying performance."
"We remain confident in our full year guidance as we continue to make progress on our transformation as a consumer-centric total beverage company."