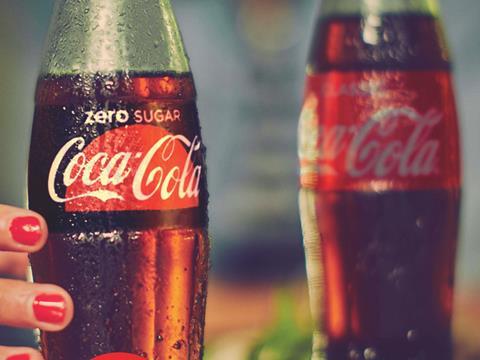 Comparable sales at GB and European Coke bottler Coca-Cola European Partners (CCE) were up 5% in the first half on strong revenue and volume growth across its major territories and increased sales of Coca-Cola Zero Sugar.
CCEP said first half revenues were up 3% to €5.4bn in the first six months of the year, and up 5% on a comparable and fx-neutral basis.
The revenue rise was supported by higher sales volumes, with overall volume up 3% during the period.
Profitability also increased, with comparable operating profit up 14% on a comparable basis to €688m or up 17% on an fx-neutral and comparable basis.
The strong second quarter performance has led to CCEP increasing full-year guidance for 2017 to achieve fx-neutral diluted earnings per share growth in a 10%-12%.
CCEP CEO Damian Gammell commented: "We delivered a strong second quarter as we continue to make solid progress in building our new company and realising our planned synergies."
He said that the strong growth reflected "successful execution of our sales and marketing plans, as well as favourable weather throughout the quarter".
"Importantly, our results also continue to support the strategic rationale for creating CCEP," he added. "Looking forward, we remain focused on our long-term business growth through expanding our portfolio, creating value with our customers, and improving in-market execution, all to generate strong cash flow and drive long-term value for our shareholders."
On a territory basis for the second quarter, Iberia revenues were up 8.5%, revenue in Germany was up 7% and Great Britain had strong revenue growth on an fx-neutral basis with gains in both revenue per unit case and volume.
On a reported basis, GB revenues were down 0.5 percent, driven by a decline of the British pound versus the Euro of approximately 9%. The organic growth in GB was driven by strong volume and revenue per unit case growth driven by the impact of pricing and promotional plans and favourable package mix
Revenue in France was up 3.5%, sales in Northern European territories were up 9% led by Belgium, Luxembourg, and the Netherlands, offset by a decline in Norway.
On a brand basis sparkling brands were up 4% in the second quarter, with Coca-Cola trademark brands increasing by 3.5% led by double-digit Coca-Cola Zero Sugar growth and modest growth in Coca-Cola Classic.
Sparkling flavours and energy grew 7%, while still brands grew 6.5% and water brands were up 5%. juices, isotonics and other were up 7.5% with growth from Capri-Sun, Aquarius, and teas, notably in Spain.
CCEP also said it remains on track to achieve pre-tax savings of €315 million to €340 million through synergies by mid-2019.