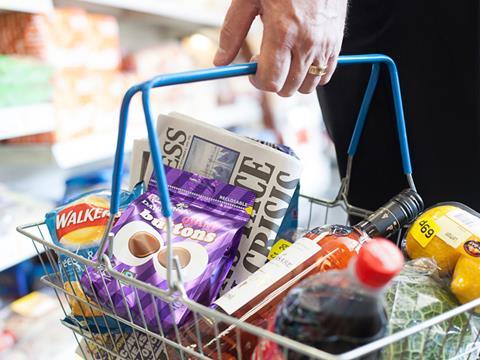 Whether you think the cup is half full or half empty for the UK grocery market, today has brought more evidence to back both points of view.
This morning's Kantar Worldpanel market share figures can certainly be read two ways.
For the pessimists among us, the evidence is there that the market is still in a historically hostile place. All of the big four recorded 12-week sales falls for the period to 19 July, with food deflation remaining at a significant -1.7%.
But there are green shoots of recovery too. Overall GB till roll spend was up 0.8% during the period compared with a fall of 0.1%. Food price deflation eased 0.1 percentage points from -1.7% to -1.6% (having been -2.1% in April), which also suggests volume growth during the period.
Furthermore, breaking the figures down to four-week sales, the most recent period was the strongest – with sales up 1.1%.
The numbers do seem to back up the wider UK economic narrative that conditions are slowly getting better. The Office of National Statistics announced this morning that second-quarter GPD growth was up 0.7% - an improvement from the 0.4% in the first three months of the year. It's noteworthy, too, that the UK's economic output, per person, finally got back to its pre-economic crisis level in the past quarter.
So if the general economic situation is improving, why is it yet to significantly boost the big four?
Certainly the Kantar numbers posted by Morrisons and Tesco are vastly better than those achieved a year ago (Tesco was down 4% with Morrisons down 1.9%), so there is a measure of year-on-year improvement.
Morrisons touched positive sales territory in Kantar Worldpanel's last update, but its small 0.1% sales fall this month is more to do with heavy 2014 vouchering hitting comparative sales in recent weeks than a further downturn. Sainsbury's recorded probably the best sales performance in the period, with its 0.3% decline an improvement from a 1.3% decline in June's update.
Asda again stands out from the other three with its 2.7% sales fall, but, once more, that is more representative of its strong 2014 and concentration on preserving margin.
Importantly, there are other grocers showing tangible sales recoveries.
Unsurprisingly the discounters continue to grow market share (Aldi up to 5.6% and Lidl 4%) and Waitrose's sales are still up, but other retailers that have had a tough 2014 are seeing growth coming through.
Co-op sales were up 1% (ahead of market growth of 0.8%) as it recorded an extra 133,000 customers through the door, suggesting – according to Bernstein – "its focus on convenience is paying off".
Also appearing to pay off is Iceland's major marketing push to change attitudes to frozen food with its Power of Frozen campaign as it recorded its best sales performance since April 2014, with 12-week sales up 3%.
Almost every listed food and drink supplier is caveating its results by talking of the "tough conditions" in the UK grocery market. And conditions remain tough - but there are finally some compelling signs that the worst may be behind us.