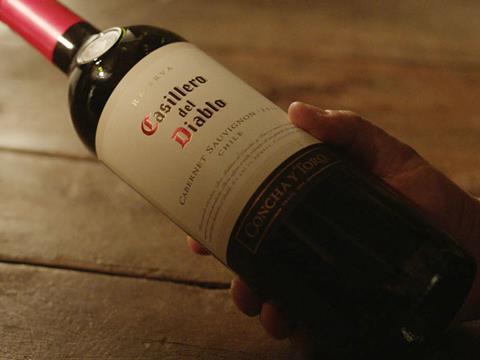 Concha y Toro's sales returned to growth last year as the Casillero del Diablo owner's premiumisation drive began to pay off, its latest results reveal.
Revenues at the Chilean wine giant grew £5.9m to £134m for the year ending 31 December 2017, according to records filed at Companies House this week, with director Osvaldo Solar Venegas heralding a strategy of "focusing on premium brands and implementing a price increase programme". This time last year, revenues had fallen £723k to £128.4m.
Focusing on value rather than volume (Concha sold 2.9% fewer nine-litre cases in 2017), was helping "to offset origin wine cost increases due to poor harvest yields and the unfavourable sterling exchange rate", he added.
However, while sales grew, the company's operating profits took a hit, falling £881k to £2.4m.
Concha y Toro UK general manager Simon Doyle said this was down to "two main factors" of "continued adverse exchange rates and the impact of harvest challenges from both Chile and Argentina in 2016 and to an extent 2017 on the cost of goods".
It comes as sales of many of Concha y Toro's biggest brands surged in the supermarkets over the past year, as The Grocer's Britain's Biggest Alcohol Brands 2018 recently revealed.
Casillero del Diablo, for instance, added £9.5m to its value, growing 8.2% to £126.3m, while Trivento racked up a 20% (£6.1m) gain, growing to £36.2m. However, Isla Negra suffered a 3.9% (£3.9m) loss, falling to £95.8m [Nielsen 52 w/e 21 April 2018].
The winemaker has spent the past year pumping out a host of new, posher products such as Diablo, an upmarket spinoff of Casillero del Diablo, and 1000 Stories, a bourbon barrel-aged California zinfandel.
Last month it unveiled Chateau Jacked, a duo of fruit-infused wines that, at 12.5%, are stronger than many other fruit wines. Concha y Toro is hoping the launch will poach younger drinkers from other categories such as fruit cider and spirits.