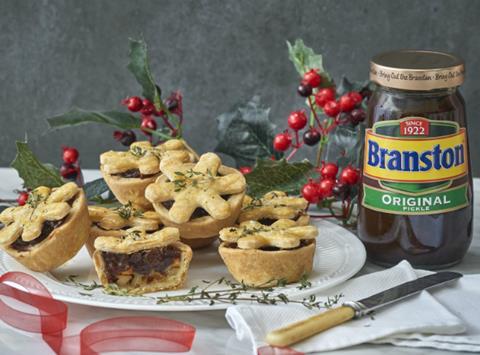 The maker of Branston pickle and Sarson's vinegar has posted a sharp rise in pre-tax losses, amid mounting cost inputs and the loss of a private label contract.
Newly filed accounts for Mizkan Euro, the UK-based arm of Japanese company Mizkan Group, showed sales in the year to 29 February 2020 edged up 1% to £104.4m.
However, its operating loss rose from £2.5m to £13m amid £9.4m of one-off expenses during the year.
The company accounts say it lost a "significant private brand contract" during the reporting period, which resulted in the closure of a business line and a programme of redundancies being introduced.
This led to exceptional costs of £7.6m in the period, including £6.2m in impairments related to plant and machinery associated with the contract and £1.4m in restructuring costs.
The firm's average headcount fell back approximately 50 people during the year, with roles lost focussed in production and manufacturing, back to just over 400 employees.
The company also took a £1.8m hit from a product recall of lines of Branston sweet pickle in March 2020 due to potential product contamination from an ingredients supplier.
Pre-exceptional operating loss also nudged up from £2.5m to £3.6m due to commodity pressure on raw materials and investment in new product initiatives and future business expansion within Europe.
Bryan Carroll, sales & marketing director at Mizkan Euro, commented: "Whilst we were sad to see a private label contract not renew, our total focus as a business is on the planned growth we have for Mizkan Euro.
"Our business model is designed with a long term horizon, and as a group with centuries of heritage and a really strong brand portfolio we are excited about our planned developments in this market. We will deliver upon these in terms of providing to our end consumer with the support of our retail and trade partners."
The accounts also note that the coronavirus outbreak has hit foodservice sales, which last year accounting for 21% of the company's turnover.
Mizkan stated the drop in foodservice business had been "substantial", albeit it noted the sector has begun to recover in a number of countries.
Carroll added: "Since Covid hit, we are pleased that through the efforts of all our colleagues here we have kept up with the tremendous growth in demand for Branston Pickle and Sarson's from consumers, who are clearly seeking comfort from the brands they love and trust.
"We have also actively supported our food service clients and plan to offer innovative ideas to help them as they move back towards some sort of normality. These are challenging times for everyone but Mizkan Euro stands ready to build on our position in the years ahead."
As Covid was hitting Europe the company undertook a debt for equity swap to inject £35m of funds on 27 February to bolster its balance sheet.