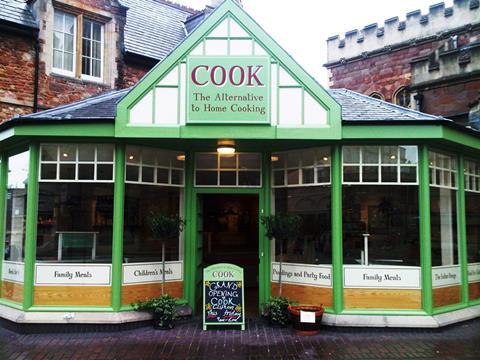 Frozen ready meal specialist Cook Trading battled back after "a shaky" first half to once again generate another year of record sales and profits.
Revenues jumped 14% to £45.1m in the year to 31 March 2016 thanks to a strong finish in the last five months, including a "fantastic" performance at Christmas as shoppers sought out quality food, which underpinned the 4.3% rise in like-for-like figures, newly filed accounts at Companies House showed.
The online business continued to soar, with sales growing 50% to £4.4m, and the concessions division beat all targets, the report by co-founder Edward Perry said.
"Momentum feels good and there is much to feel optimistic about, while retaining a healthy degree of paranoia regarding the ever-shifting retail landscape," he added.
The former Grocer Fast 50 business was founded in 1997 and sells hand-made meals in more than 80 shops and in branded freezers in 1,000 independent retailers.
Perry added the refinement of the model for 14 freezer 'super concessions', plugging holes where a standalone shop would not make sense, was an "exciting" development with "loads" of potential.
Products successes included the revamped line of lower calorie Pots for One, an improved Christmas offering delivering a strong festive period and a new Thai range proving an "unexpected smash".
Cook added five new stores in the year, but continued to have problems in its north London shops, which was offset by the franchise partners delivering their strongest collective performance in the group's 18-year history.
Operating profits nudged up £100k to £2.5m and pre-tax profits jumped £400k to £2.7m, but Perry admitted to a wobble in the early part of the year.
"We took our eye off margin at the start of the financial year but learned lessons quickly and successfully turned things around, eventually beating our margin target for the year," he said in the report.
"I'm confident we have the right people and processes in place to make sure we don't repeat the failings of the first quarter."
Cook shares a slice of profits with its 750 staff and become one of the first retailers to adopt the living wage in July 2015.