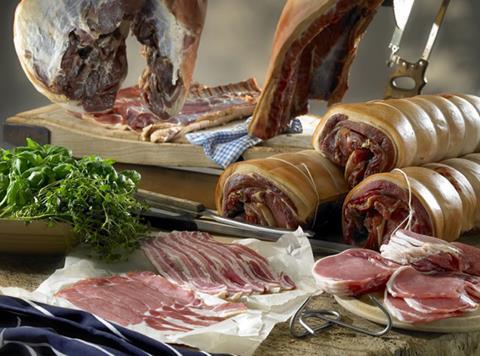 Growing exports to the Far East and soaring poultry sales have fuelled a record year at pork supplier Cranswick (CWK).
Revenues in the year ended 31 March jumped 23% to £1.2bn, with like-for-like sales up 13% and volumes 15% higher than the prior 12 months. Alongside record sales, pre-tax profits increased 17% to £75.5m, compared with £64.4m in 2015.16.
Shares in the group had jumped by 3.5% to 2,924.9p ahead of markets closing for the day, with the stock up 25% so far in 2017.
Total sales of fresh pork overseas increased 38.4% in the period, reflecting growth in Far Eastern markets of 49.3% together with a 14.6% increase into other export markets. Cranswick said the strong growth in shipments to the Far East reflected an increase in pig numbers processed at its three primary processing facilities, growth in the number of products supplied and strong prices.
A 34% rise in UK pig prices during the year – increasing steadily through to the end of December before stabilising through the final quarter – hit margins in the period. This jump was in direct contrast to a year earlier when pig prices fell by 15% over the course of the year.
Fresh pork revenues increased by 6.7% per cent and by 2.1% on a like-for-like basis excluding the contribution from Dunbia's Northern Irish pig business, which Cranswick acquired in November.
The £40m acquisition of Crown Chicken in April 2016 helped poultry revenues, which accounted for 11% of the group total, soar by more than 180% in the period. Excluding Crown, like-for-like revenue growth was 17.7%, which Cranswick said was "comfortably ahead" of the overall UK market for poultry.
The convenience divison, which includes cooked meats and continental products, increased sales 20.3%, reflecting new business wins and product launches. Sausage, bacon and pastry revenues also leapt 16.4% in the year, fuelled particularly by sales of sausages as contract wins with the group's two largest retail customers for their 'Butcher's Choice' ranges together delivered 350 tonnes per week of incremental volumes.
CEO Adam Couch added: "We have reported another year of strong growth in financial results, during which we have also made further strategic and commercial progress.
"We enter the new financial year in excellent shape having added to our asset base, enhanced market positions and successfully integrated our two strategically important acquisitions during the last twelve months. We have further strengthened the solid foundations of our business and we believe we are well placed to continue to deliver sustainable organic growth going forward."
Cranswick invested a record amount (£47m) in capital expenditure during the year to support its strong growth pipeline. Despite acquisitions and capex spending, net debt at the group fell by £6.8m to £11m at the year end.
The recommended final dividend at the group increased by almost 20% to 31p, which, together with the interim dividend, gives a total dividend for the year of 44.1p. It is the 27th continuous year of increased dividends at the group.
Analysts at Peel Hunt said it was a "strong performance" for the year despite the significant increase in pig prices, which resulted in margins reducing by 30bp to 6.1%.
"Cranswick is continuing to show strong growth and is stepping up investment to ensure the company has capacity to grow," Peel Hunt head of research Charles Hall added.
"This should give confidence in the long-term growth potential of the business and continues to demonstrate the key theme that the well invested/well run companies in the food industry are gaining share."
The broker increased its target price on the stock from 2,400p to 2,600p.