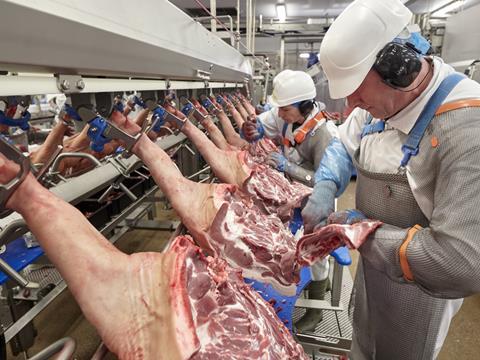 A fall in pig prices and a softening in export revenues led to a slowdown in revenue growth by Cranswick during the six months to 30 September.
Year-on-year sales rose by 0.6% (or £4.6m) to £719.2m, according to the meat processing giant's interim first-half results. Volumes were up 1.1% and group adjusted operating profit rose by 0.7% to £44.9m.
This compared with a 23% rise in sales to £714.6m during the corresponding period last year, with adjusted operating profit before tax up 17.2% to £44.4m.
But Cranswick CEO Adam Couch insisted the group's performance was "in line with our expectations", and followed a period of "record capital expenditure".
The processor spent £41m during the period as it completed its new Continental Foods factory in Bury, and commenced construction on a new £60m primary poultry processing facility in Eye, Suffolk.
Pork revenue falls
Cranswick's total fresh pork revenue fell by 5.5%, reflecting reduced wholesale and export demand, with slightly fewer pigs processed as a direct consequence.
However, retail sales increased by 4.7%, underpinned by strong volume growth, as the World Cup and favourable summer weather combined to deliver a strong barbecue season as well as good growth in its added value convenience ranges.
The drop in pork revenue was also offset by strong revenue growth from poultry, sausages and continental, Cranswick said. Its ready-to-eat chicken category continued to grow ahead of the wider UK meat protein sector, as did fresh chicken, with market volumes ahead by 6.1% and 3.1% respectively.
Meanwhile, total export revenue was 2.6% lower than the corresponding period last year, reflecting softer pricing in Far Eastern markets. However, volumes shipped to the Far East were ahead 12.4%, and Couch said he expected prices to rise towards the end of the year as demand for Cranswick's pigmeat grew in response to the African swine fever outbreak in China.
The group's first-half performance was "achieved despite more uncertain domestic market conditions and softer pricing in key export markets", Couch said.
Uncertain conditions
"We've also completed our five-year growth strategy in less than half that time, so it's a year of consolidation before the next push, and poultry will be the key watchout for next year. Completion of the Eye facility will take us from half a million birds a week to 1.2 million," he added.
Investors would have been "understandably disappointed that overall group sales hadn't grown by much", suggested Fiona Cincotta, senior market analyst at City Index. But she stressed "they shouldn't be alarmed as Cranswick had been doing "a good job bringing production costs down and diversifying its product range".
Couch was bullish over any concerns of a slowdown. He said: "We continue to invest in our asset base, in pig farming both indoor and outdoor. We're 80% self-sufficient in pig meat compared to the 50% industry average, so that's a perfect hedge for the concerns people have around Brexit."