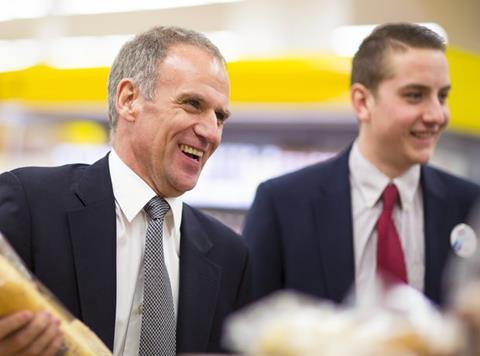 Tesco boss Dave Lewis today vowed to return the retailer to delivering profit margins of 3.5% to 4% within the next three years, after announcing Tesco was now a business "out of crisis".

In a message aimed at long-suffering Tesco shareholders, Lewis revealed UK like-for-like sales growth of 0.6% and group like-for-like sales growth of 1.0% in the first half of 2016/17 - the first positive first half for Tesco since 2011.

UK volumes were up 2.1% during the period and Lewis said the results showed the turnaround since he arrived, just over two years ago, was on track.

"We are a business which has moved out of crisis into one which is really confident in its recovery," said the Tesco CEO.

However, Lewis warned of a major three-year cost reduction programme of £1.5bn to follow, which will include further changes to store operations following the recent cuts to opening hours and staffing at Tesco's larger stores.

Last month, Tesco began redundancy talks with thousands of workers at nearly 150 stores as it launched a nationwide rollout of night shift closures and other measures such as customer desk closures.

As well as changes to store opening hours, Tesco plans to increase its investment in Scan as You Shop facilities in store as part of its cost reduction programme, reducing the expenditure on checkout staff.

However, Lewis stressed today that the £1.5bn savings, of which £550m will come from changing the store operating model, were not going to be focused on cutting staff. "It's not just about [staff] reductions," said Lewis.

"Since I started, we've brought in 12,000 more colleagues," he said, adding that Tesco had identified ways to save money in its distribution centres, logistics operations and in cheaper procurement of goods. Tesco plans to slash £450m through logistics and supply chain measures such as integrating systems and a further £500m in procurement by measures including the introduction of a single procurement policy.

In other areas, Tesco announced a hike to its spending. Lewis revealed that Tesco was set to increase its capital expenditure from £1.25bn per year this year to £1.4bn in the next three years in order to hit its new profit margin targets, promising further investments to differentiate the Tesco brand.

The Tesco boss also announced today that its large store Extra format had returned to positive like-for-like sales growth, albeit at only 0.1% in the second quarter of 2016/17.

Lewis said customers were "returning to the Extras" thanks to Tesco's investment in its core proposition.

Tesco superstores also returned to growth with 1% like-for-like increases in the quarter, having been flat since the end of 2015.

However, Tesco said that growth in its online business had "moderated as planned", after recent moves to make it more sustainable, including increased charges for click & collect grocery services.