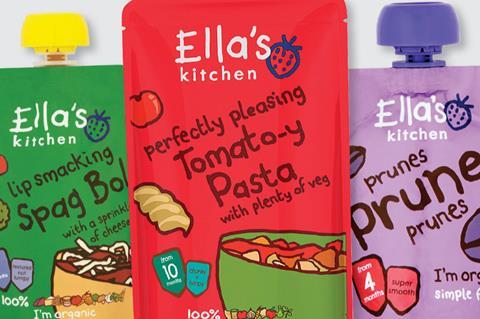 Sales and profits both surged at Ella's Kitchen in the past year as it continued its sustainability drive.
The organic baby food supplier celebrated the roaring performance for the year to 30 June 2018, by paying out a bumper £15.5m dividend to stakeholders as profitability improved.
Profits soared 23% to £10.4m at the Hain Celestial-owned baby food business, following investment in staff, IT and infrastructure.
The brand, which was bought by Hain for £66m in May 2013, delivered 7.5% revenue growth to £70.6m for the year, on the back of strong international growth.
UK sales jumped 6% during the period, while international sales (excluding US and Canada) surged 13.4%.
Ella's Kitchen has continued to be one of the market leading brands in baby food, and has seen its market share of total ambient baby food rise by 2.2% to 28.2%, according to the recently released document.
In the second quarter to 31 December 2018, owner Hain Celestial saw group sales drop 5% to $584.2m, driven by a similar 5% decrease in its UK business. During the period, however, Ella's Kitchen reported a 3% jump in UK sales, adjusted for foreign exchange rates.
The supplier, founded by Paul Lindley in 2006, has maintained strong growth on the back of its sustainability-focused ethos. This week it teamed up with Asda for a sustainability scheme to encourage people to recycle babyfood pouches from any brand.