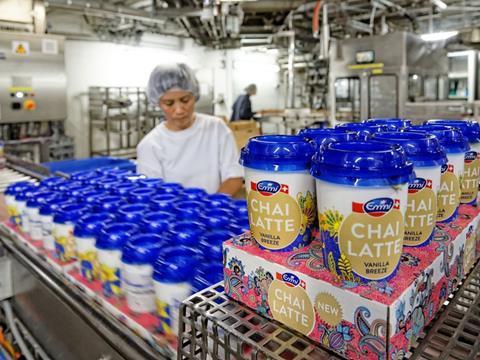 Swiss dairy group Emmi's shares opened 6% lower this morning after it downgraded its full-year earnings forecast.
Announcing its first-half results this morning, Emmi cut its forecast for full-year earnings before interest and taxes (EBIT) from CHF155m-170m (£102m-£112m) to CHF117m-132m, largely due to poor trading in Italy.
Overall, in the first half of 2014 Emmi saw sales grow by 3.7% to CHF1.625bn. Though its sales performance was in line with forecasts, the group saw EBIT plunge by 41% to CHF39.8m and net profit drop 76.1% to CHF9.8m.
The significant fall in profit was due to an impairment of CHF38.5m on Trentinalatte in Italy that was prompted by the "challenging local yoghurt market".
The group added that the impairment was due to "the difficult economic situation in Italy and the unsatisfactory business trend for the yogurt market."
"The difficult situation in Italy made the impairment unavoidable," said Urs Riedener, Emmi CEO. "It's regrettable, but it does reflect Emmi's intention to take action rather than simply sit and wait for disagreeable situations to go away. The increases in sales, adjusted EBIT and net profit are encouraging. They are evidence that our strategy has put us on the right track and we will continue to pursue it with determination."
Emmi said it achieved sound growth in its home market of Switzerland, as well as in the US, Spain, Chile and Tunisia. Stripping out negative currency impact and acquisitions, the group reported organic growth of 4.1% and saw an organic increase of international sales of 8.4%.
Europe, which includes its businesses in the UK, Benelux, Germany, Italy and Austria, saw sales increase by 9.2% to CHF233.9m. Emmi said the growth in sales of Emmi Caffè Latte, particularly in Austria and the UK, the performance of the A-27 desserts and that of the Kaltbach and Käserei Studer speciality cheeses had a positive effect, though sales of yoghurt fell in Germany and Italy and exported cheese sales were down.
The shares had recovered somewhat by mid-morning to trade 3.1% down at CHF324.25.