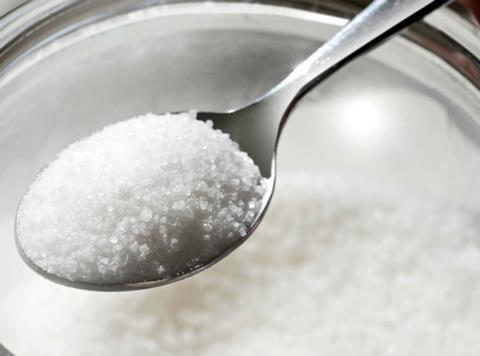 Associated British Foods' (ABF) sugar arm suffered a first half slump in sales and profits as sugar prices were hit by the abolition of EU quotas.
Sales of AB Sugar fell 13% the 24 weeks to 3 March to £938m following the ending EU quotas in October 2017, which ABF says adversely affected its UK and Spanish businesses.
The fall in sugar prices was the result of the end of the EU sugar regime, consequent removal of domestic sales quotas and thus an increase in sugar production in the region.
The changes were expected and ABF stressed that it had prepared for this by reducing its cost base. The firm says it expects "more volatility" in sugar prices to continue and affect the profitability of AB Sugar.
High beet yields and increased crop area after the end of the EU sugar regime means that sugar production was significantly higher in 2017/18, which has seen the EU become a net exporter of sugar.
The sugar producer also saw its adjusted operating profits fall 27% in the period to £90m from £123m last year.
ABF warned in a January trading statement that the sales and profit reduction in in its sugar division would be "greater than previously forecast".
However, today's figure beat the forecast of Societe Generale analyst Warren Ackerman, who also noted the division's performance in the UK and Spain was mitigated by Illovo in Africa.
Illovo, the largest sugar producer in Africa, contributes to around half of the sales and volumes of AB Sugar. ABF says it expects the contribution of Illovo to be in line with the previous year.
In the UK, sugar production increased from 0.9m tonnes to 1.37m following a record beet yield. ABF says that delays in drilling new crops could affect yields in 2018/19, although there has been positive uptake by growers of sugar beet contracts.
Sugar production from beet in Spain is expected to be around 0.4m tonnes, an increase on last year but lower volumes will be processed at its can refinery in Guadalete as a result.
In China, ABF says its sugar business has "performed well", producing 1.25m tonnes of beet, alongside improvements in quality and factory operations.
The troubles of its sugar division meant ABF's overall pre-tax profits fell 30% to £603m on group revenue up 2% to £7.4bn in the 24 weeks to 3 March.
The expected decline in AB Sugar profits offset the firm's growth for Primark, grocery, ingredients and agriculture, with overall adjusted operating profit in line with the previous year.
ABF CEO George Weston commented: "The group made progress in this period. Good sales and profit growth was achieved by all of our businesses at constant currency, other than sugar, where the reduction was as expected."
Full-year outlook for the group is unchanged with progress expected in both adjusted operating profit and adjusted earnings per share.
ABF shares jumped 4.3% to 2,695p on the results this morning. However, the shares remain down by more than 20% over the past six months after hitting a high of 3,387p in October 2017.