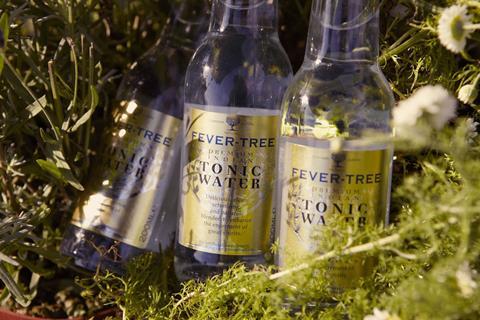 Sales and earnings at premium drinks mixer supplier Fever-Tree were both up by almost 50% in its first year as a listed company.
In the 12 months ended 31 December, Fever-Tree generated revenue of £34.7m, up 49% from £23.3m in the previous year, with adjusted EBITDA climbing 48% to £10m
Pre-tax profit also moved from a loss of £1.1m to a profit of £2.5m as the firm enjoyed growth in each of its four regions.
Charles Rolls, executive deputy Chairman of Fever-Tree commented: "Fever-Tree's organic growth continues to be driven by consumers' desire to drink premium mixers that match the quality of their favourite premium spirits. Fever-Tree's superior taste, ingredients and brand proposition is winning new converts in both old and new markets alike.
"We are confident that we will continue to be able to grow and lead in this premium segment, which we believe will outperform other drinks categories for some time to come as the natural ratio between premium spirits and premium mixers equilibrates."
Sales in the UK grew by 60%, while its second biggest territory, the US, grew by 59% during the year.
Fever-Tree now distributes its goods to around 50 countries worldwide and 70% of sales are now derived outside the UK. It added 19 more territories during the year, including launching Indian Tonic Water in India.
UK growth was skewed slightly to the On-Trade, where 60% of UK revenue is generated, and where growth came from both an uplift in the rate of sale and significant new distribution wins. In the Off-Trade, strong underlying sales growth was achieved at each of its principal retail customers (Waitrose, Tesco and Sainsbury's) alongside a significant distribution increase at Tesco.
In terms of outlook, CEO Tim Warrillow said: "We are encouraged by our start to the current financial year and the Board remains positive about the outlook for 2015. With continued implementation of our strategy across our diverse range of products, territories, channels and customers we look forward to the future with confidence."
Analysts at Investec have a "buy" recommendation on the stock and said this morning: "Fever-Tree has slightly exceeded our forecasts with its first FY numbers as a PLC… We remain optimistic on the growth potential for this business".
Fever-Tree shares eased back 1.25% to 213.3p in morning trading having peaked at 219p soon after opening. The shares are up by over 25% since their listing in November.