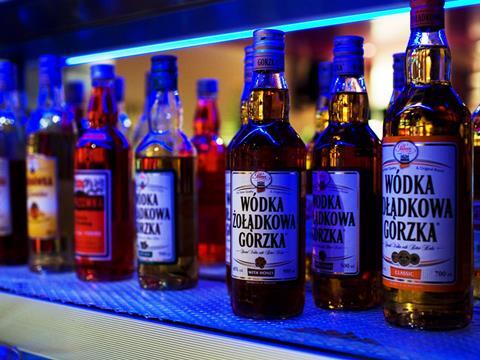 Top story
Premium spirit supplier Stock Spirit Group (STCK) saw profits jump 8.6% for the half-year, despite "challenges in its core markets".
The company, which principally sells spirits in east and central Europe, "stabilised" in Poland to deliver growth in revenue and volumes despite "highly competitive pricing".
Pricing helped to grow sales, with revenues up 5.3% to €124.1 million for the sixth months ended 30 June 2018. Volumes sales however grew more marginally, from 5.7m nine litre cases in 2017 to 5.8m in 2018.
Pre-tax profits at the Amundsen and Nordic Ice maker jumped 8.6% to €12.7 million for 2018 from €11.7 million.
New distribution arrangements are in place with Beam-Suntory in the Czech Republic, alongside its existing agreement with Diageo, significantly strengthening the company's Czech whisky portfolio, it said.
Stock invested in NPD in some its largest brands in the half-year, it added, re-launch of Żołᶏdkowa de Luxe and Lubelska, a Stock Prestige "World Cup" limited edition, and flavour extensions of Lubelska and Saska in Poland, and the relaunch of Božkov Republica in the Czech Republic.
Distribution agreements were made for Quintessential Brands – in which Stock purchased a £16m stake in 2017 – for Irish whiskey in key markets.
The company grew across its key metrics despite challenges in core markets including Poland, said Mirek Stachowicz, CEO of Stock Spirits Group.
"In these six months we have delivered growth in volumes, sales revenue, profit, and margins," commented Stachowitz.
"Despite some challenges in our core markets, and in particular the competitive pricing environment in Poland, we believe that our ongoing focus on investment in our brands, product innovation and premiumisation are working well and we are well positioned to achieve further growth in the second half of the year and beyond."
Interim dividend per share grew 5% to 2.50 € cents per ordinary share. EBITDA margins increased from 18.7% to 18.9%.
Morning update
Pladis is planning the £100m sale of classic British biscuit brand Jacob's, Sky News reports.
The McVities owner has hired investment bank Oppenheimer to oversee the deal for the former United Biscuits brand, according to the broadcaster.
Turkish group Yildiz, which owns Pladis, purchased United Biscuits in 2014 for £2bn.
Jacobs was founded in Ireland in 1851, before being brought to Liverpool in 1922. The cream crackers maker has been part of United Biscuits since 2004.
Overall turnover of United Biscuits (UK) for its last-filed accounts to December 2016 dropped 3.9% back to £868.2m as the deflationary grocery market and the impact of flooding hit domestic sales.
Nick Bunker took over as UK MD at the Jaffa Cakes and McVitie's Digestives maker following the departure of Jon Eggleton after 14 years in November 2017.
Elsewhere, restaurant booking company BigDish has acquired British competitor Pouncer and its mobile app and web platform Table Pouncer.
The company plans to relaunch in the UK under the TablePouncer brand.
The FTSE 100 continued to blow off trade concerns as it rose 0.2% to 7,734pts following positive growth yesterday.
Stock Spirits Group (STCK) moved up 1.7% to 211p, while other risers included Paypoint (PAY), up 1.9% to 945p, Devro, up 2% to 199p and Hilton Food Group (HFG), up 1.5% to 976p.
Early fallers this morning included Majestic Wine (WINE) down 2.6% to 426p, McColl's (MCLS), down 1.1% to 136p and Sainsbury's (SBRY), down 0.8% to 332.3p.
Yesterday in the City
The market shrugged off trade concerns as the FTSE 100 rose 0.7% to 7,718pts in yesterday's trading.
Monthly food sales hit their highest level for five years in July driven by the World Cup and hot summer, but the rest of the retail industry failed to fire, highlighted yesterday's BRC – KPMG Retail Sales Monitor for July 2018.
Domino's Pizzza Group slid 9.7% to 287.2p after it reported a double-digit rise in first half sales, but warned of "uncertain" trading conditions in the UK yesterday.
Total Group system sales in the first half of 2018 increased 12.8% to £616.6m and statutory revenue increased 22.6% to £259.1m, driven by strong store openings in 2017, continued UK like-for-like growth and the impact of the Nordic acquisitions year-on-year.
Other fallers yesterday included McBride (MCB), down 3.3% to 135p, Fevertree Drinks (FEVR), down 2.8% to 3,578p and Devro, down 2.5% to 195p.
Yesterday's risers included Patisserie Holdings (CAKE), up 4.3% to 427.5p, Majestic Wine (WINE), up 2.2% to 438p and GlaxoSmithKline, up 1.6% to 1,603.8p.