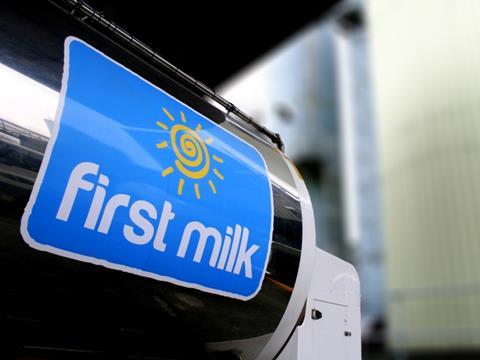 Struggling dairy co-op First Milk returned to profit during the six months to 30 September.
A turnaround plan implemented by new CEO Mike Gallacher on the back of pre-tax losses of almost £25m for the year to 31 March had begun to bear fruit, resulting in operating profit of £1.1m for the first six months of the 2015/16 financial year, the processor said on Wednesday (25 November).
This compared with losses of £7.6m for the same period last year, First Milk said, adding it also anticipated an improved performance for the second six months to March 2016. At the same time, debt continued to fall, standing at £46.1m at the end of September compared with £60.7m in March.
"The actions taken to reduce costs, improve quality, and drive operational performance are delivering results, with further progress planned over the next year," said Gallacher, who added the processor's board was "confident that this will deliver improved milk prices and a more sustainable business model for our farmer shareholders".
Improving farmgate prices
Gallacher added the First Milk board was "very aware of how tough it is at present on farm and the need to sustain this improvement trajectory to deliver benefits to our members".
The processor is currently paying its members a farmgate price in the region of 19 pence per litre, but a First Milk spokesman told The Grocer that it remained "committed" to improving its price by 2ppl over the next financial year, and was "confident we can deliver this".
In comparison, rival Arla announced on Tuesday it would hold its December milk price at 23.04ppl. Dairy Crest will pay an average liquid milk price of 23.3ppl for December, while Müller Wiseman currently pays a milk price of 22.35ppl.
First Milk's return to profit comes after members supported sweeping changes to the co-op's governance last month, including the establishment of a smaller and more specialised board with greater commercial skills, and a new council body to oversee business strategy and represent farmers.
A highly critical external review of the business by management consultancy Greenburn Associates also found the board had failed to follow "conventional business practice" and criticised First Milk for not putting enough focus on its core business, with too much attention placed on diversification plans underperforming business units such as sports nutrition brand CNP.