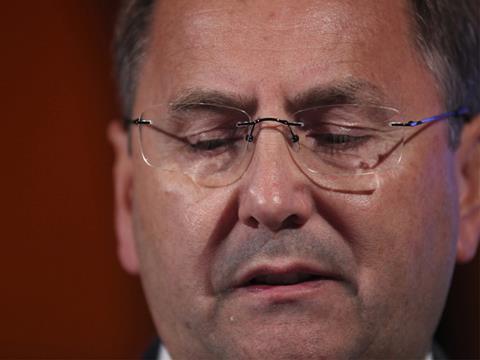 Listed UK food and drug retailers issued a record number of profit warnings in 2014 as the grocery sector experienced a seismic year with the supermarkets under attack from discounters on all fronts.
Eight companies in the sector – including Tesco and Morrisons – warned investors that profits would be lower than expected, according to EY's latest Q4 Profit Warning report.
It was the highest recorded figure since the professional services firm started the study in 1999. In contrast, just 14% of FTSE general retailers companies warned in 2014 – a record low.
Jessica Clayton, transaction advisory services partner and retail specialist, said: "The disparity is stark and has parallels to the mid-2000s, when structural changes pushed profit warnings from general retailers to record highs, whilst warnings from food retailers hit record lows. Arguably the grocery sector is now undergoing a similar revolution, with disruptive new entrants, online adoption and changing consumer behaviour exposing weaknesses and overcapacity and compelling exposed retailers to take radical action."
Despite reporting better-than-expected sales at Christmas – benefitting from the first overall rise in food sales since April – the big four supermarkets have suffered at the hands of the likes of Aldi and Lidl in 2014 with Morrisons boss Dalton Philips the latest casualty and former Tesco CEO Philip Clarke being ousted as the retailer issued a number of warnings.
Retail sales data confirmed that Black Friday succeeded in tempting consumers out in droves, but Clayton questioned what the impact on the bottom line would be.
"Once retailers had discounted, it was also hard to revert back to full price," she added. "The extreme peak in sales placed significant pressure on retailers' infrastructure, particularly in fulfilment, with third party delivery services also struggling to cope. To avoid similar issues next year, retailers will need to make considerable investment across all of their channels to meet the challenge. This begs the question: 'Is it worth it?' However, the question may be moot, as it will be hard to put the genie back in the bottle."
Profit warnings in general hit a six-year high of 299 in the year, with more FTSE 100 companies warning in 2014 than at the height of the credit crunch. And total profit warnings from FTSE 350 companies were just three shy of the record 90 issued in 2008.
Adverse exchange rates, in particular a strong pound and weakening emerging market currencies, were cited by 17% of those companies warning, including 27% of warnings from the more internationally exposed FTSE 350.
Alan Hudson, EY's head of restructuring for UK & Ireland , said: "The six-year high in the number of profit warnings appears incongruous given that UK and global economic outlooks still signal growth, but increasing political, policy and pricing uncertainties conspired to hit confidence at the end of 2014.
"However, many of these pressures represent new realities, rather than a passing phase. An improving macro outlook is no longer a guarantee of a smoother ride for UK plc."