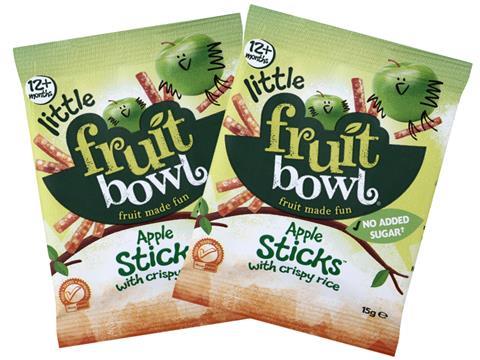 Kids' snack brand Fruit Bowl has fallen into the red as sales continued to tumble amid fierce competition, rising ingredient costs and asset write-offs.

Revenues in the nine months to 30 September 2016 declined to £9m, compared with £13.9m in year ended 31 December 2015 - a 15.8% fall on an annualised basis. It comes on top of an 11% slump in 2015.

The shrinking top line, along with higher input costs, currency pressures and a £433,000 write-off, pushed Fruit Bowl to pre-tax losses of £2.1m in the period, compared with profits of £287,000 in the previous year.

Margins have been squeezed in the past two years as the business, owned by South African cereal manufacturer Pioneer Food Group, invested more in marketing and promotions in a bid to stop rival snacking brand Bear eating away at its market share.

"Profits and revenues have fallen during the year due to competitive pressure, increasing raw material costs and foreign currency movements," the accounts for Stream Foods, which trades as Fruit Bowl, said. "Results have also been heavily impacted by the impairment of fixed assets."
Exceptional costs related to the £7.5m Pioneer Foods takeover in the summer of 2016 also contributed to the loss.
"We have some exciting plans for Fruit Bowl and are looking forward to a strong 2017 for the brand," Pioneer Foods group commercial manager Paul Howard said.

The accounts added that Fruit Bowl had maintained its position as market leader in volume terms, with a market share at the year end of 22.9% on a 12-week rolling average.