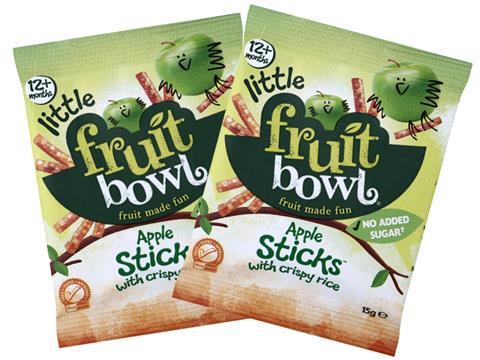 Fruit Bowl snacks maker Stream Foods is back in the black after improving profitability, despite a drop in sales.

In its first year's figures since being purchased by Pioneer Foods in August 2016, the manufacturer said declining sales in children's fruit snacking had hit revenues.

In the year ending 30 September 2017, it recorded sales of just £9.7m compared with £9m in the previous nine-month accounting period to 30 September 2016.

The pro-rata dip was the result of falling international sales and competitive pressures, it said. Despite falling sales, improved profitability meant the snack maker returned to the black, with a pre-tax profit of £127k after a £2.15m loss in the previous year.
Minimal investment and reduced working capital by around £1m helped the company turnaround losses. Alongside a decrease in promotional spending and sales mix, this helped Streamfoods up its gross profit margin from 16.9% to 23.6% for the year.
The drop in sales reflected declining consumer interest across the category, the company said, adding that the children's fruit snacks market is now valued at £71.4m, down 8.3% for the year. It warned that over the past 12 weeks the category saw a 10% slump.
Focus has been placed on the Fruit Bowl brand, and the company said it wanted to "expand and defend its position in the market" by broadening the brand's appeal with a recent rebrand.
"The company's key strategic objective is to continue to expand and defend its position within the fruit snacking market," it said in the accounts.
The report also highlighted that Fruit Bowl has increased its market share in the declining category, despite a fall in sales, which jumped to 20.6% in 12 weeks to 30 September 2017, compared to 17.8% the previous year.