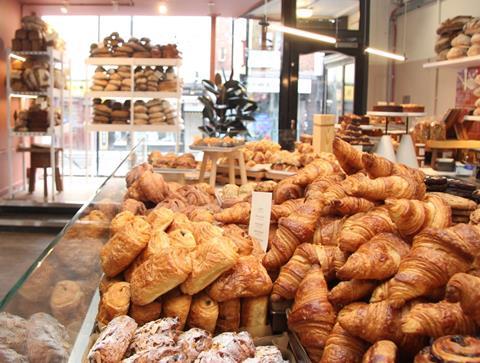 Shopper demand for better-quality bread in supermarkets during lockdown has helped the premium bakery group behind Gail's offset some of the sales losses incurred in the pandemic.
Bread Holdings CEO and co-founder Tom Molnar told The Grocer branded sales of Gail's and Bertinet products in the likes of Waitrose and Ocado had been the highlight of a challenging year.
The company, which is backed by Luke Johnson's Risk Capital Partners, had enjoyed record sales and profits in the year ended 29 February 2020, before lockdown hit, according to newly filed accounts at Companies House.
Revenues increased 16% to £116.4m, driven by soaring sales at the Gail's bakery chain, which registered growth of 28% as it opened 10 new stores and also improved like-for-like figures.
The wholesale arm of the group, which makes up just over half the overall business and supplies the hospitality industry, remained flat at £68m. EBITDA rose 21% to £12.9m in the year and pre-tax profits climbed to £3.5m, compared with £2.3m the previous year.
Risk Capital, which owns a majority stake in Bread, also reportedly hired bankers to explore a sale of the business, which was expected to take place in 2020.
"We were successful on all fronts in 2019/20," said Molnar, who also owns a significant shareholding in the group. "It was a year when we felt like we had the wind behind our back and the sun on our face."
Molnar added the new financial year had been one of the hardest years the business had ever known, with the entire team working "incredibly hard" to adapt to the disruption caused by Covid.
The wholesale business disappeared overnight when restaurants, hotels and cafés all closed their doors in the first national lockdown, while Gail's shrank the estate from 60 to 11 stores while figuring out a way to trade safely.
Gail's reopened all stores about six weeks later after making the estate Covid-safe and launching a click & collect and DTC operation. The chain also opened seven new stores during the year.
However, Molnar said it was difficult to get sales anywhere close to pre-Covid levels at Gail's because of the disruption and social distancing measures.
Increased sales at supermarkets for the Gail's and Bertinet brands helped offset some of the lost business.
Molnar said the trend for buying better-quality bread had been accelerated significantly by the pandemic as a newfound interest in baking at home during lockdown led to a demand for premium products in retailers.
Group revenues are expected to slowly recover as the foodservice sector reopens but the Bread boss was unable to provide any forecasts while the market remained so uncertain.
When Covid hit the M&A process was paused, but dealmakers in the City expect it to restart once market conditions for Gail's and the wholesale business get closer to normality.