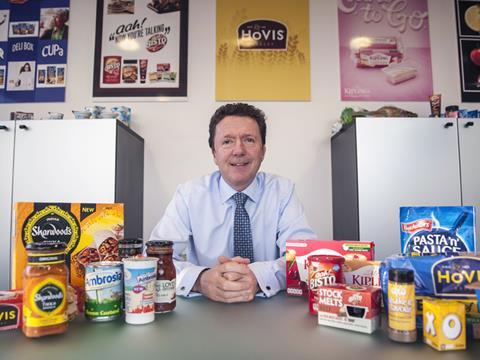 Top story
Premier Foods' (PFD) CEO Gavin Darby has announced he is to step down in January after six years at the group, while it has also said it is in talks to sell its Ambrosia brand.
Darby, who has come under pressure to step down and survived an investor coup at its AGM, announced this morning he will step down in January 2019.
Meanwhile, the group has announced it is in talks to sell its Ambrosia brand to raise funds to help pay down debt and continue its ongoing balance sheet restructuring.
Darby said: ""While we are committed to our strategy of improving operating performance and targeting a net debt to EBITDA ratio below 3.0x by March 2020, we are also working in parallel to identify other strategic opportunities to accelerate the company's turnaround. The board has determined that it should focus resources on areas of the business which have the best potential for growth through accelerated investment in consumer marketing and high return capital projects.
"Accordingly, we are pursuing options to fund these plans as well as delivering a meaningful reduction in net debt, through discussions with third parties regarding the potential disposal of our Ambrosia brand. Although there is no certainty that any transaction will complete, we will update shareholders in due course."
"We have a strong innovation plan in place for the second half of the year, and profit expectations for the full year remain unchanged."
"Having today announced a new strategic initiative for the business, I have decided to step down as CEO on 31st January 2019, which will mark the sixth anniversary of my joining Premier Foods. The Board will now begin a recruitment process for my successor."
This morning Premier posted a first half sales and profits rise despite the warm UK summer hitting sales of key grocery lines.
Group sales for the 26 weeks ended 29 September 2018 was £358.0m, up from £353.3m in the first half of last year, representing an increase of 1.3%.
Its branded revenue grew by 0.5% to £296.9m as its branded grocery sales fell 2.1%, but sweet treats rose 7.4%.
Premier said the "prolonged period of hot weather" in the UK this summer constrained grocery growth, leading to declines in products "biased to perform more strongly in colder weather"
Bisto gravy and Ambrosia custard were the branded products most affected by this temperature pattern during the second quarter, costing 100 basis points of growth.
However, recently launched new products performed well. The strongest performer in the grocery business in the first half of the year was Batchelors, which saw growth of 6.8%, more than doubled revenues in the first half of the year compared to the comparative period drive by its tie-up with strategic partner Nissin.
In Sweet Treats, branded revenue was up 7.4% driven by a strong performance by Mr Kipling following a major brand relaunch, including an updated brand logo, improved packaging, television advertising, and supported by new product development such as Unicorn and Flamingo slices.
Non-branded revenue increased 5.5% to £61.1m, benefitting from "strong performance" by its Knighton Foods powdered foods business but mitigated by a continued decline in own-label sweet treats sales from a fall in Cadbury branded revenues and exiting lower value Pies and Tarts contracts.
International sales declined by 9% in the period due to phasing shipments to Australia and price increases implemented for UK wholesalers who export the group's products.
In the second quarter, group revenue rose 1% and have now growth for five consecutive quarters.
The Group reported trading profit of £51m in the first half of the year, representing 6.2% growth compared to the same period last year.
The grocery business recorded divisional contribution growth of £5.6m to £57.0m while Sweet Treats Divisional contribution was broadly in line with last year at £11.3m.
Group and corporate costs were £2.4m higher than the prior year as Premier adopted a change to the phasing of its group-wide management incentive scheme.
Adjusted EBITDA grew by £3.3m in the first half of the year to £59.4m, while net debt fell £25.8m back to £509.5m.
However, Premier posted a statutory pre-tax £2.2m, up from a loss of £1.2m in the same period last year.
Darby added: "We saw improved resilience displayed by the business during the hot summer experienced in the first half of the financial year; however we are presently experiencing some operational challenges with the implementation of the final Sweet Treats phase of our logistics transformation programme."
Premier shares are up 2.4% to 39p in early trading this morning.
Morning update
Shoppers spent less in October 2018 compared to the same time last year, according to newly released grocery market share data from Nielsen and Kantar Worldpanel.
Nielsen found headline growth in the last four weeks was 1.5%, a slow-down in spending from 1.9% during the previous four week period, and a stark contrast to the 3.1% for the equivalent period last year.
As inflation is broadly the same as it was this time last year, the caution that shoppers are displaying in other retail and leisure sectors may be influencing spend in grocery.
Mike Watkins, Nielsen's UK head of retailer insight, said: "Both in store promotions and media campaigns are more crucial than ever for the supermarkets this Christmas, to entice shoppers into their stores and ramp up consumer spending.
"With weaker than expected growth in October, the industry is under pressure to get shoppers into the habit of spending more over the next six weeks by showcasing what's new and different in store. We expect to see some inspiring and distinctive campaigns designed to drive sales as retailers will be focused on pulling consumers in over the festive period."
Nielsen found that within the top four supermarkets, Asda is still the fastest growing (+2.5%), followed by Morrison's (+1.2%). Tesco's growth (+0.3%) remained ahead of Sainsbury's (-0.6%).
Total grocery sales increased by 2.6% in the 12 weeks to 4 November 2018, according to Kantar Worldpanel, which is slowdown compared to recent months although it still represents a £663m increase in sales through the tills.
Among the retailers, the discounters and Co-op were the big winners, according to Kantar.
Co-op sales were up by 5.1% growing its market share by 0.2 percentage points to 6.3% after a seventh consecutive period of sales growth.
Aldi's sales increase of 15.5% in the period is its fastest rate since January 2018 and has helped lift its market share by 0.9 percentage points to 7.6%, which is the largest year-on-year share gain by any retailer in nearly four years.
Meanwhile, Lidl is in double digit growth for the second month running; sales are up by 10.2% compared with a year ago and its market share is up 0.4 percentage points to 5.5%."
Fraser McKevitt, head of retail and consumer insight at Kantar Worldpanel, commented: "Five years ago, just under half of British households were visiting one of the discount retailers at least once in a 12 week period. This now stands at almost two-thirds, which is reflected in their continued growth."
Sales at Asda have increased by 2.6% year-on-year meaning the retailer has now been in continual growth since April 2017.
Morrisons has achieved its 25th consecutive period of growth, with sales up 1.5% in the 12 weeks to 4 November. At Tesco sales were up by 0.4%, while Sainsbury's sales fell by 0.6%, the first decline for the retailer since June.
Kantar said grocery inflation now stands at 1.8% for the 12 week period ending 4 November 2018, with prices rising since the 12 weeks to 1 January 2017, following a period of grocery price deflation which ran for 30 consecutive periods.
Elsewhere, B&M Bargains owner B&M European Value Retail (BME) has reported "solid" first half results for the 26 weeks to 29 September
Group revenues increased by 16.1% to £1,563m, with B&M UK revenues were up 7.1% after like-for-like sales growth of 0.9%.
Like-for-like revenues were flat if no adjustment is made for the non-comparable Easter trading week.
Like-for-like sales growth so far at the start of Q3 at B&M has been similar to H1, meaning the business "is well placed for the 'golden quarter' trading" it said.
A net total of 15 new B&M UK store openings of which 5 are relocations after two closures, with the group on track to open at least 58 gross new B&M stores this financial year.
Its German business, Jawoll, opened 2 new stores in the period, and on track to open 10 new stores this financial year. Jawoll's revenue growth was 4.1%, although margin was impacted as expected by clearance activity on old stock lines as Jawoll introduces more B&M sourced products
Heron Foods has continued to trade "well" and opened 9 gross new stores, net 4 and on track to open at least 20 gross new stores this financial year
Group adjusted EBITDA increased by 13.5% to £131.8m and the B&M UK adjusted EBITDA increased by 12.1%
Profit before tax increased by 32.5% to £115.0m.
CEO Simon Arora commented: "B&M has delivered a good first half performance. The core B&M fascia stores made good progress and we have made a solid start in the second half of the financial year. Heron Foods has grown strongly in the UK, and in Jawoll the new management team is now utilising the B&M supply chain, with clear early signs that customers are responding positively to the new products.
"I'm delighted that having completed our recent purchase of Babou in France, we are now positioned to expand B&M's disruptive, value-led model in Europe's three largest consumer markets.
"With the core B&M UK business having had a record half year performance, we are well placed to prosper in a difficult and uncertain retail environment."
B&M shares have plunged 9.5% to 366.4p on this morning's weaker than expeceted sales.
On the markets this morning, the FTSE 100 has bounced back 0.4% to 7,084pts.
Risers so far include PureCircle (PURE), up 7.1% to 332.1p, FeverTree (FEVR), up 2.9% to 2,876.6p and SSP Group (SSPG), up 2.2% to 696.9p.
Fallers include Real Good Food (RGD), down 5.9% to 6.4p, Stock Spirits (STCK), down 4.3% to 190p and CARR's Group (CARR), down 2.5% to 163.8p.
Yesterday in the City
The FTSE started the week firmly on the back foot, falling 0.7% to 7,053pts amid a significant fall for consumer stocks.
Most notably British American Tobacco (BATS) collapsed 10.6% back to 2,962.5p – its lowest share price for three years - while Imperial Brands (IMB) dropping 2.2% to 2,032p after US regulators floated a potential ban on menthol cigarettes.
Online food delivery businesses Ocado and Just Eat were also in the firing line, falling 6.4% to 798.4p and 5.6% to 562.8p respectively.
Other fallings included B&M European Value Retail ahead of its interim results this morning, down 4.9% to 405p, TATE & Lyle (TATE), down 3.8% to 676.2p, Cranswick (CWK), down 3.6% to 2,834p, WH Smith (SMWH), down 2.8% to 2032p and PZ Cussons (PZC), down 1.9% to 220.8p.
A number of supermarkets also had a tough day, led by Sainsbury's (SBRY), which fell 1.8% to 316.3p, while Marks & Spencer (MKS) dropped 1.7% to 307.3p and Tesco (TSCO) fell 1.6% to 215.2p.
The day's few risers included Hotel Chocolat (HOTC), up 2% to 310p, Carr's Group (CARR), up 7.7% to 168p and Compass Group (CPG), up 0.9% to 1,551.5p.