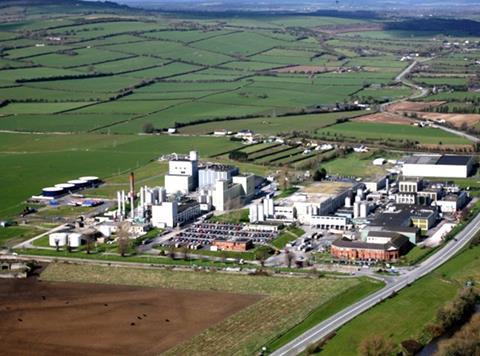 Global nutrition group Glanbia has reported interim pre-tax profit before exceptionals up 23.5% to €125.5m (£89.1m) on total group revenue up 4.4% to just under €1.9bn.
Exceptionals included rationalisation costs primarily in the ongoing redundancy programme in the Dairy Ireland division, organisational redesign costs to leverage future market opportunities, disposal of interest in joint venture Milk Ventures (UK) and transaction related costs.
Total group revenue at constant currency rates fell 8.4% as pricing declines that stemmed from global dairy market weakness offset good branded revenue growth.
Total group EBITA came in at €158.7m, up 3.5% at constant currency rates (up 22.5% reported). Total Group EBITA margin was 8.5%, up 100 bps at constant currency rates.
Siobhán Talbot, group managing director, said the results demonstrated that the company's strategy was on track.
"As a global nutrition company, whose purpose is 'delivering better nutrition for every step of life's journey', we are focused on the development of a branded and ingredient product portfolio to serve the growing consumer demand for nutritional products in formats suitable for healthy and active lifestyles."
This had provided "some insulation" from the challenges of volatile global dairy markets, Talbot said.
Revenue from wholly-owned businesses climbed 10.6% to €1.4bn but fell 11.5% from joint ventures and "associates". The group invested €59m in capital expenditure in the first half.
Glanbia said its Global Performance Nutrition business was expected to be the main driver of growth this year as momentum returned to the US business – although currency and geopolitical related challenges in certain markets outside the US would "somewhat" offset this.
Global Ingredients continued to make good progress in its strategy of growing the value-added dairy an non-dairy ingredient portfolio, but the scale of weakness in global dairy markets would result in "some reduction" in performance year on year.
The group said Dairy Ireland was forecast to deliver "some recovery in margins".